Interview by Amy Spanton
For those who haven't been there, can you describe what Foxtrot Unicorn is all about?
It is simple and to-the-point, its an ode to good booze and better times. There are no kitschy themes, just a jarrah-clad haven for booze lovers to come down and have a good time. Anyone can come down and get whatever drink they want without the fuss.
The building itself was built in 1887 and was one of the first bank vaults on the terrace, it was also once home to the West Australian Club. It has a rich history and many stories behind it. FU ended up being packed to the rafters with up-cycled materials and lots of vintage WA hospitality history – I like to think it adds a little more to the history of the building.
Tell us a bit about how you got started bartending?
I've been working in hospitality since I was 16 years old. But it wasn't until 2015 that I started my first bartending job. I actually applied for a floor position at a new multi-level venue, but when I went in for an interview they asked if I was applying for the bar position and I just said yes and went with it – I basically lied my way into the position, but I was lucky that I was good at it. It wasn't the best venue, but it taught me a lot of basic cocktails.
"What makes a great bar experience for me is when I walk into a venue and I feel instantly welcomed and comfortable, seeing the bartenders being great hosts and having a grand old time and everyone is enjoying themselves."
What's your current role, and what does it entail?
I am currently the bar manager at FU. The role entails a lot of organisation of the day-to-day things – brand/rep meetings, placing orders, staff trainings, menu developments etc. The main part of it is basically making sure the bar is running and functioning day-to-day.
How far along in your career did you make the transition from bartender to manager?
About five years. I had slowly transitioned into supervisor roles without the title in previous venues, but it wasn't until a little after we opened FU that I moved into management – the timing was right, I was ready, and it was the right operators and team to do it with!
ADVERTISEMENT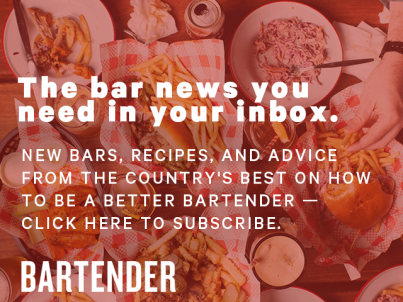 &nbsp
What do you think are the skills that are needed for a bartender to move into management?
For me, I think it's important to be able to keep level-headed, establishing good relationships with brands and understanding the bar operations above the service level. It's also important not to be afraid to be questioned or proven wrong by your team. No matter what position you hold, or how long you've been in the industry – there is always more to learn, no one knows everything!
How would you describe your management style?
I'm still quite new to it and still finding my groove, but I like to think I have an approachable but stern management style. There's a structure for the bar I like to set, certain things need to be done a certain way, but there are spaces in between that can be switched up. I have an open dialogue with my team where we work towards progress and growth together. One team, one dream as they say.
What advice do you have to rookie bartenders starting out in their careers? Were there any big mistakes you made you'd like to see others avoid?
My advice is to find your passion. I think most of us forget that we started out in this industry as a means to make money but along the way we fell in love with it and with that, the passion grew. Don't go into this with too many expectations of what the industry should offer you, but rather if it is right for you. If so, then don't be afraid to ask questions, don't be afraid to attend industry events even if you don't know anyone there. But also know when to leave a venue that isn't right for you – I think that is one of the biggest mistakes I've made in the past, staying at a venue that wasn't offering me any growth. I stayed because I was comfortable, and I was making good money.
When you walk into a bar, what are you looking for? What makes a great bar experience?
What makes a great bar experience for me is when I walk into a venue and I feel instantly welcomed and comfortable, seeing the bartenders being great hosts and having a grand old time and everyone is enjoying themselves.
2020 and then 2021. How has it changed you?
I think it made me realise that I shouldn't be too comfortable with how things are and to keep pushing for progress. I had 2 months off work in early 2020 and I didn't know what to do with all that time – I actually hated it so much for the first month, not so much the socialisation or consumption part, but rather the not moving around and nothing to do part of it.
Bar Trends – stuff you love, stuff you hate?
Bar trends I hate: bartenders putting drinks on the menu that are only made for bartenders as a flex oh and the bubble smoke gun – I don't deny it looks cool, but it is also such a gimmick.
Bar trends I like: More women behind bars.
What are you drinking right now?
I've been drinking a lot of natural and funky style wines lately. We have a new venue opening in Fremantle soon that will be focusing on all Australian wines and spirits – so it's been a LOT of wine drinking. (One of the most notable ones I've drank is the Yume Merrit Ambrosia)
Where do you see yourself in the next 5 years?
This is always a hard question because I like to focus on the present, but I think in the next 5 years I will still be in the industry – whether it's doing more brand work or moving into a more operations role, as long as I'm enjoying what I'm doing then that's what matters.

Mix Haus
Mix Haus is a Non-for-profit co-founded by Shirley Yeung, Pippa Canavan and Reid Gunter in Perth, Western Australia. Launching on international womxn's day back in March, their core mission is to create an open and safe community to support all womxn in hospitality. To educate, train and nurture future and current industry leaders to sustain more opportunities for womxn in the industry. A group for womxn, founded by womxn.
Mix Haus aims to bring more exclusive workshops, trainings and networking events throughout the year, with a catalogue of exciting events highlighting female talent in our industry to everyone as well.
"We launched on IWD with a fundraiser to raise funds for our cause so we could start putting on more events and workshops throughout the year that we had planned to. The night was a great success, and we are still blown away by the amount of support we received from the community. We ended up raising around $15k from the night, which included an auction, the bar, raffle tickets and a spin-the-wheel game."