Bartenders know their spirits, right? Whether it is some esoteric ancestral mezcal from Mexico, or a caraway carrying akvavit from the colder climes of Scandinavia, possessing some solid spirits chat goes a long way behind the bar.
What doesn't get as much play, however, is the other stuff that goes into the drink. We don't mean ice — there are ice programs aplenty these days — and we don't mean the produce (never before have so many bars been involved in sourcing their own botanicals and fruits). No, we're talking about the mixers, the sodas, the lengtheners. It's that piece of the drinkmaking puzzle that often gets neglected — yet is the place where an enterprising bartender can provide some unexpected flavour combinations.
So we've pulled together a few specs that we'll be sharing over the coming week, recipes that are as much about the lengthener as the spirit. Like this one, the Gin Basil Highball.
German bartender Joerg Meyer, is well-known for his Gin Basil Smash, a drink that has become a modern classic.
However, because Meyer's Boilerman bars are high-volume joints, they've tailored the menu so that they're making they do a lot of Highballs, and they reworked the Gin Basil Smash into this Highball.
ADVERTISEMENT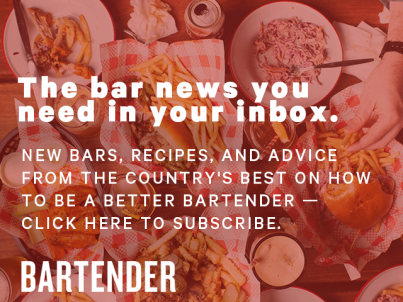 &nbsp
They blend — a number of times a night — a big bunch of basil with fresh lemon juice and Monin cane sugar syrup to create a basil lemon syrup. They add this to gin and soda water, give it a brief blitz in a milkshake mixer to incorporate the ingredients and then pour the mix over ice in a pre-prepared Highball glass from the freezer.
Give the syrup, gin and soda a quick blitz in a milkshake blender.

Pour over into a frosty Highball glass.

Garnish with some basil.
Adapted from a recipe by Joerg Meyer.
What's in the drink?
Schweppes Soda Water
Schweppes Soda Water is the original since 1783. This one uses triple filtered water and mineral salts to get it spot on for mixing.
Asahi Premium Beverages