Do you have what it takes to be crowned Australia's Bartender of the Year? Well it's time to step up to the plate because the Bartender Magazine Bartender of the Year Competition is coming around once more. For years this comp has been building a reputation as one of the most challenging bartending event in Australia, testing all facets of the bartending craft to ensure that our winner is worthy of the title. Nominations are now open online so start your campaign to get included amongst the best barkeeps in Oz (click here).
Last year's comp saw hundreds of nominations cut down to just over 120 finalists. The calibre was as high as we've ever seen with no fewer than seven Top 10 veterans making the final again at Sydney BarShow 09.  But as Connor MacLeod in the Highlander said: "There can be only one". It was first time finalist and the comparatively inexperienced Chris Hysted from Fitzroy's Black Pearl who came out on top (though by waving a shaker and bar spoon as opposed to a sword) by streaking ahead in the final round thanks to his steady nerves and charismatic presence on stage.
ADVERTISEMENT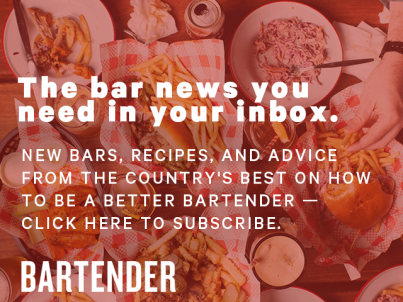 &nbsp
Putting on an event of this standard obviously requires a dedicated sponsor and it is a pleasure for Bartender magazine to announce that Club Suntory will be continuing their support of the bartending community by coming on board as the official sponsor for the 2010 Bartender Magazine Bartender of the Year Competition once more. Year after year this has been a great partnership as Club Suntory don't just offer financial support and use of their extensive portfolio of fine products, but roll up their sleeves and get stuck-in to help make this event everything it should be. Cheers team! We look forward to working with again this year.
For those of you planning on giving it a crack it's never too early to brush up on your knowledge, give your service skills a polish, train your palate and experiment with some tasty mixes in preparation for the comp. Anyway, here's a couple of handy hints to get underway:
How to win Bartender of the Year
* Nominate yourself. Don't rely on others to vote for you; like any competition you have to enter it to stand a chance at winning
* Get reading. While knowledge isn't the be all and end all of the bartending trade you have to score highly in the written test to show off your other skills.
* Be prepared. Don't leave your study or your cocktails for the final round till the last minute. Everyone gets nervous. But you can save a lot of stress with just a little preparation.
* Get drinking (responsibly). Sharpen your palate by tasting everything in sight. You will need to know your Jamaican from your Martinique, Grappa from your Marc and Chardonnay from your Semillon.
* Dress snappy. Should you make it to the final 10; you will need to be well presented. If you feel good about the way you look you will be more confident and come across as more professional.
* Be precise. Attention to detail will sift the wheat from the chaff. Work on your technique; efficiency is a winning combination of speed and precision.
For more information please email: smcgoram@spatonmedia.com
The Prize
1st prize for the Bartender Magazine Bartender of the Year Competition this year is a return trip for two to Bali staying in a luxury villa (Rumah Reposado)for a week plus a complementary dinner for two at Ku De Ta, Bali's Best Restaurant & Bar!