By Amy Cooper
There's just a week left of our 30 Bars in 30 Days odyssey, and as the journey approaches its end, I'm thinking our final lists will be as much about the bars we didn't visit as the ones we managed to reach. 30 is a fraction of the bars this city has to offer, and as we hit the home straight, we keep hearing of new places popping up, exciting developments at old favourites and enough bar action to keep us going – well, all the way through to next March.
My 30 (or 25, as it is right now) is nowhere near an exhaustive list of Sydney's best bars. It's just a taste of our city's bar landscape. And if you scan the variety within just this little sample of 30, you can glimpse the scope of Sydney's entire bar culture.
It's whetted my appetite for even more, that's for sure.
ADVERTISEMENT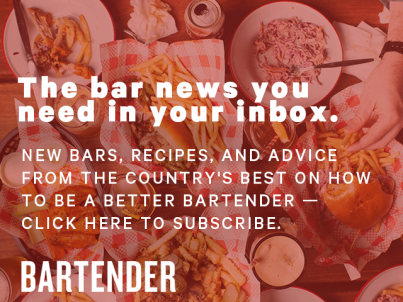 &nbsp
I'm abashed I haven't spent more time in Emmilou in Surry Hills in the three years it's been open. This sultry little space (remember when it was a one-bedroom hotel called Moog?) is just gorgeous, with tapas and drink menus that blew me away. Owner Chris Cranswick-Smith's time in top Spanish kitchens shows (the goat sausage is irresistible) and Amy Sinclair has crafted a confident, creative cocktail list. Her Manhattan with Rittenhouse rye and a home-macerated cherry (a meal in itself) is a stand-out.
Not far away, Low302 is going strong as one of the key attractions of the Surry Hills nightlife precinct. Late night food and quality cocktails delivered with originality and intelligence. No pretension, no TV screens, no dreadful people. The way I like it.
No bar odyssey would have been complete without a visit to the world-renowned Bayswater Brasserie. As I write, the 'Bays' is closed, possibly never to open again and certainly never the way it used to be. More on that later, but for now, I'd like to remember it the way it was: simply the perfect bar. A university for the best bartenders, a beloved home for its regulars and a benchmark of quality known around the globe for its attention to cocktail perfection and old-fashioned service and style.
Words can't capture the unique spirit of the Bays. Much of it came from its people: general manager Rebecca Whalley, ex bar manager Lenny Opai, star bartender Charlie Ainsbury and the late Gregor de Gruyther, whose cocktails lived on at the bar right until the close.
We visited on a weekday night, pulled up stools at the zinc-topped bar that always felt like home, and savoured the atmosphere while we could.
Nearby, Kudu was celebrating its second birthday with an arresting array of reptiles, smoking tiki cocktails and face-painted staff. They're always up for fun here, and I like Tiki Wednesdays when Tiki god mugs and volcano bowls come out and if you're lucky, Fiji-born bar manager Ibrail brings on the kava.
Scots pair Barry Chalmers and Calum Lawrie (Glasgow and Edinburgh together at last!) at Eau-de-Vie are steadily stocking up the new bar with enough malts to leave their home country dry. I can't wait to see the planned whisky room, but in the meantime there are masterpiece drinks such as the Arabesque  – a Moorish concoction for two served in a pretty teapot and some of the bar's antique glassware, with a piece of Turkish delight on the side. (We're trying to convince the boys to serve malts with a chunk of Scottish tablet on the side.) As Simon's already said, one of this venue's chief joys is a bar where you can perch and chat while watching your drink under construction.
I'm never afraid of a lunch. If you choose your drinks wisely, and combine them with the right food, you can skip off back to work without the need to snore at your desk. Europeans know how to do this, and we practiced the art at Etch Bar the elegant little extension to Justin North's Etch restaurant. I loved my citrusy, piquant St Clements cocktail, but also had drink envy over dining companion John's Bloody Mary Martini. You can snack on samples from Justin's delicious menu at the bar and you can't leave without the wagyu burgers (made from pampered cattle grass-fed in Dunedoo) or goats cheese balls with lavender and honey. A 2008 Scorpo Noirien pinot noir was the perfect mate for the restaurant's new autumn menu – especially the crispy spiced duck with watermelon, cucumber and black bean vinaigrette.
At Bondi, a bar scene enriched in recent years by Rum Diaries, Cream Tangerine and an improved Ravesis now has the addition of a hole-in-the-wall spot, Thru the Grapevine. A winning combination of rock n' roll decor, ocean views and great wines has this little nook packed out with locals, especially on half price wine nights. I like its grungy friendliness and unapologetic eccentricity. Another character bar for Sydney.
To some, Cafe Pacifico is the boisterous home of great Mexican food and memorabilia. But drink connoisseurs also know it as the seat of Phil Bayly, high priest of Tequila. Phil's forgotten more about Tequila than I've ever known (and certainly more than I've drunk) and his passion for the spirit is infectious. When we popped in, he'd just returned from Mexico, laden with rare Mezcals. Of course, we tasted them. And one of Phil's precisely balanced Margaritas went down perfectly with big plates of fajitas and queso fundido.
PARTY!
We're rounding off Parched March with a big bash at Piano Room on Wednesday 31. I'll be presenting the funds raised to our two charities, Greyhound Rescue and DCH Animal Adoptions.
But until then, I'll still be on the road.
Cheers!
Here's where my journey's taken me so far:
Club Bar, Park Hyatt, The Rocks
Harbour Bar, Park Hyatt, The Rocks
Bacco, CBD
Tokonoma, Surry Hills
Shady Pines  Saloon, Darlinghurst
Pocket Bar, Darlinghurst
The Winery, Surry Hills
Gin Garden, Establishment, CBD
Lotus, Potts Point
LL, Kings Cross
Manly Wine, Manly
Hugos Manly, Manly
Bavarian Bier Cafe, Manly
Country Trader pop-up bar at Otto (bonus bar)
Emmilou, Surry Hills
Low 302, Surry Hills
Bayswater Brasserie, Kings Cross
Eau-de-Vie, Darlinghurst
Kudu Lounge, Darlinghurst
Etch bar, CBD
Thru the Grapevine, Bondi
Cafe Pacifico, East Sydney
Globe Bar, Observatory Hotel
Lord Nelson, The Rocks
Sake, The Rocks