Not far removed from a hidden whisky smugglers bothy, Shady Pines eeks out it's existence in a backstreet on the corner of Crown and Oxford Street, Sydney and is developing a cult following all week round. The team down here put the 'un' in unconventional – and its what we love about the place. Luckily, the crew was on hand this time round to take on the Cocktail Experiment and gladly took to the challenge of making five whisky cocktails. From the more placid Boilermaker, served with a pitcher full of ice water to hose down the fiery spirit, to a refreshingly deadly punch served in a custom-dented pewter mug, the Shady Pines crew brought their style to this month's experiment.
With Scotch and Malt whisky there are innumerable combinations for cocktail possibilities – and the important thing to keep in mind is the base flavour of the spirit you are dealing with and how best to bring it out. Some products are more malt sweet, some will show pronounced notes of smoke and others will have a lighter body that needs to be carefully enhanced for fear of loosing its subtle powers.
Well done to the Shady Pines team, a great effort by all and a big thanks from Bartender goes out to Anton and the boys for getting involved.
This Cocktail Experiment was featured in the January issue of Bartender Magazine
Photography: Edward Washington
ADVERTISEMENT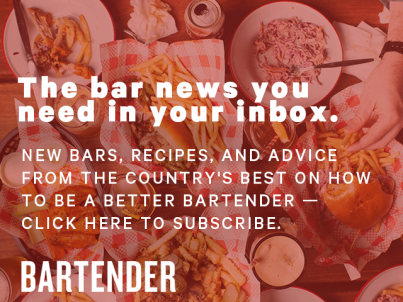 &nbsp
Address:
Shop 4, 256 Crown St
Darlinghurst, Sydney
www.shadypinessaloon.com
Anton Forte

Cocktail name: Shady Pines' Boiler-maker


50ml Deanston 12 year old Single Malt Whisky
330ml Holgate "ESB" Beer
Vintage pitcher filled with ice and water

Method: Serve whisky neat and pour beer into chilled glass. Provide chilled water to cut whisky if desired.

What Anton Says: "This is a bloody delicious way to enjoy the world's finest product combo – Beer and Whisky!  Deanston 12 year old Single Malt has a nice little burn to it, so, either cut it with water or just smash more of the tasty, sweet, malt-driven Holgate…. Oh yeah, they work a treat together!"
Daniel Mussen

Cocktail name: Penicillin


60ml Dewar's 12 year old 'Double Aged' Blended Scotch Whisky
5ml Smokehead Malt Whisky 18 year old (as float)
15ml lemon juice
15ml Homemade ginger and honey syrup
Dash Eggwhite
Garnish with lemon/ ginger slice

Method: Add all ingredients to a shaker. Shake and strain over ice into an old-fashioned glass.

What Daniel Says: "From previous experience I have found that Dewar's 12 Blended Scotch Whisky works best in this modern day whisky classic. The honey compliments the sweeter undertones of the blend, while the floating Islay malt brings out the slight smokiness of the product. The lemon obviously gives it that sourness to create balance, while the ginger creates a full flavoured drink."
Angus Blackmore

Cocktail name: The Original


60ml Glenmorangie 'The Original' Highland Single malt Whisky
120ml Post-mix coke

Method: Combine whisky and post mix coke into a non-chilled martini glass. Garnish with lime wedge.

What Angus Says: "Owing to a supposed Scottish tradition of ordering 'whisky and coke, nay ice' – I have created the 'Original'. The strength of the malt cuts through the coke letting you enjoy the flavours."
Jeremy Blackmore


Product: Monkey Shoulder Blended Malt Scotch Whisky 40% abv

Cocktail name: The Ol'…


30ml Monkey Shoulder Blended Malt Scotch Whisky
15ml Campari
10ml Amaro Montenegro
20ml Lemon juice
10ml Sugar syrup
Dash Eggwhite

Method: Add all ingredients to a cocktail shaker and dry shake. Add cubed ice and shake hard. Strain into a glass mug filled with fresh chipped ice cubes.

What Jeremy Says: "Ol' Monkey Shoulder Blended Malt Scotch Whisky is a delicious whisky and compliments the other products that I have used. Just like my Scottish girlfriend, this cocktail is a little bit sour – but incredibly refreshing."
Alex Dowd




Cocktail name: Suck that punch!


30ml Pig's Nose Scotch Whisky Aged 5 years
15ml 12year old Applejack (Lairds)
15ml gin
30ml House made spiced black tea
10ml red wine
10ml absinthe
30ml orange juice
15ml lemon juice
15ml sugar syrup

Method: Add ingredients to a shaker and shake hard. Serve over cracked ice in a gnarled pewter mug. Garnish with orange and lemon wheels, tea bag and peanuts.

What Alex Says: "Pig's Nose is a robust whisky and is perfectly expressed in the context of a long punch on a hot day. By employing a good lick of Scotch, complimentary spirits allow the whisky to shine. However, three to four salvos from this 'artillery like' punch can be devastating!"