A selection of delectable drafts from November's Vodka Profile in Bartender magazine
Photography by Steve Brown
Extra-Dry Martini
60mls Monopolowa Vodka
Half a teaspoon of Dry Vermouth
ADVERTISEMENT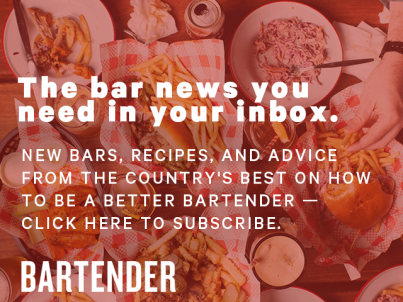 &nbsp
Add ingredients to a mixing glass filled with ice and stir (or shake) until the glass is well frosted. Strain into a well chilled cocktail glass and serve with either and olive of your choice or a citrus peel, (run the peel around the rim of the glass before dropping into the drink).
Recipe adapted from the Ultimate Bar Book by Mittie Hellmich

Vodka revolutionized the traditional Martini with its boom in popularity and people went stir (and shaken) crazy over the new drink. According to early 20th century recipes (such as the 1906 Hoffman House Bartenders Guide), a dry martini could assume the following: 45ml gin (dryer style) and 45 dry vermouth. With vodka being a neutral based spirit often derived from wheat, rye or potatoes, the botanically based vermouth often overpowered the spirit and so fell out of favour. So the Dry Martini became suitably dry as vodka became more socially prominent. The Vodka martini craze saw all matter of styles evolve – none more prominent than the infamous 'Appletini'.
Harajuku Girl
45ml Stolichnaya Red Russian Vodka
10ml Massenez Chamomile liqueur
15ml Sake (Dry)
2 dashes Rhubarb Bitters
Stir and strain into a Martini glass, garnish with a chamomile bud.
Natasha Sorensen, Victoria Room, Sydney
The Vodka Thing
40ml Grey Goose Vodka
10ml Green Chartreuse
10ml Sugar Syrup
15ml Lime Juice
Handful of mint
Ginger Ale
Sparkling Wine
Build ingredients in a highball. Top with ginger ale and sparkling wine.
Created by the team at Low 302, Sydney
All Day Baby
45ml Cariel Batch Blended Vodka
15ml Mandarin Napoleon
2 Dashes Yellow Chartreuse
20ml Lemon Juice
30ml Pago Strawberry Juice (or Strawberry Puree if necessary)
Shake and strain into an Ice filled rocks glass. Garnish with a wide lemon twist.
Christian Blair, Crown & Sceptre, Adelaide
Le Saziroc
50ml Ultimat Vodka
5-7ml Velvet falernum
2 Dashes Lemon Bitters
1ml (not too much more!) Lychee Liqueur
Add all ingredients to mixing jug and stir down. Strain into an absinthe rinsed rocks glass. Zest on top of and outside of the glass with lemon zest and then its up to you whether you leave in or throw out.
Marco Noe, 399 Bar, Perth
The East India Iced Tea
45ml 666 Pure Tasmanian Vodka
15ml St Germain Elderflower Liqueur
15ml Fresh Lemon juice
10ml Agave syrup
90ml Boiling water and 1 tsp Lemongrass & Ginger tea
1 lemon wedge squeezed
1 thin slice of ginger
Build all into a teapot. Wait until brewing is complete, then add ice, wait till chilling is complete and strain into dainty tea cup with saucer with one slice of lemon in the cup.
Lee Potter Cavanagh, Victoria Room, Sydney
Miramar
30ml Belvedere Pink Grapefruit vodka
30ml Pear, Apple & Rhubarb syrup
3 drops of Lavender bitters
60ml Sparkling wine
Shake and strain into a flute. Top with sparkling and garnish with grapefruit zest and a lavender bud.
Julian Serna, Porteño, Sydney