America's biggest bartending bash, Tales of the Cocktail, has just released the top ten finalists in each category for this year's Spirited Awards. The awards cover the best of American bartending and cocktail culture, and recognise those international bars, bartenders, people and publications that strive for excellence in the cocktail sphere.
A quick summary of some homegrown talent making the top ten this year: both Jason Crawley and Sven Almenning have been nominated for Best Bar Mentor, and Illegal Mezcal's Stephen Myers nominated for Best International Brand Ambassador; Melbourne's Black Pearl has received two nominations, one for World's Best Cocktail Bar and one for World's Best Cocktail Menu while fellow Melburnians EDV are finalists for World's Best Drink Selection; Sydney's The Roosevelt is up for Best Restaurant Bar, while new Sydney bar, Bulletin Place, is up for World's Best New Cocktail Bar. Ex-pat bartender and former editor of Australian Bartender, Naren Young, has been nominated for Best Cocktail Writing (Author) and International Bartender of the Year. Melbourne's 1806 also scored a nomination by way of Nick Reed's 1806 Cocktails:  World History as Seen Through the Bottom of a Glass, nominated for Best New Cocktail Book.
Rounding out the Australian contingent is none other than Australian Bartender, nominated for Best Cocktail Writing (Publication).
Below are the full results. You can read more at the Tales website.
ADVERTISEMENT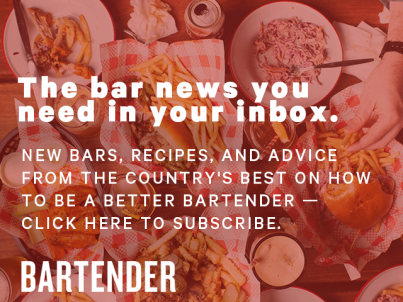 &nbsp
American Bartender of the Year
Charles Joly-The Aviary-Chicago, Illinois
Eric Alperin-The Varnish-Los Angeles, California
Erick Castro-Polite Provisions-San Diego, California
Ivy Mix-Clover Club-Brooklyn, New York
Jack McGarry- The Dead Rabbit-New York, New York
John Lermayer-Regent Cocktail Club-Miami, Florida
Leo Robitschek-The NoMad Hotel-New York, New York
Naren Young-Saxon + Parole, The Daily-New York, New York
Sean Kenyon-Williams & Graham-Denver, Colorado
Steve Schneider-Employees Only-New York, New York
Best American Brand Ambassador
Amanda Boccato- Lillet
Diego Loret de Mola-Barsol Pisco
Elayne Duff-Diageo Portfolio
Gardner Dunn-Yamazaki
Gaston Martinez-Milagro Tequila
Jackie Patterson-Solerno Blood Orange Liqueur
Jamie Gordon-Absolut Vodka
Neyah White-Yamazaki
Nick van Tiel-Beefeater Gin and Plymouth Gin
Todd Richman- Sidney Frank Portfolio
Best American Cocktail Bar
Anvil-Houston, Texas
Booker and Dax-New York, New York
canon: whiskey and bitters emporium- Seattle, Washington
Clover Club-Brooklyn, New York
Cure-New Orleans, Louisiana
Prizefighter-Emeryville, California
The Barrelhouse Flat-Chicago, Illinois
The Broken Shaker-Miami, Florida
The Hawthorne-Boston, Massachusetts
William & Graham-Denver, Colorado
Best Bar Mentor
Bridget Albert-Chicago, Illinois
Charlotte Voisey- New York, New York
Dushan Zaric-Los Angeles, California
Francesco Lafranconi-Las Vegas, Nevada
Jackson Cannon-Boston, Massachusetts
Jason Crawley-Sydney, Australia
Julie Reiner-Brooklyn, New York
Julio Bermejo-San Francisco, California
Sven Almenning-Sydney, Australia
Wayne Collins-London, United Kingdom
Best Cocktail Writing – Author
Dan Priseman
Derek Brown
Gary Regan
Geoff Kleinman
Ian Cameron
Jenny Adams
Naren Young
Paul Clarke
Philip Duff
Robert Simonson
Best Cocktail Writing – Publication
Australian Bartender Magazine
Bar Magazine Digital
BarChick
Barlife UK
DiffordsGuide.com
Find. Eat. Drink.
Imbibe Magazine
Sauce Magazine
ShakeStir.com
The Cocktail Lovers Magazine
Best High Volume Cocktail Bar
Clover Club-Brooklyn, New York
Flatiron Lounge-New York, New York
Harvard and Stone-Los Angeles, California
Macao Trading Co.-New York, New York
Polite Provisions-San Diego, California
Sable Kitchen and Bar-Chicago, Illinois
Saxon + Parole Restaurant-New York, New York
The Dead Rabbit-New York, New York
The NoMad Hotel-New York, New York
Vesper Bar-Las Vegas, Nevada
Best International Brand Ambassador
Claire Smith-Belvedere Vodka
Colin Asare-Appiah-Bacardi Portfolio
David Cordoba-Bacardi Portfolio
Dean Monkey Callan-Monkey Shoulder Whisky
Giuseppe Gallo-Martini
Ian Burrell-Rum Ambassador
Jacob Briars-Bacardi Portfolio
Max Warner-Chivas Regal
Raj Nagra-Bombay Gins
Stephen Myers-Illegal Mezcal
Best New Book (Cocktail/Bartending)
1806 Cocktails:  World History as Seen Through the Bottom of a Glass by Nick Reed
Craft Cocktails by Brian Van Flandern
Diffordsguide Gin book by DiffordsGuide.com
Drinks by Tony Conigliaro
Edible Cocktails:  Garden to Glass by Natalie Bovis
Gin:  A Global History by Lesley Jacobs Solmonson
Sanctuaria, The Dive Bar of Cocktails by Matt Seiter
The Tequila Ambassador by Tomas Estes
To Have and Have Another:  A Hemingway Cocktail Companion by Philip Greene
Vodka Distilled by Tony Abou-Ganim
Best New Product
Bartender's Choice iPhone App
Cana Brava Rum
Dale DeGroff's Pimento Aromatic Bitters
Dorothy Parker Gin
Filthy Black Cherry
Fords Gin
H by Hine VSOP
Imbue Petal and Thorn
Pierre Ferrand Dry Curacao
Tequila Cabeza
Best Restaurant Bar
Gwynnett St-Brooklyn, New York, USA
Imperial by Chef Vitaly Paley-Portland, Oregon, USA
Island Creek Oyster Bar-Boston, Massachusetts, USA
Jasper's Corner Tap & Kitchen- San Francisco, California, USA
No. 9 Park-Boston, Massachusetts, USA
Oak at fourteenth-Boulder, Colorado, USA
Oven & Shaker-Portland, Oregon, USA
Saxon + Parole Restaurant-New York, New York, USA
The NoMad Hotel-New York, New York, USA
The Roosevelt-Sydney, Australia
International Bartender of the Year
Andrea Montague-Callooh Callay-London, United Kingdom
Carina Soto Velasquez-Candelaria-Paris, France
Hidetsugu Ueno-Bar High Five- Tokyo, Japan
Jack McGarry-The Dead Rabbit-New York, New York, USA
Jamie Bourdreau-cannon:  whiskey and bitter-Seattle, Washington, USA
Marian Beke-The Nightjar-London, United Kingdom
Misty Kalkofen-Brick & Mortar-Boston, Massachusetts, USA
Naren Young- Saxon + Parole, The Daily-New York, New York, USA
Simone Caporale-Artesian Bar at the Langham-London, United Kingdom
Zdenek Kastanek-28 Hong Kong Street- Singapore
World's Best Cocktail Bar
28 Hong Kong Street-Singapore
Black Pearl-Melbourne, Australia
Callooh Callay-London, United Kingdom
Candelaria-Paris, France
Clover Club-New York, New York, USA
Death and Co.-New York, New York, USA
Drink-Boston, Massachusetts, USA
Milk and Honey-New York, New York, USA
The Dead Rabbit-New York, New York, USA
The Varnish-Los Angeles, California, USA
World's Best Cocktail Menu
28 Hong Kong Street-Singapore
69 Colebrooke Row-London, United Kingdom
American Bar at the Savoy-London, United Kingdom
Black Pearl-Melbourne, Australia
cannon:  whiskey and bitters emporium-Seattle, Washington, USA
Clover Club-Brooklyn, New York, USA
Pouring Ribbons-New York, New York, USA
The Dead Rabbit-New York, New York, USA
The Hawthorne-Boston, Massachusetts, USA
The Nightjar-London, United Kingdom
World's Best Drink Selection
cannon:  whiskey and bitters emporium-Seattle, Washington, USA
Cure-New Orleans, Louisiana, USA
DaddyO-New York, New York, USA
Eau de Vie-Melbourne, Australia, USA
Mayahuel-New York, New York, USA
Saxon + Parole Restaurant-New York, New York, USA
Seven Grand-Los Angeles, California, USA
The Dead Rabbit-New York, New York, USA
The Hawthorne-Boston, Massachusetts, USA
Whistling Shop-London, United Kingdom
World's Best Hotel Bar
Beaufort Bar at the Savoy-London, United Kingdom
Black Angels Bar-Prague, Czech Republic
Clyde Common-Portland, Oregon, USA
Eastern Standard Kitchen and Drinks-Boston, Massachusetts, USA
Regent Cocktail Club-Miami, Florida, USA
Sable Kitchen and Bar-Chicago, Illinois, USA
The NoMad Hotel-New York, New York, USA
The Zetter Townhouse-London, United Kingdom
Vesper Bar-Las Vegas, Nevada, USA
Widder Bar-Zurich, Switzerland
World's Best New Cocktail Bar
Bar Le Coq-Paris, France
Broken Shaker-Miami, Florida, USA
Bulletin Place-Sydney, Australia
Experimental Cocktail Club-New York, New York, USA
Polite Provisions-San Diego, California, USA
Pouring Ribbons-New York, New York, USA
The Dead Rabbit-New York, New York, USA
The NoMad Hotel-New York, New York, USA
Trick Dog-San Francisco, California, USA