The trick is to work smarter, not harder
Working fast isn't about working hard, it's about working smart. The craft cocktail renaissance has brought us many fine things: old, forgotten recipes, timeless drinks, a renewed sense of professionalism behind the bar. But as bartenders have learnt more about what they serve, new techniques and more variations on a Manhattan than I've had hot dinners, so too has the queue at the bar grown.
There's ways to get around this problem though; creative mixologists have been turning to pre-batched (and pre-diluted) cocktails, cocktails on tap and in bottle. At the opening gala for this year's Manhattan Cocktail Classic, guests were served up Sbagliatos. But how were the three thousand-odd guests accommodated? Their Sbagliatos were whipped up in a can by Campari.
But there's another, simple way to get the drinks out quickly: have simple recipes handy for busy periods. We take a look at a few ten second cocktails that require little assembly — they're little more than spirit, modifier, and mixer.
[singlepic id=2681 w=220 float=left]
ADVERTISEMENT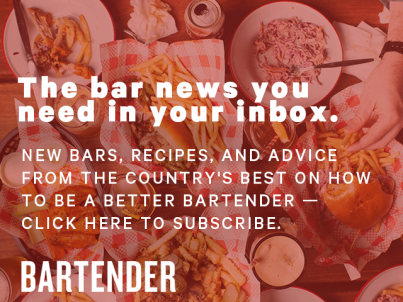 &nbsp
Fernet & Sars
60ml Fernet Branca
Top with Bundaberg Sarsparilla
Serve in a beer pong cup and get to the next punter.
Sure, Fernet and Coke is a fine drink, but if you're after something with another dimension to it, switch in some sarsaparilla for more flavour. The notes of sarsaparilla root, vanilla, and licorice match beautifully with the complex herbal kick of Fernet Branca, while the sugar of the mixer balances out the bitterness of the spirit.
[singlepic id=2682 w=220 float=right]
Ginger Ale Julep
60ml flash-infused mint bourbon
Schweppes Dry Ginger Ale
8 mint leaves
Build over crushed ice in a julep mug. Garnish with mint sprig.
It's a drink suitable more for a racecourse than the raceway. To learn more on rapid, flash infusions, check out our How To in our December issue (or head online to australianbartender.com.au to find it), but suffice to say they are a great way of combining flavours so that you're ready to go when the line at the bar gets tough.
[singlepic id=2683 w=220 float=left]
Blood Orange Americano
30ml Campari
30ml sweet vermouth
Top with Schweppes Agrum Blood Orange
We don't want to put up an array of drinks, all in a highball — if you're under the pump, you've got to make sure your drinks are spread across a range of glassware — you don't want to run out of highballs at 9:30pm on Friday night. The Americano is a perfect candidate for transferring to a flute glass, and topping it with Schweppes Agrum complements and lengthens this drink.
[singlepic id=2684 w=220 float=right]
Normandy Highball
60ml Calvados
Top with ice and Magners
3 dashes Angostura Bitters
This is a little taste of France in a highball. Served on the rocks, ingredients piled on top of one another, crowned with a few dashes of bitters — this makes hard cider a little tougher.
[singlepic id=2685 w=240 float=left]
Supercharged Cosmopolitan
40ml citron vodka
20ml triple sec
20ml lime juice
Top with Red Bull Red Edition
2 dashes of Orange Bitters
The Cosmopolitan is a modern classic — whether you like it or not, made properly, it's a sure fire way to introduce non-cocktailing types to a properly constituted drink. This one employs the get up and go from Red Bull's Red Edition — and it's cranberry flavour — so you can mix the ingredients straight into the glass without shaking, and be on your way.
[singlepic id=2686 w=220 float=right]
Gin 'n Cider
45ml Isfjord gin
15ml The King's Ginger
Top with Rekorderlig Apple & Blackcurrant Cider
Build over ice in a highball glass.
This drink takes just three ingredients to create a complex flavour profile — and one that's easily built in ten seconds over the bar. Notes of juniper are complemented by the apple and cassis notes of the cider; a little ginger gives it a little zing to keep things refreshing.
[singlepic id=2693 w=220 float=left]
Raceway Rickey
60ml Rye
The juice of half a lime
Top with Red Bull Silver Edition
Build in a highball over ice, garnish with spent lime.
The Rickey, as Colonel Rickey would have drunk it if he were a NASCAR fan. It takes the rye, lime and soda mix favoured by the Colonel, revving it up with the addition of Red Bull Silver Edition.