You know there's been plenty of speculation about the death of beer: as consumption of wine has risen and with the great interest in all things spirituous, beer can sometimes be seen as a little dull (though check out the graph above and you'll see beer is still the choice of the masses). But with the weather outdoors getting warm there's one thing most bartenders will turn to after a hot night behind the bar — and that's an ice cold beer.
Michelada
30ml tequila
15ml lime juice 
7.5ml hot sauce
2 dashes
Worcestershire sauce 
Cricketers Arms Lager to top
Flaky sea salt
Build in a salt rimmed beer glass. Fill with ice, top with beer and stir briefly. Imbibe when it's hot outside.
Simon McGoram once wrote in these pages that this drink is "perhaps one of the best summery, heat-crushing beverages for man or beast," and he's bang on the money. The Michelada is a Mexican "cerveza preparada", that is, a beer cocktail, and it is one of the finest.
ADVERTISEMENT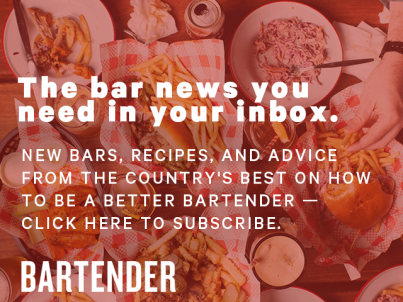 &nbsp
Why does this drink work? You've got ice cold lager that tames the heat of the weather outside and the spice heat of the drink in your hand; the tequila provides a savoury and moreish backbone (and a healthy little kick of alcohol); and it's a recipe that is more than a little amenable to adjustment. Switch in Asian ingredients and you'll get a similarly delicious result: sriracha chilli for the Mexican hot sauce, a little yuzu for the lime, umami-rich sake for the earthy tequila and a dry crisp lager like Asahi Super Dry and you're laughing.
Ale Sangaree a la Wondrich
120ml Cricketers Arms India Pale Ale
1 teaspoon sugar
Fill tumbler with ice.
Shake, float 20ml port, and grate nutmeg on top.
Adapted from Imbibe! by Wondrich.
Not all beer cocktails have got to be made with lager; after all, a pint of good ale is just as refreshing as an ice cold lager. The Ale Sangaree has a mighty long history and we've drawn on Dave Wondrich's suggestion for it here. He writes that in 1906 there was mention of it as "the finest summer preparation that ever went down a man's throat," and with Wondrich's addition of a little port wine float, we'd have to agree.
Cricketers Arms Indian Pale Ale
Brewed to tradition using dry hopping and two specialty malts which provide a smooth, full bodied taste. Three varieties of aroma hops are carefully selected for their piney complexity, citrusy thread and a long tropical note in the aftertaste.
Asahi Premium Beverages
Wayward Brewing Keller Instinct
Wayward uses German Vienna, Munich and wheat malts with added malted rye for complexity and a super smooth finish. Balanced by traditional noble German Hallertauer hops for flavour and aroma, the Keller is well-suited to enjoying on a hot summer day.
Wayward Brewing
Cricketers Arms Lager
The flagship craft beer is brewed longer to deliver an extra dry taste. Made with sun dried malt and infused with Amarillo hops imparting intriguing citrus characteristics to the aroma and flavour.
Asahi Premium Beverages
Brooklyn Brewery Brown Ale
Who says all summer drinking needs to be lightly coloured? Brooklyn Brown Ale combines the best of classic English styles and adds an American accent of a firm hop character and roasty palate. A blend of six malts give this beer its deep russet-brown color and complex malt flavour, fruity, smooth and rich, with a caramel, chocolate and coffee background.
Palais Imports