The Rook's latest recruit, Izzy Comber, talks to us about her favourite cocktail, her favourite bar gadget — spoiler, she says she can use to exhale smoke like a dragon — and a sticky incident with an Amaretto Sour. Read on…
Izzy Comber
The Rook
56-58 York Street, Sydney
www.therook.com.au
How long have you been bartending? 
It'll be three years in June, not counting all that arduous time spent perfecting the goon to orange juice ratio in a park (nature's bar).
ADVERTISEMENT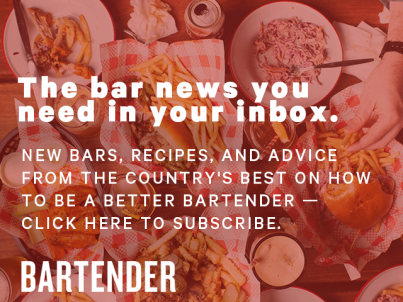 &nbsp
Where have you worked previously? 
I sadly just finished a marathon stint at Sweethearts Rooftop and Kit n' Kaboodle in ye olde Kings Cross – I also had a short n' sweet time at Pocket Bar in Darlinghurst.
Before you were bartending what were you doing with yourself? 
I worked in retail as a full time sourpuss.
What is your proudest moment behind the bar? 
Every time someone enjoys a cocktail is a proud moment, cheesy but true.
And the most embarrassing?
Accidentally pouring an Amaretto Sour directly into my cleavage. Some might say it was a bit of a sticky situation.
How do you keep the 'chat' up while you're at work?
I ask people gross 'would you rather' questions and tell them about my day.
How do you prepare for competitions?
I double check I've got all my equipment, put on a hoe-y shade of lipstick and have a cheeky rum shot.
What advice would you give a rookie bartender?
A winning smile is the greatest bar tool around.
What's been your favourite bar to work in? 
The Rook for sure. Great people, great back bar, great vibes, what more could a gal ask for?
What's your favourite bar gadget?
We have a mini tube smoke machine here at The Rook that we use to smoke Russian Caravan tea for our 'Smoke and Broadswords' cocktail. Sometimes when I'm alone in the bar I put the tube in my nose and smoke comes out my mouth like a dragon…
What's your favourite joke?
Barry O'Farrell and the new lock out laws. Actually that's my least favourite joke.
What's your favourite movie?
A tricky draw between The Shining and Donnie Darko.
What's your favourite song? 
Although I love my dance music and hip-hop, the all-time favourite would have to be Satellite of Love by Lou Reed.
What's your favourite sport? 
Man huntin'.
What's your favourite cocktail? 
The ol' classic Charlie Chaplin.
30ml Apricot Brandy
30ml Sloe Gin
30ml Lime Juice
Worthy of the cracka himself, it's a darn-tootin' tasty drank.
What spirit should people be drinking more of?
Mezcal! It may as well be Spanish for fun times and makes me think of some tipsy Senor.
Can you tell us some of your favourite bars to drink at? 
I feel like in Sydney you can't go past some Tio's action, recently had some very good times at the Mechanics Institute in Perth and the Rooftop Bar in Melbourne. My favourite international bar is the 124 Old Rabbit Club in Greenwich Village NYC, a tiny little dive with a ridiculous selection of craft beers. I went there on a date with some old dude I met at the MOMA and we drank the most ridiculous amount of beers and wrote crappy beatnik poetry. Totes New York.
What is your favourite product to work with at the moment and why? 
I'm loving and learning about a whole lotta mezcal – trending!
What is the weirdest or strangest drink you've ever had?
I recently got a bit freaky on my own ass and made a bacon-washed Ketel One Bloody Mary with some deep fried pork skin, rosemary salt and dandelions chucked on top. I drank it with a steak on the side and felt my arteries strain -it was awesome.
What's the most enjoyable occasion to have a drink?
I very much enjoy knocking a few brain cells off to celebrate some quality university grades.
What do you drink to…
Unwind after a long shift?
Beer, beer and beer.
Impress a date?
A rosé spritzer, the drink of lurrrrve.
If you could have a drink with one person (alive or dead) who would it be and why?
Hunter S. Thompson. We'd hit the road and talk writing before drinking approximately a quart of tequila, a quart of rum and a case of Budweisers… Maybe we'd leave the rest of what's in the trunk for a rainy day.
Rye whiskey or Tequila?
Any day I'd trade em' both for a double Midori – neat.
What was the last book you bought? 
A media law textbook – riveting, I know.
What drink trends are popular at the moment?
I've found that drinkers have been enjoying fresh fruity flavours over the summer, and I've noticed a strong swing towards the disarming charm of the tiki. Our Carribean Fix cocktail works like voodoo for guests.
If you could have a superhuman power what would it be – why? 
The ability to pause time. Imagine, you could have a walk around, check your teeth for old food, steal chocolate and sack-whack some rude customers – all without missing a beat!
If you were to be something other than a bartender, what would it be and why? 
The current plan is to be a raging music and culture writer before settling down to a life of Sociology based academia – I'm working on it.
Who's your hero? 
Novelist Zadie Smith and documentary maker Louis Theroux.
What products do you think will be popular over the coming months? 
I'm interested to see where crazy vermouths and pisco will be going.
Where do you see yourself in 20 years time?
Being a big cheese of some description.
Last drink ever – what would it be?
It would have to be a Corpse Reviver #2. Dayum gurl they are good.