There's no doubting the big influence on Australian bartending that Jess Arnott has had. She's been name-checked by just about every woman we interviewed for this series — read on to see why.
Jess Arnott
Brand Ambassador, Diageo Reserve
How have you seen the 'boys' club' of the bartending industry change?
I think it was always be a bit of a boys' club, the job by nature is always going to attract more men.  Top end cocktail bars are definitely more open to females as part of the team, when I was waitressing at Match in London it was very rare to break that barrier.  In fact I watched from the floor as Bonnie Shearston (owner of Public in Brisbane) battled her way from floor to bar. She was given such a hard time by those guys but she was super persistent and look at her now!
I do feel that presently, the Australian bar scene is a very open and welcoming place — if you're a good person and you rock it behind the stick, it doesn't matter who you are or where you come from.  The guys are mostly really supportive, you just need to be able to cope with the banter.
ADVERTISEMENT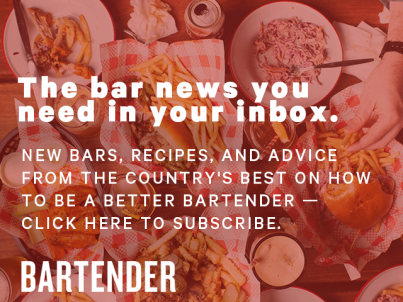 &nbsp
I do know of one group of venues in Sydney who don't hire women as a general rule in their cocktail venues- which repeatedly makes me really frustrated because I genuinely love these venues and I think it's a really backwards policy.  They know who they are and I really hope they prove me wrong one of these days.
Are women well represented in Sydney bars, and at the top end of Sydney bars? How does Sydney compare with other states?  
I think Melbourne has been the leader for the last few years as far as female talent goes -— from what I've seen the other states slightly further behind.
Sydney is rapidly improving and there have been some really great girls making headway in the last year or two.  Sydney has been really short on staff the last couple of years-with so many new venues all the top notch staff have had very cushy jobs and don't move around as much.  That has lead to managers putting more time into training the young, eager kids up and fortunately, I think more girls are coming along with it.
Could you tell us how you got to be where you are today?
I started going to The Bayswater Brasserie when I was 2 years old with my parents and some of my youngest memories are of running around (I was table height) in the restaurant.  Because of this, the manager who we knew very well took a chance on me and gave me a job as a food runner – I'd been working in cafes for a couple of years. Naren Young was bar manager at the time and Charlie Ainsbury started there as a barback about six months after me so I had some pretty massive inspirations right there. I only ever waitressed at The Bayz, but it's totally my spiritual home and definitely set me on the track of wanting to get behind that bar.
I went on over to London after that and spent three and a half years working my way up — eventually winning my first comps over there.  I've basically never stopped working on bettering myself and gaining more and more skills — on the floor, behind the bar, in competitions, in management.
Are there any women in the industry that served as a role model for you?
Audrey Saunders is still a role model to me — she's a living legend with not one but many tried and tested modern classic cocktails under her belt.  She puts so much back into the industry as well, she's definitely someone for us all to look up to, male or female.
Of women closer to my peer group: Bonnie, who I mentioned before has done amazing things with her career since we first met.  Also of Match Bar alumni, Lois Kerr in Melbourne has also carved an incredible path for herself.
Kelly O'Brien is the closest thing to a female mentor I've had — she was supervisor at The Victoria Room when I started and she taught me more about customer service than anyone I've known before or since.  I got to work with her again recently at The Roosevelt and every shift with her is joy.