The trend away from age statements
It's a common misperception among punters that the older that Scotch whisky is, the better its quality. While some whiskies might benefit from extended ageing periods, some don't — in fact, they're better at times when tasted young.
Whisky brands haven't exactly discouraged this idea in the past (older whiskies tend to sell for far greater dollar amounts) and now, because some are facing the prospect of smaller and smaller inventories of old whiskies hanging about their warehouses, they've got to try to convince the public that age doesn't equal quality per se.
We're witnessing a number of brands taking the emphasis off age statements, and onto wood finishes and other hallmarks of flavour — and that's a good thing. However though it's a good thing, surely giving an indication of the age of the whiskies somewhere on the back label can only help bartenders and punters alike make the best choice about which whisky they want to guzzle.
ADVERTISEMENT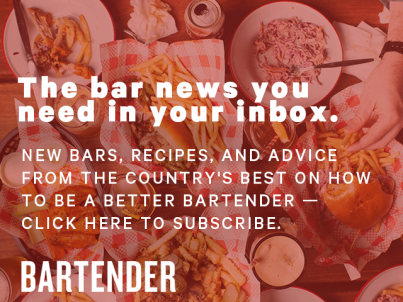 &nbsp
What does this mean for mixing drinks? With an array of flavour-focused whiskies becoming more prominent that will surely open up new dimensions for bartenders to muck around with.
But you're not limited to cask-treated expressions — take a look at the drinks we have presented here for flavour combinations both classic and new.
Penicillin
60ml Glenmorangie 10 years old
20ml lemon juice
20ml honey and ginger syrup
10ml Ardbeg 10 years old
Shake Glenmorangie, lemon juice and syrup and strain over large ice in a rocks glass. Float Ardbeg on top.
Adapted from a recipe by Sam Ross
Back in 2011 we wrote about modern classic cocktails, and the Penicillin was one of them, wrote Ed Washington:
Ross credits the invention to some experimentation he did on a Gold Rush cocktail (bourbon, lemon and honey) back in 2005. Using a Scotch as the 'meat of the drink' the results were good, but once he'd drizzled a splash of an Islay single malt whisky over the top he knew that history was born. "People were very tentative in using single malt Scotches in cocktails previous to this," Ross said, "I think this fact did help the Penicillin gain some modest recognition."
Modern Cocktail
45ml Glenlivet 12 Year Old
7.5ml Havana Club Anos 7
7.5ml Pernod Pastis
7.5ml lemon juice
Dash of orange bitters
Garnish with a cherry
Adapted from a recipe by Hugo Ensslin
Here's an old drink that offers up a new way to drink whiskey. The addition of little dashes of pastis, rum and lemon juice softens up the whisky. Just make sure that you use pastis rather than absinthe; the sweetness of pastis is needed in what is an otherwise very dry drink.
Whisky Cobbler
60ml Glen Grant 10 Year Old
15ml dry sherry
1 teaspoon sugar

Stir with ice in a tin. Top with crushed ice and garnish with mint and fruit in season.
Adapted from Harry Johnson's Bartenders Manual
We're big fans of Cobblers generally. Take a nice, fruity single malt like the Glen Grant, add a little dry sherry to lengthen it and add ice. It's a good way to cool down — even in the colder weather — and slows down your intake of booze. Plus who doesn't like garnishing a Cobbler?
Hakushu Highball
60ml Hakushu 12 Year Old
Soda water to fill
In a highball place a large chunk of quality ice. Add whisky, then fill with soda water.
Sometimes you don't need things to be complicated. Sometimes you don't want whisky straight up. The highball is a popular drink in Japan, because the soda water lets the whisky open up a little. It's an easy-does-it, gentler way of drinking. And it keeps you hydrated.
Intercontinental Derby
60ml Glenfiddich 12 Year Old
15ml coconut nectar
30ml fresh ruby red grapefruit juice
Shake all ingredients and strain into a coupe.
Adapted from a recipe by Dave Ham, Keystone Group
What happens when you don't have honey handy to make a Brown Derby? Find whatever sweetener you have handy. That's what Dave Ham did when he went for this riff on the bourbon classic, coming up with a new set of flavours when he did.
Rob Roy
40ml Port Charlotte Ten Year Old
20ml Cocchi Vermouth di Torino
2 dashes of bitters
Stir down and serve up in a chilled coupe.
The Rob Roy is probably one of the more common Scotch cocktails, simply because you're switching in whisky for rye. But there's no need to leave things at the blended whisky option. You can pop in a more distinctive whisky, like the Port Charlotte Islay whisky here, to give the Rob Roy greater heft.
Off the Top of My Head
40 Bunnahabhain 12 Year Old
15 De Bortoli Noble One
5ml Amaro Montenegro
2 dashes Peychaud's Bitters
Stir down, strain over hunk of ice in a rocks glass. Garnish with a lemon twist.
Adapted from a recipe by Jamie Walker, Keystone Group
This drink was ad libbed by Jamie Walker, and we're damn happy with the result. Why? Because people don't use dessert wine enough in drinks. It's sweet, it matches the whisky (there's a reason why brands are using Sauternes casks to finish their whiskies, after all) and combined with a little Amaro Montenegro for bitterness, this is a delicious drink indeed.
Glenfiddich 12 Year Old is matured in bourbon and  sherry oak casks for at least 12 years. A single malt Scotch whisky with distinctive fresh pear, creamy with subtle oak flavours and a long smooth and mellow finish. William Grant & Sons
Glenmorangie 10 Year Old has aromas of citrus, ripening peaches and vanilla. Vanilla on the palate before a burst of flowery fruitiness. The finish is a clean and salving aftertaste with hints of orange and peach. Moet Hennessy
Hakushu 12 Year Old pours a pure gold in the glass, it has a nose of fresh green leaves, green apple, pear and a soft smoke. The crisp palate sees sweet pear, butter cookie characters leading to a dry, pleasantly smoked finish. Suntory
Port Charlotte 10 Year Old aromas of peat and sherry complemented by citrus, black pepper, heather and mint. On the palate are sticky date and oloroso sherry characters, smoked malt and nuts. Southtrade International
Glen Grant 10 Year Old was awarded the Best Single Malt 10 years and under in Jim Murray's 2014 Whisky Bible. It has aromas of ripe orchard fruit, apples and pears. A creamy palate of apples and cooked almonds leads to a fruity finish. Gruppo Campari
Glenlivet 12 Year Old has fruity and summer-like fragrances on the nose, a balanced and fruity palate with pineapple notes lead to a creamy finish of marzipan and hazelnuts. Pernod Ricard