Just as in our profile on aromatic bitters this month, so too did liqueurs start out as a medicine. Monks, for instance, like those at Chatreuse, have been making liqueurs for centuries, flavouring them with herbs and spices in an effort to fortify the human spirit.
But as medicine and science progressed, so too did the cures we devised. Now that you can get medicine that fixes the problem (rather than just laying a drinken blanket over the ailment), the role of liqueurs have changed.
They're a lot more fun.
They are an essential modifier in any number of classic cocktail recipes. That's right, they're not just in Blue Lagoons and blue-light disco drinks.
ADVERTISEMENT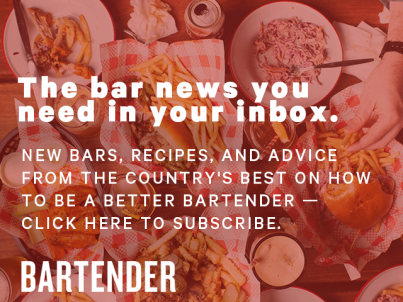 &nbsp
Take the Gin Cocktail, for instance. It's as old-school a drink as one can get, dating back to Jerry Thomas and the days of his 1872 book, The Bon Vivant's Companion. He describes a simple mix of sugar (or gum syrup) genever, bitters and curacao. If you've never fixed yourself one of these, then you should. It's a very civilised gin drink, more Mad Men than Miami Vice.
And let's say you wanted to do better with that cocktail? Well, Thomas had an answer for that too: the suitably named, Improved Gin Cocktail. It's the same as the above, except you sub in absinthe and maraschino liqueur for the curacao.
See how liqueurs can make life a little better?
The next four drinks all share one thing in common. They're pretty standard recipes, except for their choice of liqueurs. The liqueurs give you an accent, a different flavour to work with, all the while fulfilling the sweetening role in the drink. Experiment at will.
Chambery Cassis
90ml dry vermouth
15ml Lejay Lagoutte crème de cassis
30ml soda
serve in a wine glass.
This drink changes things around a little bit. It's like a Kir or a Kir Royale in that it calls for crème de cassis. But what changes with this version is that the cassis plays the supporting role whilst the wine is switched to dry vermouth. Serve it very cold, on a warm afternoon. If nothing else, it's a good way to get through those bottles of vermouth before they lose their freshness.
Pavan White Lady
40ml Finsbury Platinum Gin
30ml Pavan
20ml lemon juice
egg white
Dry shake, then shake all ingredients with ice. Strain into a coupe.
With one simple switch — subbing out the triple sec in a traditional White Lady and putting in its place a splash of Pavan — this elegant drink takes on new dimensions. You're not reinventing the wheel here. No, you're riffing on more than a hundred years of mixing.
Seelbach Cocktail
30ml bourbon
15ml Cointreau
7 dashes angostura bitters
7 dashes peychaud's bitters
Prosecco to top
Orange peel twist for garnish.
Stir ingredients except champagne, strain into a flute. top with prosecco.
There is so much happening with this drink — two types of bitters, bourbon in the mix along with a little sparkling wine — but it would all fall over if not for the Cointreau. It provides a much-needed touch of sweetness and fruit, the sugar content (and alcohol by volume) adding body to the mouthfeel of the drink. Use a bourbon that is easy going and not too spicy.
Rum Runner
22.5ml 151 proof rum
25ml Lena Banana liqueur
25ml Lejay Lagoutte crème de cassis
20ml grenadine
Blend with ice and serve in a tiki mug.
Adapted from a recipe by Tiki John Ebert (1972) in Beachbum Berry's Grog Log
We began by discussing the Improved Gin Cocktail, one that goes back to the early days of the Cocktail. Well, lets bookend these drinks with a concoction of the modern day — from 1972, to be exact.
At first sight of the specs you might cringe a little bit. Well, you'd be wring. Made properly this is a seriously well put together drink. The Lena Banana, even in relatively small quantities, shines through in this drink, but that very tiki baklance between sweet, sour and strong is ever present here. Just make sure you use a rum that's big enough in alcohol to carry the liqueurs.
Pavan. Made from hand-harvested petite muscat grapes from the AOC region of Frontignan, Pavan is a relative newcomer to the very old world of liqueurs. They take the pressed juice of the muscat and fortify it with grape spirit, resulting in an aromatic, flavoursome liqueur. Suntory
Cointreau. You don't get a much more identifiable — and celebrated— liqueur than this. It's so celebrated that Mexico has its own rip-off version called Controy. But it's not as good as the original: the peels of  sweet and bitter oranges give it its superior flavour. Suntory
Lena Banana. This can be found on back bars all over the world, but it is often put to poor use. Use it in our Rum Runner and you'll realise the potential of this brightly coloured liqueur. It's made with top quality banas from the world's tropical regions. Suntory
Lejay Lagoutte Crème de Cassis. Lejay Lagoutte is said to have created the first creme de cassis, so it's appropriate we've used it in the old Chambery Cassis cocktail here. They use the extra virgin juice of blackcurrants from Burgundy, France. Suntory