Tiki drinks call for a variety of ingredients; different styles of rum often in the one drink, juices aplenty, and often sweeteners in the guise of syrups.
The trio of syrups we've got here could fairly be called the tiki trinity; a bar stocked with these will be able to punch out pretty much any recipe your Hawaiian shirt-boasting tikiphiles could want.
Falernum
Falernum is a Caribbean flavourbomb, with flavours of lime zest, ginger, cloves and almonds and a great addition to cocktails that need a little depth.
ADVERTISEMENT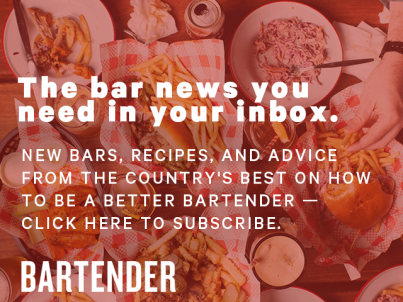 &nbsp
You'll find falernum used in many a Caribbean-accented drink: drinks like the Corn & Oil, the Royal Bermuda Yacht Club, and the 1934 spec for the Zombie all give it a run.
Doubts exist about the origins of falernum — it may have been created some time in the 1700s, 1890s or 1930s depending on who you ask — but it is without doubt a staple spirit of any bar getting its tiki on.
Colonel Beach's Plantation Punch

30ml lime juice
60ml fresh pineapple juice
15ml Monin Falernum
60ml ginger beer
60ml Appleton Estate Signature Blend
30ml Bacardi Oro
2 dashes of Angostura Aromatic Bitters
3 dashes of Pernod

Shake all ingredients except ginger beer with crushed ice, then strain into a tall glass filled with cubed ice. Add ginger beer, garnish with pineapple.

Adapted from a Don The Beachcomber recipe from Waikiki circa 1950s in Beachbum Berry's Grog Log
Orgeat
Ah, orgeat. It is, without doubt, an indispensable cocktailing ingredient if you ask us. Not only is it a gem of the tiki making world, it's had a long history in more classic-styled drinks, too.
Jerry Thomas' 1862 How To Mix Drinks included a number of recipes that incorporated the stuff: the Japanese Cocktail (which, though it may seem strange today, includes no Japanese ingredients but does include cognac, orgeat, and Boker's Bitters); his Whiskey Daisy included a couple of dashes of orgeat, too.
It also features in great classics like the Army & Navy, where it pairs well with gin, and the Cameron's Kick, which joins Irish whiskey with Scotch.
Royal Hawaiian Cocktail

45ml gin
45ml fresh pineapple juice
15ml lemon juice
20ml Crawley's Bartender Orgeat Syrup
2 dashes Chartreuse

Shake all ingredients with ice and strain into a chilled coupe.

Adapted from a recipe at the Moana Hotel Waikiki Beach, 1948, in Beachbum Berry's Grog Log.
Grenadine
Can you imagine getting hit on the head by a pomegranate? Who throws a pomegranate, anyway? Well, we can only suppose that the French were once fond of lobbing a pomegranate or two — the word grenade (you know, of the explosive, pull the pin and toss type) comes from the early French word for pomegranate, grenade.
According to Amy Stewart's The Drunken Botanist, the pomegranate tree was cultivated by the ancient Egyptians and has its origins in the Middle East and Asia. It soon found its way to Europe and has been a fixture of French and European syrups and drinks since the 1800's.
Cesar's Rum Punch

60ml lime juice
30ml Routin 1883 Grenadine
15ml sugar syrup
3 dashes Angostura Bitters
60ml Rhum Barbancourt

Shake all ingredients with ice and strain into a tall glass filled with crushed ice. Garnish to your heart's content with pineapple, mint, cherry.

Adapted from a recipe by Joeseph Cesar circa 1930's in Jeff Berry's Intoxica.
Monin Falernum
Falernum is a mix of spices, lime and almond, and is a staple ingredient in many tiki drinks — but notoriously difficult to achieve consistency with. Monin have managed to create one that is consistent, from bottle to bottle and drink to drink.
Stuart Alexander
Crawley's Bartender Orgeat Syrup
The nose is of saturated bitter almonds and a subtle spiced cherry. The flavour builds to mid peaks of bright sweet spice closing off to deep long creamy almond finish.
Vanguard Luxury Brands
Routin 1883 Grenadine
Floral, fruity notes on the nose. On the palate, notes reminiscent of pomegranate; starts with a round flavour then fades into a slightly tart aftertaste.
PosiPour