The Most Outstanding Contribution award, presented annually at the Bartender Magazine Australian Bar Awards, is a prestigious award that pays tribute to someone who has made a marked difference to the bar industry through their passion and dedication.
Australian Bartender is pleased to announce the recipient of this year's Most Outstanding Contribution award is Mike Enright, owner and operator of The Barber Shop in Sydney.
Few bartenders can lay claim to being there for each and every change in Sydney's bar culture over the better part of two decades, but Mike Enright is one of them. From the turn of the century until today, Mike Enright's creativity and passion for the industry has always been on display, and he has in turn influenced countless numbers of bartenders over the years. From his start at The Grand Pacific Blue Room — the doyen of Sydney cocktail bars at the time — in the early 2000's, to pioneering cocktail work at theloft, to his role as group bars manager for Sydney's era-defining Merivale later in that decade, and in his championing of the gin category at his own bar The Barber Shop as it has exploded in popularity among the drinking public, Mike Enright hasn't been afraid to do things differently. He's lately flown the flag for Australia internationally, speaking at both Bar Convent Berlin in Germany and at Tales of the Cocktail in New Orleans.
With plans for a new venue in development, it's clear that Enright isn't done yet.
Enright will be presented with the award at the 17th annual Bartender Magazine Australian Bar Awards, held on Tuesday 19 September during Sydney Bar Week.
ADVERTISEMENT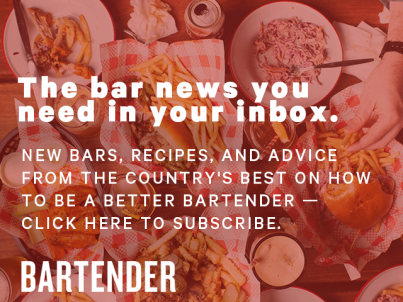 &nbsp
We'll be announcing all the finalists for the Bar Awards in the July issue and online here, so watch this space.