Bermuda Rum Swizzle
60 ml Untold Spiced Rum
25 ml falernum
30 ml pineapple juice
30 ml orange juice
15 ml grapefruit juice
25 ml lime juice
3 dash of Angostura aromatic bitters
2 dash of Peychaud's bitters
Add all ingredients into a highball, churn with crushed ice.
Top with crushed ice and garnish with mint.
Adapted from a recipe provided by Dave Kerr.


The Swizzle is a simple drink, but it's one that delivers a big payload of flavour. Served long, on a hot day, over a mountain of crushed ice? You just don't get a better delivery mechanism for rum.
ADVERTISEMENT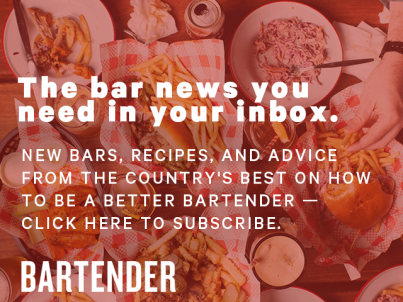 &nbsp
The Swizzle offers you a great structure on which to riff; switch in different rums to get a different end result (we've used the drier spiced rum from Untold); add dashes of other bitters, heck, the crushed ice cap is ideal for drizzling on some cassis. And Melbourne bartender, Dave Kerr, suggests switching out the sweeteners to change things up.
"Substitute your sugar component with the same spec of house-made grenadine," he says. Don't have your own house-made grenadine? It's simple, he says: it "should be the same spec as your house made sugar syrup, just replace the water with pomegranate juice."
The simplicity of the Swizzle really shines a light on the rum, says Kerr, who had a hand in creating Untold Spiced Rum — he also had the Swizzle in mind when they developed the rum.
Here he's offered us this spec for the Bermuda Rum Swizzle. "Don't bother unless you're juicing everything fresh," he says, but the end result is worth the effort. He suggests letting the rum take the lead, taking "the golden leader's jacket for the full 18 holes."

Tasting notes
Untold Spiced Rum is a blend of Caribbean rums aged from two to three years, and infused with natural spices. There are sweet aromas on the nose, leading to a drier palate than most spiced rums offer; a savoury character opens to a long, spicy, dry finish.
Asahi Premium Beverages
The Banter
Untold is a full-bodied, full strength spiced rum developed by bartenders Dave Kerr (The Beaufort), Nathan Beasley (Black Pearl), Oscar Eastman (ex-Eau de Vie) and Dre Walters (The Lobo Plantation).
Untold is a unique blend made with premium, 2-3 year aged golden Caribbean rum (from Trinidad), enhanced with natural spices.
Untold bucks the traditional, masculine 'rum and pirates' storyline with its unique packaging design of striking, colourful, urban art created by Australian artists Andrew Archer and Tim Phibs.