Starting a brand by Tim Philips-Johansson, co-owner of award-winning bars, Bulletin Place (recently closed) and Dead Ringer and the brains behind Rhubi Mistelle
Venues, bartenders and owners have had masses of time in the past 18 months to decide what alternative career moves they could sidestep into next. For many, the lure of launching their own product as a commercial venture has motivated creatives to begin the process of launching a mass-market product.
Whether it be a bottled cocktail, non-alcoholic wine, another brand of seltzer or the hottest new rhubarb mistelle on the market, ideas have been flowing thick and fast and there's no stopping the movement of bartender and venue-led products.
So, how do you do it? Before you start investing in 10,000 perfume bottles from Plasdene, I've got some tips for you that may save you some time, money and headaches.
ADVERTISEMENT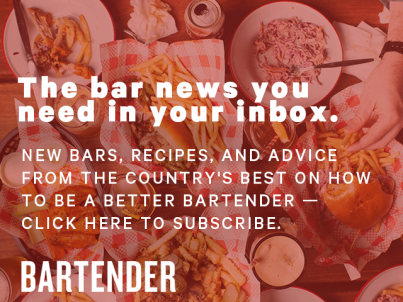 &nbsp
Diligence – Do your research. This means a business plan. Sometimes this notion seems exhausting. You know what you want to do and you're pretty sure you know people who will buy it? Well, others don't know that. Including any potential investors, business partners, distributors, or designers that you most likely will engage in during this process.
It's best to get the pillars of your business model on paper and have your plan of attack ready on how to take over the world.
Have your spiel remembered and ready to regurgitate at the drop of a hat.
Money – you're going to need some to get going. Not just capital to experiment, buy and produce your said product, but enough for things like marketing, accountancy, logistics, insurance, wastage.
The general rule of thumb when launching a brand is to lay out your prospective costs and double it. That should be close to what you need.
If you don't have any money, find some. This means writing a substantial business plan, including the whys, whats and wheres of who's going to drink and buy your product. Pitch this to investors or friends that can lend you their skillset that you need, in return for a share in your product. These people include accountants, lawyers, PR and designers. Speaking of design…
As mentioned before, you will need help to make this a success. Speak to people you need help from and sell them your dream, show them your business plan, and ask for help.
Design – Besides word of mouth, the best way to get people to drink your thing most people choose a new product based on how it looks. Design matters. There are very few good brands on the market that don't have an impressive design or have invested heavily
in design.
Converse to that, very few brands with no/bad design end up selling – even if they are incredible liquids. Brands like NON (Australia) have gone the other way. Their successful and distinct white-label anti-design aesthetic is exceedingly rare.
With that said, if you do have a budget for design, consult with people that have far better taste than you. It's likely your idea is simply stolen from another cool brand you saw recently, so it's sometimes better to work with more progressive types that spend their days in the world of beautiful packaging.
Third Parties – As mentioned before, you will need help to make this a success. Speak to people you need help from and sell them your dream, show them your business plan, and ask for help.
Prioritise what you need most and, including what you think will cost the most, and potentially offer those parties a share in your brand. You may have heard of the saying "It takes a village to raise a child", well it takes an army to launch a product with limited funds.
Strategy – One of the biggest assets you will need to make your brand a success is time. If you don't have huge budgets, to succeed you need to hustle. Nothing is more humbling than going door to door sampling your product to prospective customers. Some bar owners and managers will instantly support you; others simply aren't interested.
Don't take that personally. If we stocked every mate's brand that comes across our desk, we would go broke with the amount of holding stock we'd have. Your brand isn't for everyone so focus on your initial early adopters and shower love and thanks on them for being your first advocates.
Ultimately, starting a brand is hugely rewarding. It's a two-step forward, one-step back process that exhausts you mentally and financially.
Once launched the real work behind and making something a success relies on your persistence and planning. Good luck!
Rhubi Mistelle will be showing their wares at the upcoming Indie Spirits Tasting in Sydney on Sunday, 19th September, a key event in the Sydney Bar Week line-up. To find out more go to sydneybarweek.com.au or indiespiritstasting.com.au. For all exhibitor enquiries email david@spantonmedia.com