The life and times of one of bartending's greatest movers and shakers
"I need a drink to wake me up, then f*&% me up"
Awesome.  If only I had punters dropping lines like that in my bar!  Alas, I may be waiting a while because I don't have the luxury of wayward supermodels dropping in on a whim – nor am I Dick Bradsell.
ADVERTISEMENT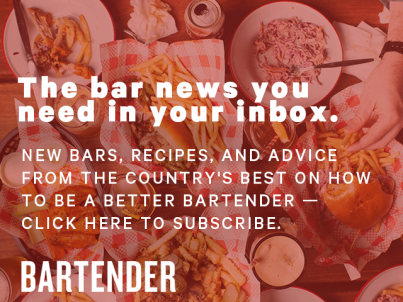 &nbsp
The quip above was allegedly the inspiration for a rousing bev created by Dick Bradsell on the spot to fit the bill (and flattering curves) of the supermodel in question. The bar was Fred's Bar, in Soho – a breeding ground for much of Dick's creativity. The tipple created that night quickly gained fame and became a signature drink at Pharmacy in Notting Hill, a bar which Dick co-opened with, bad boy artist of note, Damien Hirst. The beverage was the Pharmaceutical Stimulant, or humble vodka espresso martini if you will.
When we read or hear about such awesome anecdotes, we see the birth pangs of a modern classic cocktail.  The stuff of legends.  To Dick, it's just another highlight from a life littered with similar tales, cocktail pioneering, parties and fame.
Raised in East Cowes on the Isle of Wight, the self-confessed naughty adolescent "…you know, a punk.  I didn't wash properly and wore dirty T-shirts." was sent to London in 1977 to straighten out.  Bradsell made an inauspicious beginning doing catering work under the wing of his 'evil uncle' at the not-so-hip Naval and Military Club in Piccadilly, but he soon found that he had a strong attraction to front-of-house work.
Dick leaped at the chance to be trained at the Zanzibar Club as a bartender.  It was here that he developed a passion that would propel him through the rest of his career.  The amount of venues he's worked (and opened) since then is simply staggering!  Some sixteen and counting with juggernaut names like Dick's Bar at the Atlantic, Fred's Club, Groucho, Match Bar and Lonsdale House to name a few.  And then there's the drinks he's created…
In a time when hurricane glasses ruled, cream marched rampantly across the globe, and syrups, blenders and sweet neon coloured liqueurs plotted the downfall of civilised drinks everywhere, two men bucked the trend on each side of the pond.  Dale DeGroff at New York's Rainbow Room was one, the other, of course, was London's Mr. Bradsell.  Perhaps it was his avoidance of hotel bars, or simply his irrepressibly bespoke nature, but whatever the case Dick found a serious love for the classic cocktail and during the eighties reigned supreme in their accurate, fast and economic construction.
As with anyone who's worth their salt, a deep knowledge of classics is essential for creating excellent contemporary drinks, and so gradually, cracking cocktails began to flow from both shaker and pen.  Drinks with poise and balance.  Drinks of refinement, and shrewdly selected flavours.  His skill in using crème de cassis and mure was deft – saving them from the lips of refreshment-seeking French grannies in Dijon, and no one's done more to resurrect Plymouth's tasty sloe gin.  Someone call the Mayor! These towns should have statues erected of him in their squares.
The Bramble is perhaps his most famous, a drink penned at Fred's Bar and delicately twisted to the left from a gin sour basis with a lacing over crushed ice of crème de mure.  Tantalising and zippy.  The Hedgerow Sling followed a similar path when he created this house classic at Detroit, bringing sloe gin and gin together with lemon and served in a sling – laced with cassis.  The Player (opened for Match Group) became "the home of the Wibble", which again married English gins with French liqueurs brilliantly.  These typical combinations aren't ground breaking, but what's resounding when you taste them is just how damn well they go!  Put 'em on a list, sit back and wait for the thirsty punters; they're guaranteed movers.
As a bartender, Dick is the complete package: student of human behaviour, wealth of bar basics, library of cocktail information and more.  And then there are the echoes that give his character texture, with a serious love for cricket, books, and the Soho night set.  These days Dick is a somewhat reclusive character, but if you're in just the right place at the right time, you may just get the chance to have a smartly turned out cocktail from this icon of the London scene.
And can someone with more cash and pull than me look into those statues!?
Adi Ruiz is the beverage director at Melbourne's Seamstress, and an 'alchemist' for Diageo's Alchemy program. You can contact Adi on treacle_lover@yahoo.com.au