Here's what Parched March is about: friends around a table, nursing favourite cocktails, swapping stories, savouring tastes and aromas, welcomed by warm hosts and soothed by music. A great bar transports you from reality, but at the same time brings you home.
That's my idea of living, and as I've travelled through 11 bars in 11 days as Parched March hits its second week, I've been lucky enough to keep finding a rainbow of variations on the theme. This week has been a mix of old favourites and new, bars belonging to big companies and small, independent joints, cocktail-focused bars and wine loving venues. What do they all have in common? They're fun, quality, crucial pieces of Sydney's great big drinking jigsaw.
Pocket, Crown Street, Darlinghurst
I like to sit at Pocket's glass-topped bar and marvel at the bric-a-brac beneath. It looks like the spewed contents of a nutter's handbag. The little space is packed with good-humoured locals and the vibe is relaxed, undone, easy. This is Sydney's small bar scene in action and it's a picture of laid-back conviviality. It makes me want to take the anti-alcohol fun-dodgers by the hand and show them why such bars need support, not hindrance. They're the best possible example of grown-up, intelligent and innovative bar culture.
ADVERTISEMENT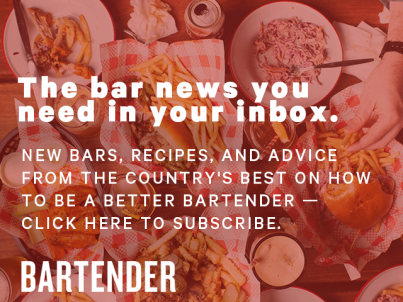 &nbsp
With me is Dave Spanton, publisher of Australian Bartender magazine. He's a sponsor, so he's keeping an eye on my progress but at the same time he's quietly casting an eye over contenders for Bartender Magazine's 2010 Australian Bar Awards. This year will be a busy one for Dave and the judges. There's talent around every corner in this town.
We talk about the rise and rise of nightlife in this little slice of Darlinghurst/Surry Hills and toast it with negronis.
The Winery by Gazebo, Surry Hills

Time for a visit to the new Surry Hills sibling of Gazebo Wine Garden and home to the Elvis Room, with its grass-topped bar and memorabilia wall.
Dave and I take stools at the bar and soak up the lively atmosphere.
I like the bustle of Winery; the table-hopping, the extrovert staff and the banter. I also like the Spanish sparkling, the oysters, the WA crab, spinach & chilli tossed in angel hair pasta, tomato and chardy; the Dr Loosen Riesling Kabinett, the tray of stinky cheeses and the muscat. A satisfyingly decadent, robust bar experience best enjoyed when you've time to linger, chat and become philosophical under the stars. Thanks chief sponsor Dave – hope to see you back on the odyssey soon!
Aperitif, 7 Kellett Street, Kings Cross.
Kellett Street has become a home to quiet, consistent achievers (Libertine, Prague and of course the iconic Cafe Roma) and at Aperitif, Charles Leong, Elie Griplas and crew have been showing how a good wine bar looks, without fuss, for five years. It's one of my locals and some Mondays, like this one, I wander in here alone, nestle in a booth and quietly enjoy small platters of French-ish food and Euro wines served in the Riedel O tumblers which seemed so daring when the bar first opened. Aperitif is one of those rare bars which suits every occasion: a solo escape, romantic interlude or gathering of friends long after midnight when the kitchen is still – thank goodness – resolutely open. Tonight Elie presents a sweetcorn and basil veloute with steamed prawns that makes my taste buds purr, matched with a chilled, Chateau Rio Tor rose full of perfume and fruit. There's always something exciting happening with cheese at Aperitif and tonight it's Sainte-Maure de Touraine, a goat's cheese that thinks it's a brie and somehow manages to be deliciously both.
Gin Garden, Establishment, George Street, Sydney
One of the hidden gems in the Merivale empire, Gin Garden is a colonial-inspired shrine to fine gins tucked away at the rear of the main Establishment ground floor bar. Over 24 are served and Mikey Enright knows exactly what to do with them: classics, twists, and tonight a gin masterclass as part of the annual March into Merivale programme of events throughout the company's venues.
It seems only right that Parched March marches into Merivale as our focus is the same: good times, good drinks and food, and good living. In Gin Garden we find Mikey and fellow gin guru Ben Davidson finishing up the class. We're joined by a group of cocktail enthusiasts and Ben dons his apron and whips up classic Beefeater Wet Martinis for everyone. We settle down around one of Gin Garden's round, timber tables. Antipasto plates add to the epicurean mood and in the candlelight's gentle glow, we kick back and lose track of time.
Lotus, Challis Avenue, Potts Point
If you live close to Lotus as I do, the little bar in the back feels like a secret. It isn't of course, because nowhere with a cocktail list so good could be, but when you're perched at the bar and Petr Dvoracek is mixing you a Mellow Nail or the enduring favourite Lotus Martini, you can pretend that this bar is built into your Potts Point mansion and you never need to go home.
It's a soothing, low-lit haven and with Dan Hong's excellent fare in Lotus bistro, Fratelli Paradiso next door and the new Fei Jai restaurant set to open across the road, there are more than enough reasons to order an aperitif on Challis Avenue.