By David & Amy Spanton
The way I see it is that Bali is Asia's version of Ibiza but a little more chaotic. It is actually a third world country too so things like traffic and pollution can be a little bit confronting for many first time visitors. In saying that there is no doubting that Bali (if you take away Kuta) is a beautiful island with much to see and much to do and that is why Bali can lay claim to being the party destination of south west Asia.
Bali is truly an international destination. It attracts visitors from all over the world including huge numbers of Japanese, Russians, Dutch, and French and of course Australians – unfortunately the latter don't have the best reputation due to their well-deserved trouble making ways (at least try saying you're a Kiwi if your having trouble getting into a club). Think planeloads of bogan Bathurst 100 supporters and Jim Beam & Cola Can drinkers all wearing Bintang shirts and braded hair running amuck. That's our typical Aussie visitor.
Bogans aside Amy and I are lucky enough to frequent the island regularly and we like to keep up with the latest bars and restaurants. The following is our review of what's new in the land of the gods.
ADVERTISEMENT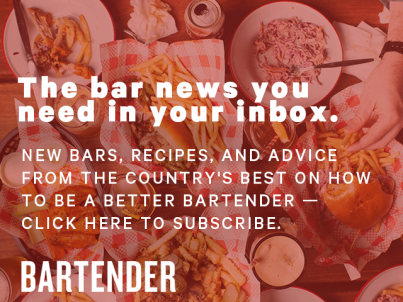 &nbsp
Mama San
Seminyak

At the time of writing this Mama San was only a few weeks old but it was already the hottest new place in town and you needed to book a week in advance to get a table. That's not surprising as Mama San (the name given to a madam of authority in an Asian gentleman's club) is the brain child of Chef Will Merrick who also owns another one of Bali's leading restaurant bars called Sarong (profiled in last year's Bali round up). The hard working Merrick was also the head chef who helped launch Jimmy Licks back in Sydney many years ago.

With its retro vintage design Mama San is split over two levels and the casual restaurant dinning downstairs serves classic eat treats from an array of Asian countries.  Upstairs was designed to feel like a bourgeois gentleman's club. I must say they have done a fantastic job and it's a very different offering for Bali. The cocktail selection of sweetly driven drinks is popular for the climate, and has a focus on 'old classics with a twist'.  It even has a page dedicated to frozen Daiquiris! I don't care how hot it gets it's never time for a frozen strawberry Daiquiri.

Blenders aside this place is a must visit just remember to make a reservation before you arrive.
Word of Mouth
Seminyak

My cynicism always bubbles up when a bar is described as 'part designer store'. And Word of Mouth is just that. Add to the mix that it recently won the title of best new bar by a popular local fashion and travel magazine I began to wonder if, maybe, such a synergy could actually work? Well the short answer is no no no. And let me tell you why.

Even if the fashion store showcases 'sexy and cool stuff' as they bestow online they have no idea about running a bar and it shows with the poor set up and lack of staff (yes, a bar needs a full time bartender not store consultants!). There was nothing good to say about this place to be honest so I can only assume its owner is getting shagged by the magazine publisher who awarded them best new bar, or they advertise a hell of a lot, as it makes as much sense as a DJ's food court winning a best restaurant award.

You might like to check it out and see for yourself but my suggestion is save your money and get back on your bike and head directly to Mama San.
Red Carpet Champagne Bar
Seminyak

This place opened just over 12 months ago and ever since then we have been puzzled by the crowds. Expats we know, even my brother who lived here for many years, said that this place was hot. Now in all honesty it looks like a dog's breakfast. It's a strange red and white Champagne bar in busy Seminyak with girls dressed like raunched up tobacco-tray ladies of last century. There is also one of these in Singapore so maybe that explains the crowds. Anyway, after much reluctance we decided to give it a whirl. It has a massive Champagne selection yet there's only Moet Brut by the glass, there are a few half bottles too to be fair, but it's pretty slim pickings.

Wine is super expensive in Bali – ludicrously so – so we usually stick to the beers. Being a Champagne bar however we couldn't resist sampling a half bottle of the Billecart
Salmon Rose which is one of our favourites. Touted on the menu as the best Champagne in the world we thought it had to be a nice bit of an indulgence. On the first smell, then the taste, the bubbles were disappointingly sour and mouldy. So, we sent it back. It was as if this had never happened before and the staff seemed baffled about what to do. First the bartender tastes it and then the glass disappears and the snooty French manager/owner returns to the table and starts regaling us on the finer points of the Billecart-Salmon house style… blah blah blah.

The upshot of his tirade was that he will not be cracking open another bottle for us, nor will he be taking this bottle off the bill. To add insult, the much-sipped glass (valued at about $40) was left on the table for us to finish. Now, I know the old wine return situation can be a little bit sticky, especially when you're dealing with expensive wine. But rather than belittling your guests, perhaps he could have said: "Listen, I think this bottle is a fine example and given the expense I'd prefer not to open another one of the same as I think it would taste the same, perhaps you'd like to try something else from our menu, maybe even a couple of beers!??"

So, completely turned off, we left our revolting Champagne sweltering on the table, paid our $130 and declared never to return. Life is too short to drink bad Champagne.
Karma Beach

Batu Belig Beach, Batu Belig

Now, before I start, I have to admit a little bias for this place. Not that we know anyone involved or anything like that but simply because it's on the beach, just a short walk from our villa. When we built our villa Batu Belig beach was a wasteland, now there are restaurants stretching along the sand and this one is the newest. Slated to open on NYE, the poor management team had to contend with a huge week of thunderstorms and torrential rain and many of their opening parties were cancelled.

I tend to have low expectations of fancy places in Bali and so I was really pleasantly surprised with this one. Trying to bring a bit of the Mediterranean seaside life to Bali, it certainly stacks up in the charm department. Yeah, the name sucks (this is not the 90s) but it's pretty comfy, they have nice staff, the food's good (we had a capricciosa pizza and some calamari), the music is awesome (classic old school tunes and a guy backing it up with live trumpet) and it's one of the better places to sip on a Cuba Libra (smoke a cigar, if you're Dave) and watch the sun go down.

On the downside January and February are the rainiest times of year in Bali so when the heavens open this place is pretty ill-equipped, and its thatched roofing offers little protection from the rain. I bet come August (which is considered Bali's summer and is also the busiest month for tourism) this place will be absolutely pumping and bookings will be a must. Definitely give this one try!
La Barca

Batu Belig Beach, Batu Belig

Most Bali beaches outside Kuta have been quiet locations with maybe a few small warongs (local eat houses) for surfers and off-the-track travellers. Not so for Batu Belig which has been transforming drastically over the past 18 months with a host of beach bars opening up as the area booms with luxury villas and its prestigious new beach neighbour the W Hotel.

One such addition is La Barca which that opened its doors (if it had any) recently in August 2011. Since then it has been making an impression on locals and tourists alike offering good service, fresh food and a more than acceptable drinks selection. What has really given this place an edge is their rustic nautical design. If you're walking along the beach you would swear it's an old rusted ship wreak that they have converted into a bar. It is very cool and on a balmy night or even for sunset drinks this place is unbeatable.

Add to the fact I give it the vote for the 'coldest Bintang in Bali' (and only $2) and trust me this is a big deal. There's nothing worse than a warm lager especially in the tropics! If you're with a few bartender friends why not bunker down and order something by the bottle say Jack Daniels Single Barrel for only 1,500M (say $120AUD)? This is a steal if you consider how hard it is to get spirits in Bali and the fact in Duty Free it will also set you back close to $90. Don't do Bali without a night at La Barca.
Naught Nuris

Batu Belig

The original first opened a few hours inland in yoga loving Ubud (just follow the smell of incense and you will find it) back in 1996 and now a sister establishment has been opened in Batu Belig. Naughty Nuris has been attracting a cult like following for their BBQ pork ribs and would you believe their Martinis.

I have tried both and can claim hand on heart that they are the best ribs in Bali and well worth ordering. However having recently travelled around middle American in 2011 I can say that while they're great for Bali they don't come close to what the yanks dish up.  Put that aside it's still a darn fine rack and much appreciated if you want a change from 'Indo-style' food.

The second point about their Martinis is that the well-respected traveller Mr Anthony Bourdain was supposedly quoted as saying it was the 'best Martini outside New York'. Wow! All I can say is Anthony you need to stick to what is on the plate as their Martinis and cocktails in general are fucking terrible and I come here often enough to feel that I didn't miss the shift that Dick Bradsell must have done for you to say such a thing.

Nevertheless, that one quote has more than doubled their business and good luck to them to capitalise on it if he did actually say it.  Martinis and ribs aside this place is fantastic for atmosphere and good simple food even if it's a bit touristy. You can also thank Mr Bourdain for the constant selling of Martinis. You will no doubt be told several times how amazing they are by your waiter!
Potato Head Beach Club

Petitenget

Opening in late 2011 no other Bali bar created so such hype and excitement than Potato Head. I know what you're thinking. Yes the name is terrible but it kind of grows on you I think and when you see the set up of the place you understand that the name counts for little. It's the design and layout of this place that blows you away. I would say it's bigger than many resorts on the island yet without accommodation.

It's kind of like the Ivy (Sydney) of Bali with a host of bars and restaurants dotted around the stunning amphitheatre which focuses on the beach and the spectacular sunsets that Bali's west coast is famous for. Now that is a few positives about Potato Head but unfortunately there are way too many negatives about this place for me to want to spend much time there, other than to show visiting guests a bar with an almighty wow factor. Unfortunately this place, more than most, gets filled with trashy bogans many of which are Australian and their lack of a door policy is scaring away the more discerning drinkers who are not looking to cause trouble. Add to the mix the large number of families and their kids who attend and cram the pool bar screaming and carrying on. It just screams Club Med!

What I will say is that the cocktail list is the best on the island at the moment and that's all thanks to internationally renowned Dre Massa who designed a smart mix of drinks that doesn't shy away from pushing the dark spirits. This is a welcome change from the super sweet drinks that so many bars in Bali focus on. My final gripe is by the time we found a bar to get a drink we were asked three times if we had a reservation. Reservation for what? To get into the bar? Walk over the lawn or pass by the minimum spend day beds? Compare this with Ku De Ta – the bar that has been the top destination for over a decade until Potato Head arrived – in that when you arrive you get a welcome and a smile from gracious hosts. My suggestion is that you have to visit this place just for its design alone. But other than that, better service and bogan-free crowds can be found at many other bars in beautiful Bali.
Babi Guling Warong's

There's nothing new about Babi Guling but I just had to include it as they are everywhere in Bali and for good reason – they service nothing but heavenly suckling pig. Babi guling translates to 'baby pig' in Balinese and these little warongs (Balinese for eating house) let nothing go to waste serving up pieces of pork belly, fried ears, typical offal and of course the must-have crackling that is rolled up in the window just teasing you to try and drive past without a bite!

I would guess that most visitors on their first trip would avoid eating in this kind of place simply based on how basic the set up normally is. But don't be fooled because they know what they are doing and it's fresh. So drop in and ask for a mixed plate and Bintang or fresh squeezed juice (set you back about $4) and enjoy. Watch out the soups are always rocking spicy!