By Simon McGoram
*Selected images courtesy of Bramble Bar, Edinburgh
The bottled cocktail over the ages
ADVERTISEMENT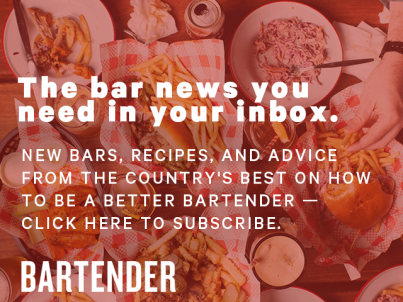 &nbsp
You would be forgiven for thinking that bottled cocktails are a relatively new fad – a result of liquor multi-nationals trying to maximise profit. But cast aside the rash of premixed beverages filling liquor store shelves for minute a take a look back into the murky booze laced history of mixed drinks and you'll see that the bottled convenience of pre-mixed beverages has long been popular.
Jerry Thomas' How to Mix Drinks or The Bon Vivant's Companion includes several recipes designed to be bottled and stored until ready for use including Punch à la Ford, Gin Punch and a Bottle Cocktail made with brandy. Well before Thomas' reign bottled punches were commercially produced too. As mentioned in this month's How To Queen Victoria had a particular predilection towards a bottled Milk Punch by Nathaniel Whisson & Co. Victoria awarded the company the title of 'Purveyors of Milk Punch to Her Majesty' in 1838.
There's one bottled cocktail that even fancy cocktail bars stock and use on a regular basis without even a second thought. Punt e Mes (its name means 'point and a half' in the dialect of Turin), as the story goes, was the result of an absent-minded stock exchange agent calling out this trading floor term in old man Antonio Carpano's bar. What he received was a half dose of Carpano's famous vermouth with a full dose of bitters. The concoction evolved as Carpano Punt e Mes and it is effectively a bottled cocktail that is substituted today as a more bitter and flavoursome take on standard vermouth.
From the 1950s the marvels of modern living allowed for all sorts of beverages to be bottled and canned for more convenient use. This advertisement comes from a 1971 Australian Playboy magazine and boasts that Club Cocktails come in Daiquiri, Martini, Whiskey Sour and eight other flavours – that will 'go where you go'.
Of course, not everyone was happy with this so called progress. An American writer and novelist Bernard DeVoto once said: "You can no more keep a Martini in the refrigerator than you can keep a kiss there. The proper union of gin and vermouth is … one of the happiest marriages on earth, and one of the shortest lived."
Whist RTD beverages are commercially a success story today it is generally for rather simple mixes like whiskey & cola. Those who drink cocktails in top end bars are generally more concerned with their drink being a bespoke and quality mix with premium-ness and craftsmanship top of mind. Despite this there are bars challenging our pre-conceived notions on the bottled cocktail.
Bottled cocktails in the new age
Edinburgh's Bramble Bar has been working on a bottled cocktail for their venue since September 2010 with the Affinity Cocktail (pictured) being available for the past nine months.
Bramble Bar's Jas Scott tells us that their aged and bottled cocktail program gives the bar another unique selling point keeping them ahead of the curve. "It sustains interest and intrigue in our bar and our customers as well as keeping our staff motivated to learn new skills," explains Scott.
The Bramble Bar team were able to maintain a premium feel and the idea they are serving a craft product with a 'bottled cocktail' through the use of top level ingredients, well thought out methods, attention to detail, relationships with experts in the field and the presentation of the end product. But Scott tells us that also key is the staffs' professionalism in relating information about the product to their guests.
"The barrel aged and bottle aged affinity cocktail consists of equal parts Glenmorangie 10 Year Old, Byrrh Grand Quinquina and Noilly Prat Dry Vermouth," shares Bramble's Jas Soctt. "Glenmorangie in conjunction with Dr Bill Lumsden (their Master Distiller) built us four bespoke 5L casks, one American oak light toast, one American medium toast, one American heavy toast and one French medium toast all of which offer up different characteristics, nuances and flavour profiles after being aged anywhere from 2 months to 7 months. Due to demand they have since built us four more 15L American oak heavy toast barrels to provide both our bars with the bottled cocktail."
Closer to home hand-crafted bottled cocktails are popping up too. Ben Blair from The Corner House, in Bondi, often whips up a Milagro Batanga by resealing it in San Pellegrino Chinotto bottles as well as several rotating specials coming in bottles. "We have a secret cocktail which changes weekly, which the punters go mad for and bottled cocktails are often used," explains Blair. "They offer consistency, speed and the ability to offer complex/hard to balance cocktails, regardless of who is working and how deep you are at the bar. Because of these reasons, I think it is a fad that has legs and may very well stick around."
"I also have a cocktail called A Brief History of Fads which is a shared, bottled, barrel aged, carbonated, blue number," adds Blair.
Chris Hysted from The Attic and Black Pearl in Melbourne has also long been flogging a drink he calls Grounds for Divorce. The drink was first released for the whisky round of Diageo's World Class program in 2008. Whilst made to order it comes served in a porter bottle complete with its own bespoke label and outside of Black Pearl it can be found at Eau De Vie in Sydney.
Grounds for Divorce




45ml Talisker 10 year old single malt whisky
7.5ml dark  crème de cacao
10ml walnut liqueur

*Stir down over ice. Top with 40ml of good quality porter. Strain into a bottle half filled with ice.
So the bottled cocktail as you can see has a long pedigree. It can be simple a product of mainstream commercialism or bespoke cocktail bar offering. At any rate, the bottled cocktail phenomenon looks sure to continue.
Share your creations with simonmcgoram@fullproof.com.au