Manly comes of drinking age
This bar profile appeared in the October issue of Australian Bartender.
by Sam Bygrave
Shop 4, 9-15 Central Avenue, Manly, Sydney
02 9976 6737
harlemoncentral.com.au
It used to be, only a few years ago, that a night out in Manly, home of the silvertails, sandy beaches and surfers, involved heading down to the Corso and into a big ol' beer barn. There'd you'd order beer, if you were a guy (it's a beer barn, after all), and you were likely wearing a T-shirt.
ADVERTISEMENT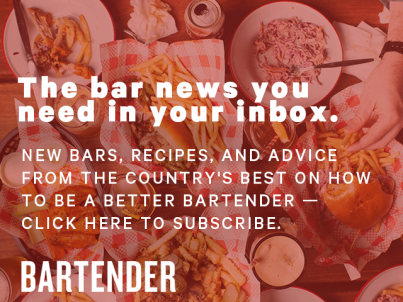 &nbsp
Which is not to say that is bad, because there is a time and a place for that. But that was all there was. And it couldn't be further from the truth today.
Sure, there are bars still lined along the Corso but Manly is a much more diverse place today. From the all out glamour of Hugo's Manly and Manly Wine, to the microbrewers 4 Pines and the small bars like Miss Marley's, there's plenty of good drinking to be done. It's also the hometown to a swag of venues nominated in this year's Bar Awards.
You can thank operators Kieran Bailey and Adam Clarke for a big chunk of Manly's nominations (they're up for three themselves, their bartenders two) and the pair played no small part in changing Manly's drinking culture.
They started with Sugar Lounge, opened up Miss Marley's (nominated for Small bar of the Year at this year's Bar Awards) and now, set back from the beach in an almost secret, obscure location they've set down Harlem on Central. The bar opened in November last year and a year on is thriving.
The name is inspired by the by the idea of a having "a chic late night drinking spot where the four corners of hip hop met the style and sophistication of uptown Manhattan. Harlem on Central was inspired by the Prohibition era speakeasies and Harlem Renaissance movement." The Harlem Renaissance was a movement of black writers and artists that spanned the Prohibition years.
The bar is a finalist in the New Bar of the Year category but it's not just the fit-out and operators nominated for gongs. The bartenders get a look-in too, with Davide Zanardo throwing his hat in the ring for the Bartender of the Year competition and Alex Welford nominated in the Rookie of the Year category. Did we mention Bailey and Clarke are up for Operator of the Year as well? What is going on in Manly?
Bailey has said elsewhere that he wants to "raise the standard of drinking and hospitality in Manly." If the fit-out of the bar is anything to go by then Manly might just be on its way.
Japanese crystal mixing glasses and bitters bottles adorn the bar and throughout there are touches of gold and opulence. The boys tell us that they "are passionate about creating unique spaces for discerning drinkers," sourcing designer pieces "locally and from overseas as well as having some custom pieces made specifically for Harlem."
All of this suits the crowd that visit the bar. "They're sophisticated movers and shakers," say the boys, "who like nice surroundings as well as nice drinks."
Having opened two bars before must have provided good experience to draw on. Though they had previously designed the fit-outs for Miss Marley's and the Sugar Lounge they weren't too proud to recognise their limitations as men. "The ladies at Devine Design helped give some feminine touches to our designer drinking den."
Which would have left a little time spare in Bailey's already packed schedule to craft a drinks list to up the ante in Manly. This is a long way schooner territory.
The drinks list echoes the American influenced style of the bar and draws upon a broad tradition of American classics and New York references. It's hard to believe there's a bar like this in Manly.
Although the bar is humming now and looks great, it isn't as though everything went according to plan in the set up and the lads had the usual equipment failures to deal with. "We could have done without the air conditioner packing it in twice and ruining the custom-designed roof, delaying our launch by a couple of weeks," they said.
Most importantly it looks like the bar team has hit its stride and is working together well. "The team are a tight-knit crew that are one hundred per cent committed to the cause," the lads say. "They really do strive for a flawless guest experience every time."
And so ends the tale of a former seaside trouble spot's path to redemption. The arrival of Harlem on Central, while not being the first bar to bring character to the area, does show just how grown-up (and delicious) drinking in Manly has become.
We'll throw the last word to Bailey and Clarke: "Harlem has the whole package, come and see for yourself."
"Wet Your Whistle"

One thing won't ever change about a night out in Manly: it is thirsty work. Lucky for you Harlem has the smartest drinks list in town.

Get started the night after the night before with a Corpse Reviver #2. Harlem uses Cocchi Americano in place of the Lillet Blanc you see in most joints. It is the closest thing you'll find these days to the original, bitter Kina Lillet (called for in The Savoy Cocktail Book version of the drink). Then if it's hot out there you might like to get cool inside with a Charente Collins, billed as "a rich mix of Grand Marnier, elderflower and fresh mint."

Better yet, opt for a drink befitting of the surrounds and order the New York Sour: you'll feel better in a New York minute.
"Whet Your Appetite"

If you've got a New York Sour in hand and need a bite to eat, why not make it a meal and grab the New York slider – "chargrilled angus, glazed bacon, gruyere and smoked relish". Better still, take the three for $18 option and get a selection because the Smokin Hoe's, smokey BBQ pulled pork, pear and red cabbage slaw sounds almost as good as the Shizzle Ma' Nizzle: buttermilk fried chicken with hot pepper infused mayo. And all in convenient slider form!