Story by Sam Bygrave
Greg Sanderson has had a cracker of a year. Beginning with the opening of EDV in late 2011 (at which he is both general manager and part-owner), the bar has been well received by punters and awards-givers. EDV notched up a nomination for New Bar of the Year, had a win in The Age Good Bar Guide and Sanderson capped it all off by taking out the most prestigious and coveted bartending comp in the country – the Australian Bartender Bartender of the Year 2012. Considering his roles as a bartender, manager and owner of EDV, we though it best to catch up with him as the year draws to a close for his take on what he has learned in 2012, and what to expect in the years ahead.
How long have you worked in the industry?
ADVERTISEMENT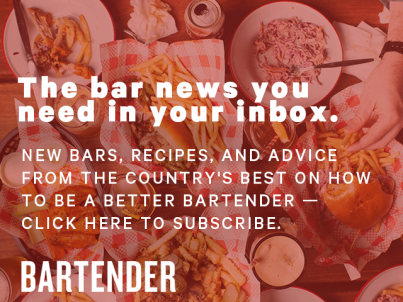 &nbsp
I started bartending on my 18th birthday making it 14 years on the 9th of November.
Which bars have you worked in?
Pig 'n' Whistle Brisbane, Red Room Brisbane, Vice Scotland, Opal Lounge Scotland, Gin Palace Melbourne, Murmur Melbourne, Black Pearl Melbourne with short stints (guest appearances) at PDT New York and Dragon Fly Scotland.
What's the attraction of the bar business for you?
What we do is a luxury in people's life, they don't have to come in to your venue they want to. We have the ability to create some of the most memorable nights of people's lives. I like working with cocktails and spirits because I find it a fantastic creative outlet and I just love the vast array of flavours, textures, techniques, people, we get to work with.
How big a role is food playing in what EDV does?
It plays quite a big part especially with our degustation dinners where we match cocktails to food. Our bar staff also benefit by having access to a fully set up industrial kitchen. Katie Marron, our head chef, is always helping us out with our cocktail ideas and especially helps the bartenders with cocktail comps when they need it. We try to match the level of quality and creativity in our food that we aim to produce with our cocktails.
Where do you draw your inspiration from for your drinks?
I try and make drinks I think our guests will enjoy with a little bit of wow factor. I love making classics for guests when they ask for them but our menu is full of interesting, well-balanced drinks that have great theatre about them that I think they will enjoy. I love making home made products that give a unique taste to my drinks.
What would you have done differently about EDV at the start if you had known then what you do now?
I would have done nothing different but the entire process could have certainly been streamlined. I know now that when you're talking to one department from the council etc. you should have been talking to department 'X' three weeks ago and so on.
How do you stay creative?
To be honest I am so busy I need to put creative time in my diary. It is a must.
How important are your staff to the business, and what do you look for?
EDV would be nothing without our great staff. I look for passion over experience. Someone in love with this industry as much as I am will go a lot further than being able to recite the Savoy in alphabetic order if you can't entertain the guests. I think I have learnt something from everyone that has worked at EDV.
What mistakes have taught you the most important lessons?
That sometimes hiring a friend for being a friend is maybe not the best option.
Who are the local operators you admire?
Tash Conte (Black Pearl), number one: when you work for her you become a member of the family not just a staff member. Sven Almenning (Eau de Vie Sydney), Martin Lang, Kevin Singh and Thomas Kilthorp from Emerald Peacock and Red Humming Bird, most recently Thomas with du Nord. Vernon Chalker (Bar Ampere), and I am pretty happy Dave Kerr is living his dream, recently opening The Beaufort. And of course Matt Bax (Der Raum).
Who are the international operators you admire?
Jim Meehan from PDT, Dushan Zaric from Employees Only, Stu McLuskey from Bon Vivant and Jamie Mac with the The Raconteur.
What advice would you give to bartenders wanting to open their own bar?
Well the big one is certainly putting the money away but I would say don't be afraid – there should be more bartenders opening venues and less people without a clue. Go into a partnership with someone you have worked with before so you know how they are in a working relationship not just a friendship or at least someone you would trust with everything.
What do you think will be trending over the next year?
Good quality pubs and dive bars, I also think the American diner concept will go a bit further and South American spirits and influence will continue for sometime yet.
What drinks trend would you like to see go away?
Soft drinks and water…
Where do you see yourself in 5 years and what do you see yourself doing?
I would like to continue to work with Sven Almenning in opening more venues. I learnt so much from the first one I would love to prove to myself I could do it again, but as I said before more streamlined. He has been a mentor to me and I continue to learn from him every day we have a great working relationship.
Greg's Top 5 Tips for Success
1. Listen to your staff.
2. Watch the figures very closely, not very much room for error.
3. Attention to detail.
4. Work your ass off.
5. Learn to delegate (my weakness).