By Sam Bygrave
Fortified wines seemed to have had their day not long ago. Seen as the preserve of the stuffy and old, most bars might have a bottle of port or cream sherry kicking around on their back bar, gathering cobwebs and dust. But there has been a resurgence of interest in sherry, and why not? These wines are great as aperitifs or handy in a cocktail.
Sherry
What?
Sherry is a fortified wine from Spain. Dry styles are often served with tapas as an aperitif, but they range from bone dry and delicate wines, to wines with great concentration and power.
ADVERTISEMENT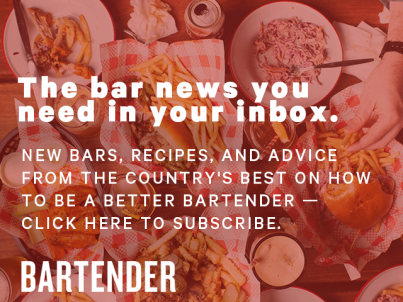 &nbsp
Where?
Sherry hails from the region of Jerez in Andalucia, Spain. The location within Jerez is important in determining some characteristics of sherry. For instance, manzanillas come from the seaside town of Sanlucar de Barrameda. The cool, humid seaside climate is ideal for flor, the film of yeast that covers the ageing fino sherry, to grow. Manzanillas from here are pale, light and dry wines that can have delicate aromas of nuttiness and sea-spray.
How's it made?
Only three grape varieties are permitted under the Jerez denomination of origin: palomino, pedro ximenez, and Muscat of Alexandria. A solera system is employed to encourage the growth of flor, a yeast that forms on top of the wine that protects it from oxidation and imparts unique flavours. The solera system is one of fractional blending: the barrels containing the oldest wine have a fraction drawn off (up to 33 per cent in any one year), which is replaced by a portion of the wine from the next year's vintage (which is called the first criadera). This is in turn replenished with wine from the next year's vintage (the second criadera) and so on until the current vintage wine is used. This ensures consistency of style of a wine across vintages.
First, the winemaker decides from the vineyard which wines will become finos, and which ones will become olorosos. Fino wine is fermented at a lower temperature than wine destined for olorosos (finos being a more delicate, finer style of wine). After fermentation, the wine is around 11-12 per cent ABV. If the wine is to become a fino, it is fortified with grape spirit to between 15-15.5 per cent; wine destined to be oloroso is fortified to about 18 per cent (flor growth is killed by alcohol higher than 16 per cent). Oloros styles mature with greater exposure to air, seeing the wine go browner and become stronger in alcohol due to evaporation.
Fino sherries that lose the covering of flor as they age become amontillados (when they are turning to this stage they are known as fino-amontillados). One of the rarest (and most expensive) types of sherry style is palo cortado. This is a wine that was meant to be a fino, but never developed any flor and thus matured as would an oloroso. The wines combine the elegance of the fino style with the power and concentration of the oloroso style.
Oloroso styles that have sugar added to them, or colour stripped from them go by various names, and are usually something your grandmother drank.
Drink?
Sherry Cobbler
120ml dry Oloroso or Amontillado sherry
15ml sugar syrup
2 or 3 slices of orange

Method: Add ingredients to a shaker. Fill with shaved ice, shake well and pour into a fancy bar glass. Cap with more ice and ornament with berries in season. Imbibe through a straw.
Madeira
What?
Traditionally made on the Atlantic ocean island of Madeira, from Bual, Sercial, Malvasia, and Verdelho varieties, grape spirit was added so that the wines would survive long ocean journeys better.The island was a stopover for European ships heading to Africa and beyond, and they found that wine picked up from the island benefited from the rolling waves. It was found that the extreme heat that bore down on the boats making the trip to Africa matured the wine faster and gave it a different character.
Where?
In the middle of bloody nowhere. Wine is not usually made this close to the tropics, but it is the altitude of the island and the rainfall that makes it a good spot to make fortified wine.
How's it made?
Nowadays instead of making the ocean journey, the wines are aged in estufas which in the case of high quality wines are rooms heated with steam pipes for a period of months, or in large stainless steel tanks that are heated to no more than 55 degrees Celsius for 90 days or more. Some smaller producers bypass artificial heating altogether, instead leaving them in barrel on their properties to be heated by the sun for more than 20 years.
The desired sweetness of the wine will determine when the 95 per cent alcohol grape spirit is added to the fermenting wine: for sweeter wines made from Bual and Malvasia it is early on in the ferment to ensure there is residual sugar; for the drier Sercial and Verdelho styles the fermentation runs til there are no sugars left before being fortified.
Drink?
Madeira Cocktail
30ml Madeira (use a dry style like Sercial or off-dry like Verdelho)
20ml Strega
20ml CognacStir down and serve up.
Recipe adapted from Ted Haigh's CocktailDB.com
Port
What?
Most often a red fortified wine (but there are white versions) from the Douro in Portugal. Although there are 80 grapes authorised for making port, in practice the best wines are made from five red grapes: Touriga Nacional, Tinta Barroca, Touriga Franca, Tinto Roriz and Tinto Cao.
Where?
From the Douro in Portugal, in the warm area inland from Oporto.
How's it made?
The fermenting red wines undergo punching down of the cap (the cap of skins and pips that float to the top) which vigourously extracts colour and flavour in just three days. After it reaches approximately 6 per cent ABV, grape spirit (at 77 per cent ABV) is added, arresting fermentation and bringing the mixture to an ABV of around 19-20 per cent. They are then made into wood aged ports or bottle aged port. Aged tawny port, for instance, is port that has aged in cask for six or more years, taking on a tawny colour and ready to drink once bottled. Bottle aged port refers to ports that spend some time in cask before maturing for a period of 20 to 30 years in bottle (such as vintage ports).
Drink?
Princeton Cocktail
30ml Old Tom Gin
30ml Port
Bitters
Lemon peel

Method: Stir gin with bitters and strain into a chilled coupette. Pour the Port down the side of the glass so that it comes out on the bottom. Garnish with lemon.
Adapted from the Savoy Cocktail Book