You know an operator means business when they head to NYC, scouting out one of their best bar operators and getting them involved here in Australia. That's exactly what Damian Griffiths — the man behind Alfred & Constance — did, snagging NYC tiki man Richard Boccato, with the result being a pitch-perfect Tiki bar by the name of White Lightning. Boccato was recently out in Australia to do some training at White Lightning, and we took the opportunity to ask him a few questions.
How long have you been bartending for, and how did you get into it? 
My career as a professional bartender within the milieu of the New York City cocktail scene dates back to Little Branch in 2005. From there I went on to work at Milk & Honey for several years before opening Dutch Kills in 2009, Painkiller in 2010, Weather Up Tribeca in 2010, Weather Up Austin in 2012, and Sweetleaf in 2013.
What drew you to all things Tiki?
ADVERTISEMENT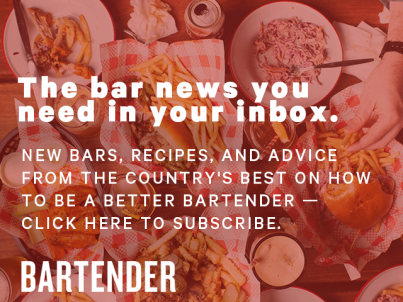 &nbsp
I suppose that I was trying to escape. Or perhaps I was just being greedy.
What advice would you give to rookie bartenders today?
Stay humble. Don't replace the words "we", "us", and "our" in your vocabulary with "I", "me", "my", and "mine".
What advice do you have for aspiring bar owners?
Don't do it.
What would you like to see more of in the booze world?
Good fictional literature along the lines of Normal Mailer, Pete Hamill, and George Pelecanos.
What are some of the stranger drinks you've had?
Too numerous to mention.
What's one drink you think is under-appreciated and why should people search it out?
Although not technically under-appreciated, the Old Fashioned is a timeless and ubiquitous cocktail that deserves a great deal of both emotional and physical exploration.
Imagine it's last call at the End of the World. What's your last meal, and importantly, your last drink?
Last meal: Lucali Pizza in Carroll Gardens, Brooklyn. Last drink: The coldest fucking 40 oz. bottle of Ballantine Ale known to man.
What drew you to working on the White Lightning project?
The lure of adventure, fortune, and fame in the South Pacific.
Who owns a recipe?
Boccato's bar, Painkiller, changed its name to PKNY after it was the subject of legal action from the Pusser's Rum brand. Pusser's owns the copyright to the drink, Painkiller, and wanted Boccato to change the name of his bar. We asked Boccato about that, too:
Can you tell us a bit about the PKNY/Pusser's case and the history behind the Painkiller cocktail?
I am frankly not interested in commenting on that at this time. The bottom line is that Pusser's makes good rum, and many people are under the impression that I make pretty good cocktails.
What are your thoughts on the copywriting of recipes, generally speaking?
It's preposterous. But if you can find a way to earn a substantial legal buck that way, then go for it. But you aren't gonna stop me and my friends from making whatever cocktails we want to make however we want to make them.