This Sunday will see Eau de Vie Sydney's manager and former Bartender of the Year winner, Charlie Ainsbury, moving on from his post after two and a half years. Bartenders Christian Blair and Dean Sykes are also moving on.
"Eau de Vie was my first and is still somewhat the only option it comes to when you have to pick a cocktail bar to work at in Sydney," said Ainsbury. "I came back from overseas not knowing what to do but with the recent burst in the Sydney small bar scene, there were certainly a lot of options.
"I wanted to get back into cocktails and EDV was it. Two and a half years down the line I leave as a manager and I am proud of what we've achieved with the team we've built. I'll miss my team and our loyal regulars the most."
"I'm not sure where I'm off to yet but my own venue is in the cards. I think I'll take a casual role whilst spending most of time trying to get my own up and running," Ainsbury said.
ADVERTISEMENT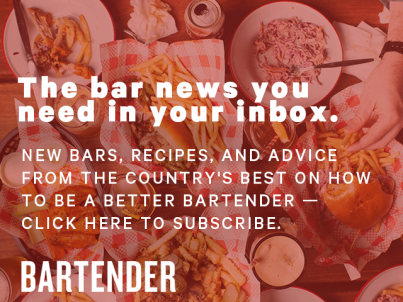 &nbsp
That means that Eau de Vie is hiring, too, said owner Sven Almenning. If you think you's like to try to fill the very big shoes of Mr Ainsbury, Almenning told us a little about the role:
"In short we're looking for someone that can come in as our venue manager / host(ess)," Almenning said via email. "The person will be responsible for the day to day running of the venue and ensuring that Eau de Vie remains one of the finest cocktail bars in the country.
"The ideal applicant will have experience managing a venue and have a pro-active approach to problem solving.
"2014 is going to be a milestone year for us as we're launching our own range of bottled cocktails into stores nationwide, our cocktail book gains distribution and as we prepare to open the Eau de Vie Apothecary in April. We want to make sure we have the right people on board to take Eau de Vie to this next level.
"The role will report directly into our Group GM Josh Baxter and will work alongside Greg Sanderson at Eau de Vie Melbourne to ensure consistency and friendly competition between venues."