A
new whiskey from Jameson that has been finished in stout seasoned barrels, Jameson Caskmates is an example of what can happen when you let curiosity and collaboration get the better of you.
As long as we can remember whiskey and stout have lived behind the bar together. Often sharing shelf space, but never introduced.
It all started in 2013, when Jameson's master distiller ran into the master brewer of Cork City's Franciscan Well Brewery.
While talking shop, a plan was hatched to send a few Jameson casks to the Franciscan Well Brewery to see how it would influence their craft Irish stout.
ADVERTISEMENT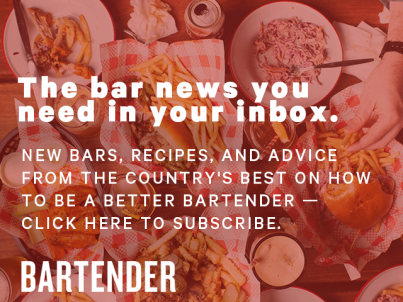 &nbsp
Once their beer had been bottled, the barrels were returned to Jameson's distillery with added stout character. They were re-filled with Jameson Whiskey, and the wait began.
Jameson Caskmates retains all the smoothness of triple-distilled Jameson Original, albeit singing a new tune.
The addition of stout notes including cocoa, coffee, butterscotch and a gentle hint of hops means that this is Jameson with a difference…
Here, see two ways of matchmaking Jameson Caskmates with beer, and two Hoptails to add to your repertoire.
A HOPPY IPA & CASKMATES
Nicely offset by the IPA sweetness of the whiskey. The creaminess of the IPA also combines with the coffee and stout notes in Caskmates, working together to create a rich mouth feel.
A LIGHT STOUT & CASKMATES
This enhances the bitterness and sweetness of the whiskey without over powering it.
BITTER SWEET
15ml Jameson Caskmates
20ml Campari
20ml Pink grapefruit juice
80ml White beer
Build in a highball over ice and stir gently.
IPA FIZZ
40ml Jameson Caskmates
15ml Crème de Banana
80ml IPA
Build in a highball over ice and stir gently.
Squeeze a wedge of pink grapefruit over mix and garnish with grapefruit to finish.

Jameson Caskmates — Tasting Notes
Nose: The initial aroma of freshly mown hay is complemented by a crisp orchard fruit character, green apples and pears along with a twist of lime zest. Mild Pot Still spices appear, deepening from green tea to hazelnut and milk chocolate. The lingering hop influence combines effortlessly with toasted oak and barley grains to form a solid base.
Taste: As expected, there is the initial sweet mouth coating typical of Irish Pot Still Whiskey.
The effect of the beer cask finish becomes apparent with the subtle touch of hops and cocoa beans.
Some marzipan and charred oak flavours add to the complexity.
Finish: Long and sweet with milk chocolate and butterscotch.
Jameson Caskmates is available through Pernod Ricard.