After a formidable showing of Australian bars in the top 10 of the Spirited Awards last week, just two have made the cut for the top 4 at the Awards announced over the weekend.
Melbourne bar Black Pearl is in the final four in two categories: Best International Bar Team, and Best International Cocktail Bar, whilst Sydney bar The Baxter Inn is in the final four for Best High Volume International Cocktail Bar.
Expat Aussies Iain Griffiths and Raj Nagra also joined the final four, with Griffiths nominated for International Bartender of the Year, and Nagra in the International Brand Ambassador category.
The top 4 announcement comes after a record number of Australian bars made the top 10 last week. The winners in each category will be revealed on Saturday 22 July in New Orleans during Tales of the Cocktail.
Take a look at the full top 4 nominees below.
ADVERTISEMENT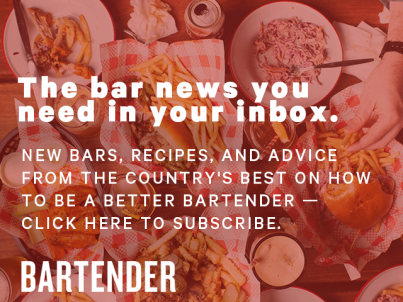 &nbsp
2017 Spirited Awards® Top Four Finalists
AMERICAN CATEGORIES
Best American Bar Team
Herbs and Rye (Las Vegas, NV)
Sweet Liberty Drinks & Supply Company (Miami, FL)
The NoMad Bar (New York, NY)
Williams & Graham (Denver, CO)
American Bartender of the Year
Jeff Bell of PDT (New York, NY)
John Lermayer of Sweet Liberty Drinks & Supply Company (Miami, FL)
Kevin Diedrich of Pacific Cocktail Haven (San Francisco, CA)
Yael Vengroff of The Spare Room (Los Angeles, CA)
Best American Brand Ambassador
Anne Louise Marquis (Campari USA)
Lynn House (Heaven Hill)
Misty Kalkofen (Del Maguey)
Robin Nance (Auchentoshan)
Best American Cocktail Bar
Anvil Bar and Refuge (Houston, TX)
Attaboy (New York, NY)
Columbia Room (Washington, DC)
Trick Dog (San Francisco, CA)
Best American High Volume Cocktail Bar
Harvard & Stone (Los Angeles, CA)
Honeycut (Los Angeles, CA)
Sweet Liberty Drinks & Supply Company (Miami, FL)
The NoMad Bar (New York, NY)
Best American Hotel Bar
Compère Lapin at Old No. 77 Hotel (New Orleans, LA)
Proof on Main at 21c Museum Hotel (Louisville, KY)
The Hawthorne at The Commonwealth Hotel (Boston, MA)
The Spare Room at The Roosevelt Hotel (Los Angeles, CA)
Best American Restaurant Bar
Cane & Table (New Orleans, LA)
Dante NYC (New York, NY)
Gramercy Tavern (New York, NY)
Spoon and Stable (Minneapolis, MN)
Best New American Cocktail Bar
Bar Clacson (Los Angeles, CA)
BlackTail (New York, NY)
Jupiter Disco (Brooklyn, NY)
Wildhawk (San Francisco, CA)
INTERNATIONAL CATEGORIES
Best International Bar Team
Black Pearl (Melbourne, Australia)
Dandelyan (London, UK)
Lost + Found Drinkery (Nicosia, Cyprus)
The Connaught Bar (London, UK)
International Bartender of the Year
Erik Lorincz of The American Bar (London, UK)
Iain Griffiths of Dandelyan (London, UK)
Nico de Soto of Danico (Paris, France)
Shingo Gokan of Speak Low (Shanghai, China)
Best International Brand Ambassador
Camille Ralph Vidal (St-Germain)
Ian Burrell (Rum Ambassador)
Joe McCanta (Grey Goose)
Raj Nagra (Bombay Gins)
Best International Cocktail Bar
Black Pearl (Melbourne, Australia)
Bramble (Edinburgh, UK)
Le Syndicat (Paris, France)
Little Red Door (Paris, France)
Best International High Volume Cocktail Bar
Oriole (London, UK)
Panda & Sons (Edinburgh, Scotland)
The Baxter Inn (Sydney, Australia)
Trailer Happiness (London, UK)
Best International Hotel Bar
Dandelyan at The Mondrian (London, UK)
Manhattan Bar at The Regent Singapore (Singapore)
Punch Room at The Edition (London, UK)
The American Bar at The Savoy (London, UK)
Best International Restaurant Bar
Le Mary Celeste (Paris, France)
Sager + Wilde (London, UK)
The Blind Pig (London, UK)
Tippling Club (Singapore)
Best New International Cocktail Bar
ATLAS (Singapore)
Danico (Paris, France)
Swift (London, UK)
Three Sheets (London, UK)
WRITING CATEGORIES
Best Cocktail & Spirits Publication
Class Magazine
Difford's Guide (diffordsguide.com)
Hot Rum Cow
The Daily Beast Drink + Food
Best Cocktail & Spirits Writer
Alyson Sheppard
Kara Newman
Robert Simonson
Wayne Curtis
Best New Cocktail & Bartending Book
A Proper Drink by Robert Simonson
Regarding Cocktails by Sasha Petraske with Georgette Moger-Petraske
Shake.Stir.Sip. by Kara Newman
Smuggler's Cove: Exotic Cocktails, Rum, and the Cult of Tiki by Martin & Rebecca Cate
Best New Spirits Book
Amaro by Brad Thomas Parsons
Bourbon: The Rise, Fall and Rebirth of An American Whiskey by Fred Minnick
Colonial Spirits: A Toast to our Drunken History by Steven Grasse
Whiskey: A Spirited Story with 75 Classic and Original Cocktails by Michael Dietsch
GLOBAL CATEGORIES
Best Bar Mentor
David Wondrich
Don Lee
Ivy Mix & Lynnette Marrero
Paul McGee
Best New Spirit or Cocktail Ingredient
Ancho Reyes Verde (Mexico)
Del Maguey Single Village Mezcal PUEBLA, San Pablo Ameyaltepec Wild Papalote (Mexico)
ITALICUS – Rosolio di Bergamotto (Italy)
Plantation O.F.T.D. (France)
World's Best Cocktail Menu
Beaufort Bar (London, UK)
BlackTail (New York, United States)
The Dead Rabbit (New York, United States)
Trick Dog (San Francisco, United States)
World's Best Spirits Selection
ATLAS (Singapore)
canon: whiskey and bitters emporium (Seattle, WA)
Old Lightning (Los Angeles, United States)
The Office (Chicago, United States)