Photography by DS Oficina
The hype is real. Sammy Junior, the espresso and cocktail bar sibling of Maybe Sammy, opens today (despite the weather) on the ground level of 66 King Street in the Sydney CBD.
But it's not just a Maybe Sammy repeat. This new offering kicks off in the early hours as an espresso bar. On the coffee side of things, they are offering a bespoke Sammy Junior blend created by Spiritual Coffee founder and coffee connoisseur Martin Hudak. There are also small-batch speciality teas from Ms. Cattea, chai from Bespoke Chai and hot chocolate courtesy of Callebaut. Classic breakfast bites from consultant chef Rob Lechowicz (Blackwood Pantry) include strawberry chia pudding ($12), toasted banana bread with ricotta, honey and cinnamon ($15) and a daily pastry selection from Sonoma Bakery.
ADVERTISEMENT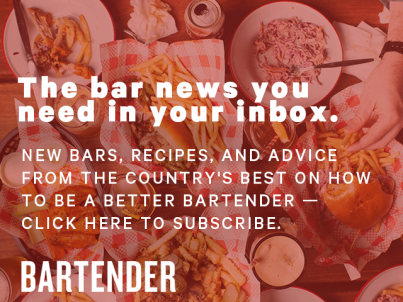 &nbsp
The lunch menu is CBD ready featuring sandwiches and salads for those on-the-go although the 50 seats offer a respite from eating at your desk. The menu includes Chicken P.L.A.T (grilled chicken, prosciutto, lettuce, avocado, tomato and aioli on fresh sourdough – $16), Asian Chop Bowl (lettuce, cabbage and carrot mixed with edamame, avocado, cucumber, mint, pumpkin seeds and black sesame with an aioli and sesame dressing – $16) and a Tomato & Basil Panini (vine ripened tomatoes, prosciutto, mozzarella, fresh basil and aioli – $15). There are also $2 Sydney Rock oysters available from 3pm every Thursday and Friday.
An excellent initiative with the responsible imbiber in mind are the mini cocktails. There are just six cocktails available at Sammy Junior and they are exclusively served as minis. At just 100mL and $13 each, they are a delightful accompaniment to your lunch or a cheeky complement to your afternoon office pow-wow.
Four of the six cocktails are on tap – Coffee Negroni (Widges gin, Mr Black Amaro, Campari, Cinzano 1757 Rosso), Martini Australiano (Widges gin, lemon myrtle, Apera Fino), Cascara Fizz (Ketel One Vodka, raspberry liqueur, Cascara soda) and TI Punch Spritz (Plantation Dark Rum, pineapple Cinzano Bianco, rooibos tea) – while the Espresso Martini (Plantation 3yo rum, Mr Black, coconut water, espresso) is made as a frappé and the sixth, Irish Coffee (Roe & Co Irish whiskey, honey, muscovado, filter coffee, cream), is made to serve.
Also on tap is a bespoke Sammy Junior craft beer from Nomad Brewing, Morning Draught ($6), and a rotating selection of wines. The tap system is courtesy of ecoSPIRITS and plays an important role in minimising packaging plus it reduces the carbon footprint of spirits consumption by up to 80%.
In keeping with the mini theme, you will only find half bottles of wine at Sammy Junior. The predominantly European selection includes a handful each of Champagne, white and red and bundles up nostalgic favourites with new-world fun.
Co-owner Martin Hudak (2017 World Coffee in Good Spirits Champion and Mr Black Ambassador) hopes Sammy Junior will build a bridge between coffee culture and a premium cocktail experience. "Traditionally, a venue is either great at coffee or great at cocktails but there's not many venues that combine those two offerings successfully."
Sammy Junior is co-owned by Martin Hudak as well as Maybe Sammy owners, Vince Lombardo, Stefano Catino and Andrea Gualdi.
Sammy Junior- 66 King Street, Sydney
Monday – Wednesday: 7am – 5pm
Thursday & Friday: 7am – 10pm
Saturday & Sunday: Closed
www.maybesammyjunior.com