Cocktail created by Lachlan Kemsley:
Habana Night
A rum inspired chai and paw paw sling
30ml Havana Club Especial
10ml Dom Benedictine
ADVERTISEMENT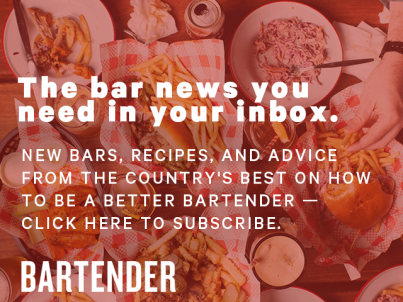 &nbsp
10ml Cointreau
15ml Fresh Lemon Juice
15ml Fresh Lime Juice
30ml Chai Syrup (Cinnamon, Clove, Cardamon, Star Anise, White Pepper)
5 cubes of fresh Paw Paw
3 dashes Angostura Orange Bitters
Method: In boston glass muddle Paw Paw then add remaining components. Shake and strain over fresh ice into tall cocktail glass. Top with crushed ice
Garnish: Fat mint sprig, Lemon and lime wedge fan, maraschino cherry
Cocktail created by Thomas Kiltorp:
Cuban Fig Sour
45ml Havana Club 7 year old
15ml Aperol
15mk Fresh lemon juice
1 bsp Fig jam
1 bsp Raisin soaked in spice syrup
Dash Orange & Peach bitters
Egg white
Method: Shake all ingredients with ice and strain into a rocks glass.
Garnish: 4 raisins on a skewer.
Cocktail created by Georgia McDonnell-Adams:
El Flaco
Tall Skinny Man
60ml Havana Club 3 year old
30ml fresh lime juice
15ml Sweet Mamoncillo Syrup
2 Sour Mamoncillo's
Sparkling water
Place a long lemon twist around the inside of the glass, pour in Havana, lime juice and Syrup, top with ice and stir, then crown with siphoned sparkling water garnish with a Mamoncillo leaf.
If you want to read more about the Havana Club Masterclass Adventures:

Click here to read the Havana Club Masterclass: Meet the Winners
Click here to read the Havana Club Masterclass: Day#1
Click here to read the Havana Club Masterclass: Day #2
Click here to read the Havana Club Masterclass: Day #3
Click here to read the Havana Club Masterclass: Day #4
Click here to read the Havana Club Masterclass Day #5
Click here to read the Havana Club Masterclass Day #6