An Old Boy cocktail that has a contemporary twist
Written by Gary Regan
Drink well styled by Simon McGoram and photographed by Steve Brown
Warren Bobrow, a writer who bills himself as 'cocktail whisperer', wrote to introduce himself to me recently, saying that since he started writing about cocktails he has found that, "the world of bartenders and mixologists is a welcoming place with all types of personalities".
He's right. Bartenders tend to jump through hoops to make newcomers to the cocktailian community feel welcome, just as the best bartenders make newcomers to their bars feel at home.
ADVERTISEMENT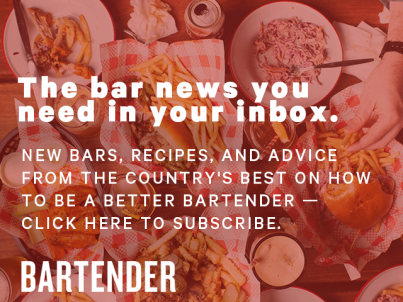 &nbsp
I can't remember the last time I heard mean-hearted gossip from a bartender. I'm starting to think that the men and women who hold forth from behind the stick are a breed unto themselves. Sure there are lots of big egos strutting their stuff behind bars, but that's natural. Bartending is a look-at-me sort of a job, right?
Bartenders also tend to be good at giving credit where credit is due, so if someone puts a new twist on someone else's drink, you can be near-as-darn-it certain that they'll tell everyone where they got the idea. This sort of behaviour gladdens my little heart.
"I can't remember the last time I heard mean-hearted gossip from a bartender." Gary Regan
There's a certain Canadian bartender, currently living in Seattle, by the name of Jamie Boudreau. Jamie and I have known each other for quite a few years. He's known among bartender tribes as a man who knows his stuff when it comes to mixing and marrying flavours, and he's a very creative sort, too. It's not surprising, then, that many of his ideas get used by others. People like Brent Butler, for instance.
I've written about Butler, bartender at Blackbird in San Francisco. He seems to have a knack for creating drinks that tickle my fancy, and his Old Boy cocktail fits me like a Savile Row suit. It's simple, it's strong and it glides down the throat chanting psalms. Who could ask for more?
Brent uses a homemade syrup in the Old Boy, and he credits Jamie for giving him the idea. It seems that Jamie's Old-Fashioned syrup, made with a bourbon or rye whiskey base, inspired Brent to make a rum syrup to use in his Old Boy.
I encourage you to actually make this rum syrup. It's fairly easy to put together, and if you enjoy dabbling in the cocktailian craft, I'm betting that you'll find plenty of uses for it.
The Old Boy cocktail calls for two base spirits; until recently this was fairly unusual. Brandy and rum are both featured in Between the Sheets, Tom and Jerry, and the Fish House Punch, but I think that the Old Boy is the first drink I've come across that calls for brandy and rye.
No doubt the concept will be mimicked. And no doubt Brent will be given credit.
Old Boy

45ml Brandy
45ml Rye whiskey
15ml Old-Fashioned Rum Syrup (see instructions)
1 orange twist as garnish

*Place brandy, whiskey and rum syrup in a mixing glass filled with thrice frozen ice cubes. Stir to dilute and strain into a crystal Old Fashioned glass brimming with ice chunks. Garnish with orange twist.

Adapted from a recipe by Brent Butler of Blackbird in San Francisco.

*Old-Fashioned Rum Syrup

In a non-reactive saucepan combine 3 1/2 ounces Angostura bitters, 7 ounces El Dorado 5-year-old or other aged rum and 2 cups light brown sugar. Stir frequently over a medium heat until the sugar dissolves. Cool to room temperature, then store in the refrigerator.