Varnish on King
75 King Street Perth
varnishonking.com
Last October we brought you the news that Perth's Andy Freeman — award winning operator of Luxe Bar and member of this year's Top 50 Most Influential List — was working on a new bar for Perth's CBD, called Varnish on King. Well, they've now thrown open the doors and we thought we'd take a look at what's on offer.
[nggallery id=105]
(images by Cheyne Tiller Daily)
Food and whiskey are front and center at the bar, located in the basement of a heritage-listed building. Freeman has shied away from creating another joint with a prim and proper attitude in the CBD, instead opting for a laidback, casual atmosphere. And though there will be a small number of whiskey-based cocktails available, Freeman is adamnt he's not doing another cocktail-led bar like Luxe. No, here its about whiskey, wine and beer.
ADVERTISEMENT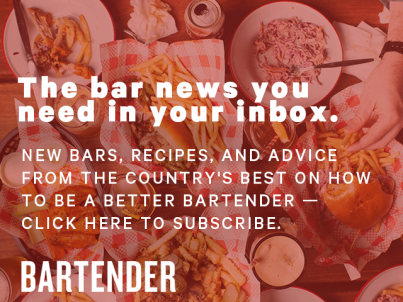 &nbsp
We've counted some 100 whiskies on the back bar — and they're all American, thanks y'all (well, there's handful of Canadians too). From bourbon to rye, Tennessee to Utah, Freeman has amassed one of the most complete catalogs of Yankee booze in the country.
Wine is important here as well — particularly given the central role that the food plays. It's an international list that roams from Rioja to Austria, to Western Australia and California; but what we find most attractive about it is the long list of aromatic whites. We can think of few things better than grabbing a bottle of Soave and diving into the grilled scampi on the food menu.
And what of the food? The overarching idea here is to add an American emphasis on the plate, whether it's the very Maine-style lobster dog or the rack of goat hit with creole spices. And where else are you going to find something as American as pumpkin pie?
It's the kind of thing that just might distract you from your glass of rye.
Varnish on King is open now.
Monday to Friday 11:30am to Midnight
Saturdays 4pm to Midnight