By Sam Bygrave
Photography by Dave McKelvey
Name a spirit that evokes escape better than rum. No? Nothing? Didn't think so. The picture of rum and sun and 'somewhere you'd rather be' are central to so many recipes that bartenders reach for when they reach for the rum. And it's no wonder: sugar cane, from which rum is made, only grows in the sub-tropics or tropics — that is, where it's hot, humid and there's a need for refreshment!
So we thought we'd take a trip to four locales by way of four drinks, and where better to start than in Hawaii?
The Tropical Itch
ADVERTISEMENT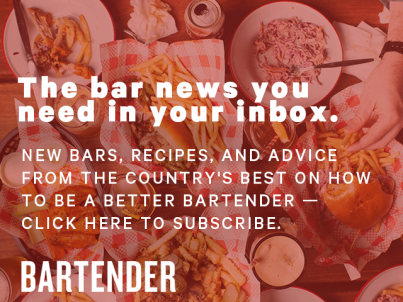 &nbsp
WHERE? 
The Hawaiian Village Hotel, Waikiki
WHO? 
Harry Yee
Beachbum Berry attributes to Yee the first use of everyone's favourite tiki accompaniment, the cocktail parasol. Though it seems there is some debate about that, as drinks writer Camper English has pointed out on his site. It may be that it is a Chinese-American invention, dating to times before tiki really took off.
Old mate Harry took to bartending at the age when many are looking to get out of it, at the age of 32. He progressed up through the ranks, taking the head bartender gig at The Hawaiian Village Hotel (which was bought by Hilton in 1961)— a post he held for some thirty years. You don't see that much anymore.
His tenure is also credited with creating a number of original drinks, among them the Blue Hawaii, and some say, the Banana Daiquiri. He might have preferred them to be known as Hawaiian drinks rather than tiki; after all, he supposedly once said that "a Hawaiian drink to me, is something they don't get back home."
Not a Painkiller
Where?
Soggy Dollar Bar, Jost Van Dyke, British Virgin Islands
Who?
George and Marie Myrick
Can you own a recipe and trademark it?
Let's get one thing clear from the get go: this recipe we present here is not a Painkiller. But a Painkiller has pineapple, cream of coconut, orange juice and rum, right? Well to be a Painkiller® the drink must use Pusser's Rum, because they trademarked the recipe.
But the drink, according to Jeff Beachbum Berry, was invented a decade before the recipe to Pusser's rum was bought by Charles Tobias. The history that Pusser's gives about the Painkiller is that Tobias perfected a recipe that the owner of the Soggy Dollar in 1981, Daphne Henderson, used to make. But Robert Simonson — the booze writer for The New York Times — makes reference to the current owner of the Soggy Dollar Bar, Jerry O'Connell, as telling Berry that back in 1971 George and Marie Myrick not only invented the drink, but used Mount Gay and Cruzan dark rums in the mix. Which isn't surprising, given that the brand of Pusser's (as opposed to the recipe) wasn't around then.
And what of the Soggy Dollar Bar? The British Virgin Islands bar (located on Jost Van Dyke — which only got electricity in the 1990's along with luxuries like, you know, roads) is still operating, and serves a drink one could say is close to the recipe for a Pusser's Painkiller — they call theirs The Original Painkiller. What's in a name indeed.
Queens Park Swizzle
Where?
Queens Park Hotel, Port of Spain, Trinidad
Who?
Unknown
Some think that this might be the first of its kind; that it was created sometime in the late 1800's when the Queens Park Hotel, in Port of Spain Trinidad played host to those who lived in the lap of luxury.
What's most certain though is that this was probably not the first swizzle — that had been going on sometime. And originally the drink wasn't made with a Trinidadian rum like the Angostura 1919 we've used here. But that's because the demerara rums from Guyana were favoured for their full flavoured nature (and because there was virtually no native rum production going on).
Nowadays of course there's plenty of rum about, and you'd be hard pressed to find a more refined version of the Queen's Park Swizzle than one made with the 1919.
Jasper's Jamaican
Where?
Bay Roc Hotel, Montego Bay, Jamaica
Who?
Jasper LeFranc
A good old Google turns up very little about Jasper LeFranc, a guy who tended bar at the Bay Roc Hotel in Montego Bay, Jamaica during the 1960's and 1970's.
You may have heard of him — or at least his recipe for Planter's Punch — from Ted Haigh's Vintage Spirits and Forgotten Cocktails, in which Dr Cocktail gives the lowdown on Jasper's Secret Mix.
The 66 room hotel was at the height of its powers in the late 1950s, when the invention of the jet plane created a new jet set class of traveller, who thought nothing of hopping down to the West Indies for a weekend and a drink or two.
What we've presented here is adapted from Beachbum Berry again. It's essentially a twist on a daiquiri, with some pimento liqueur — allspice dram by another name — thrown in for good, aromatic measure.