By Dan Knight
Dan Knight co-owns Sydney small bar Hinky Dinks, and obviously loves his rum!
There's nowhere else quite like Havana. Initially a haven for Spanish treasure fleets returning from Peru and Mexico, Havana has been Cuba's capital since 1607. During Prohibition it became a haven of another kind when the Americans crossed the Gulf in thousands to drink, party and gamble with abandon. This reckless decadence danced itself into a 30-year frenzy until Castro sent the Americans packing in 1959, closing the Casinos and using them as housing for the rural poor. Now, with the country slowly opening its arms and wallets to tourist dollars, Havana is once again seducing a whole new generation of foreigners with its dynamic rhythms, timeless style, gracious hospitality…  And its rum!
Walking down the streets of Old Havana is like stepping back into another time – when music was loud and drinks were strong. And in this town rum is the spine of nearly every drink built, shaken or blended. It's delicious, it's everywhere and it's cheaper than water. For the average Cuban a bottle of Havana Tres Anos is a mere 30 cents, but for us (because of the confusing double economy) it's something closer to $3.50. If it could, rum would literally flow through the veins of every man, woman and child!
A trip to Havana is in many ways a pilgrimage. Like those that have gone before I wander foggy-headed, following well-worn paths to temples of booze. My Havana street map is marked with various red dots signifying iconic places steeped in cocktail history – names like La Bodeguita del Medio, El Floradita and Sloppy Joe's… And as I start my journey through the cobbled streets I discover that in Havana at least, we are all pilgrims.
ADVERTISEMENT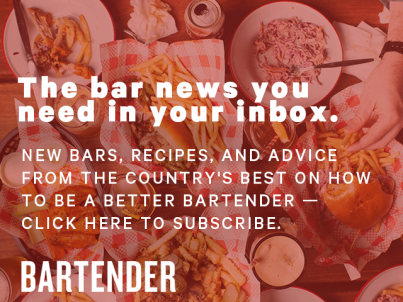 &nbsp
My first stop is La Bodeguita del Medio where Hemingway famously went for his Mojito. It's not hard to miss, as there is always a congregation of pilgrims spilling into the street. As you wedge your way through the throng of tourists who come to listen to the music and photograph the décor- all worn wood etched with the history of a city that's seen it all – it is surprising how few of them actually come to drink. A lone barman stands cross-armed, watching impatiently beside a tower of trays packed with pre-muddled mint, lime and sugar. Almost surprised to receive an order, our man adds some rum, soda and ice but leaves us to add the magic.
Here at the site where luminaries like Earnest Hemingway, Fidel Castro and Nat King Cole once sipped this same drink I am struck by my first disappointment. As I look around at the tableaux playing out in front of me I feel like this is no longer a bar but rather a diorama. The once magical La Bodeguita is now simply played out by actors for the camera. So we take our drinks and wander the rooms stretched out over three levels, perusing the photos that line the walls. Then down our mojitos and amble nine blocks through the warm and humid air to El Floridita.
El Floridita (it's Spanish for "little Florida") has been trading in Havana since 1820 and was a favoured hang-out for American expats long before Hemingway made it famous. Known more commonly as La Floridita it is (according to a big sign on the back of their bar) "the cradle of the Daiquiri". Although this is not quite true they certainly played a big part in making it popular, and as a consolation prize they are the undisputed home of the Hemingway.
Stepping into El Floridita is like crossing a threshold into history. There are pilgrims are here as well. And they are here in similar numbers. But there is a more genuine feeling to the room. A dark timber bar, high ceilings with hanging chandeliers, a huge naval mural behind the back bar and vibrant red fridge doors set an enchanting scene. A life-size bronze statue of Hemingway is perched at the bar and tourists queue to be photographed alongside him as four bartenders in red aprons work at a frenetic pace. They are like cogs in a well-oiled machine pumping out daiquiris for a thirsty crowd and the vibe in the room is upbeat.
Sitting at this bar I feel like I can almost see the glory days unfolding in front of me. I'm tempted to scratch off the rest of my itinerary and make a run at Hemingway's record — 13 daiquiris in one sitting! But something isn't quite right here and I feel compelled to continue my journey. It could be me, or maybe it's the constantly rotating busloads of European tour groups. Whatever the reason, I stop ten daiquiris shy, lift myself off the barstool and wander out into the evening.
Drifting through the streets Havana seems like a museum. Vintage cars and old world charm constantly remind me of what has been before. Perhaps it's the daiquiris, perhaps it's the shadows of dusk, perhaps it's because I'm distracted by my thoughts; but somehow I end up taking a wrong turn and find myself standing outside what can only be described as a Cuban small bar. Unlike the other bars I have passed which seem to be stretched into cavernous spaces, this little joint is jammed into a space half the size of Hinky Dinks. I stop and look around only to realize that for the first time tonight I have deviated off that well-worn path. Standing before this small bar with no sign I am drawn in towards a new discovery.
Situated on Calle Brasil my discovery is called El Chanchullero. It's youthful and energetic with mismatched furniture and graffiti over the walls. Its clear these guys are dancing to a different rhythm – the menu is inlaid in an old cigar box, the floor lamps are empty beer cartons around exposed bulbs and a team of snappy bartenders are smashing out drinks and bar food from a space where we might fit a coffee machine. The crowd is completely different here too. There are no pilgrims and they are not playing on their historical significance. This bar is a pure expression of Havana today and for the first time tonight I feel like I am actually a part something new.
I sit down and order a mojito- it comes quickly and is stronger than any I have had so far. At this point I decide to order some snacks and am surprised at the quality and freshness. Before I know it I am three more mojitos down and the bar man is sitting at my table with a bottle of Havana 7. We do a shot, he makes me another mojito. Then we do another shot and suddenly my girlfriend and I are dancing the salsa on the street with a bunch of strangers. In that moment, wrapped up in the movement and the music I make my second discovery of the night. The real passion of Cuba doesn't belong to the history books and it isn't found in the places where it once used to reside. It has moved on and is flourishing in new bars. A baton somewhere has been passed!
Havana is a city of paradoxes and contradictions: seductive beauty alongside spectacular decay, with an enthusiastic and youthful spirit sprouting from between the rubble. A little over 100 years after independence inspired its last major growth spurt, Havana is having its third (or possibly fourth) renaissance. This once glorious temple to Americais a faded beauty that now exudes the confident charm of a sexy older woman. She may have seen it all, but there's life in the old girl yet.
And if she takes a shine to you… You better watch out!