By Sam Bygrave
Drink photography by Steve Brown
The Caribbean: we often talk about the Caribbean in passing when we're talking about rum and rum drinks. But how much do we really know about these places?  We've put together a couple of snaps, a few stats and more importantly, a few drinks that you might see at each of the following stops in the Caribbean.Rum is the one drink that tends to flow pretty much wherever you go in the Caribbean, but outside of that there's plenty that distinguishes the different countries from one another. Population is one of them: Cuba is up there around the 11 million mark, whereas Puerto Rico is 3.67 million (but they make up for that in the amount of revenue coming through in rum production!). Drink on for more!
Barbados
Population: 274,000
Size: 431 square kilometers
ADVERTISEMENT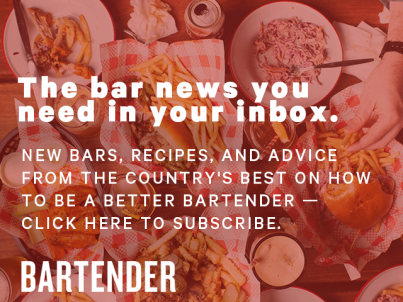 &nbsp
When it comes to what Bajans drink, it's pretty impossible to go past rum. Considering Barbados has a pretty long love affair with the stuff — with some of the earliest mentions of rum referring to "Barbadoes [sic] water" and the oldest registered distillery in Mount Gay (with records dating back to 1703) a rum punch is pretty popular. But instead of a simple punch we've taken this recipe from Jay Gray at The Lobo Plantation, Sydney (spoiler alert: there are flames, and there is coconut).
Señor Flamey Loco
30ml Mt Gay Black Barrel
15ml Overproof Rum
15ml Koko Kanu
30ml Coconut Water
Rim rocks glass with a dessicated coconut.

In a brandy balloon, light the overproof rum, and rotate glass. Add Mt Gay black Barrel and Koko Kanu while rotating, then pour slowly into rocks glass. Allow to flame for a moment, then extinguish with coconut water.
Garnish with an orange twist.
Adapted from a recipe by Jay Gray, Lobo Plantation
Trinidad & Tobago
Population: 1.35 million
Size: 5,128 square kilometers
Trinidad's got two great gifts: first, Angostura Bitters and second, rum. The Angostura distillery used to make a lot of rum for Bacardi but these days its efforts are on its own branded rums.
So why not combine the Angostura 7 Year Old with a recipe by Guiseppe Gonzalez from the Clover Club in Brooklyn? Here we switch out the rye in a Trinidad Sour for some Trini rum to double down in the Angostura.
Trinidad Trinidad Sour
30ml Angostura Bitters
30ml Angostura 7 Year Old
30ml orgeat
22.5ml lemon
Shake all & strain into a coupe
Cuba
Population: 11.27 million
Size: 109,884 square kilometers
Ah, Cuba: a land lost in time, it seems. But this is one destination in the Caribbean that has seen much more than its fair share of classic cocktails invented over the years.
Perhaps it's a result of the American Prohibition years and the influx of yankee wealth during that time that lead to the creation of so many fine drinks. But perhaps the reason it's been preserved has been Cuba's isolation from the capitalist world. Below we've put the nation's rum, Havana, with a blue twist on the old Hemingway Daiquiri.
Azul Hemingway
60ml Havana
10ml maraschino
10ml blue curacao
10ml grapefruit juice
30ml lime juice
Frapped with ice in a blender.
Jamaica
Population: 2.72 million
Size: 10,991 square kilometers
We first learnt about Ting here when chatted with Jared Merlino, owner of The Lobo Plantation in Sydney. It's an extremely popular soft drink — a grapefruit soda — in Jamaica, which you'll often find mixed with the local rum Wray & Nephew. We've put that rum with the extra roundness of the 8 year old Appleton Estate Extra for a bit more heft, but what you have here is the Lobo's riff on a kind of rum cobbler.
Tingwray
Muddle 3 grapes with 2 wedges of lime
5ml gomme
50ml Appleton Extra
10ml Wray & Nephew Overproof
Crushed ice to half way
Smash
Crushed ice to top
Top with Ting
3 grapes, 1 mint sprig and lime wedge garnish
Adapted from a recipe from Jay Gray, The Lobo Plantation Sydney
Puerto Rico
Population: 3.67 million
Size: 9,104 square kilometers
If you think of Puerto Rican drinks, you have to think of Bacardi. The rum brand's distilling contributes some $230 million dollars to the Puerto Rican government in rum excise taxes a year, and some 70 per cent of the 4,500 workers employed in the Puerto Rican rum industry are employed by Bacardi.
Come Christmas time, you'll find Puerto Ricans making Coquito and bottling it to give to their relatives — it's kind of like eggnog turned Caribbean.
Coquito
60ml Bacardi
60ml coconut milk
60ml Coco Lopez
120ml condensed milk
240ml Carnation evaporated milk
1 teaspoon sugar
1 teaspoon cinnamon

Blend all ingredients and pour into a bottle for gift giving!