With leading bars in both Melbourne and Sydney, the guys from Eau de Vie certainly know a thing or two about cocktails. You can now get your hands on a bit of that knowledge — along with some killer cocktail recipes and cracking photography — in the handsome form of Shaken & Stirred, Flamed & Thrown: Cocktails Done the Eau de Vie Way.
Ahead of the book's official launches (on Wednesday 5 February  in Sydney at Eau de Vie, and on Wednesday 12 February at Melbourne's Eau de Vie — buy tickets on the door or contact amy@eaudevie.com.au and 0422 263 226) we asked Eau de Vie's owner Sven Almenning about the work that went into the book and why it's unlike other cocktail tomes.
How long did it take from the idea for the book, to having the finished product in your hands?
ADVERTISEMENT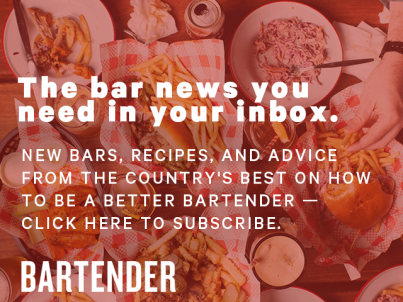 &nbsp
"I've wanted to do an Eau de Vie cocktail book for years, and have in fact had several publishers interested in doing one. Unfortunately however, the book industry has had it tough lately and as a result we never ended up getting anywhere – which is why we decided to give it a go ourselves. Which was an awesome and educational experience.
We kicked off our Indiegogo crowd-funding campaign mid-April last year and reached our target of $12,000 within 48 hours. We started working on it in May and had it 100% designed, photographed and written by October. We received the hard-copies mid December – just in time for Christmas which was great!
Doing all facets of creating the book was quite hectic, but it meant we had 100% control and I believe we've ended up with the book we set out to create. Something that's visually inspiring as well as packed with great recipes and interesting content."
What did you do differently to other cocktail books?
"I think what makes "Cocktails done the Eau de Vie way" different is that it's anchored in the bar. We feature our managers, past and present, we feature our own recipes with great photography and also offer some thoughts, anecdotes and insights into the cocktails themselves and how they came about or the impact they've had in the venue. We've tried to make the book an extension on the bar rather than just another cocktail book filled with the same recipes you find everywhere else."
Who do you think the book will appeal to?
"This is definitely a book written for our guests. People who love Eau de Vie and who'd like to take a piece of the bar home with them. We do of course hope that it will appeal to the industry at large as well and we've already had bartenders, industry writers and bloggers from all corners of the world purchase the book."
Click on the images below to read excerpts from Shaken & Stirred, Flamed & Thrown: Cocktails Done the Eau de Vie Way.