Planning and nominating starts now!
It's that time of year again folks. It's time to start saving your tips, checking up on flights, and booking your New Orleans hotels, because before you know it drinks will be flowing at the annual cocktail-a-palooza that is Tales of the Cocktail.
They've just announced a line up of some 74 brand new seminars to be held during the festival that takes place in New Orleans from July 16 to July 20. This year they've incorporated two new, more intimate types of seminars: Exclusive Tasting Seminars (which involve rare spirits and are limited to 20 people) and Technique Seminars (which are hands on technique workshops limited to 50 people).
Every seminar proposal goes through a thorough assessment lead by Philip Duff, Tales of the Cocktail's Director of Education and Chairman of the 2014 Seminar Committee.
"After two rounds of evaluations, which included requesting rewrites of proposals that the committee felt would benefit from a second go-around, the committee is confident that the seminars chosen to be presented at Tales 2014 represent the freshest insights, most rigorous research, most compelling material and most captivating speakers in the whole world of cocktails and bars," said Duff.
ADVERTISEMENT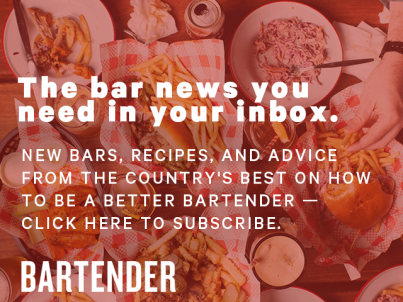 &nbsp
You can find out more by visiting talesofthecocktail.com and check out the list of seminars below. Don't forget too that nominations are now open for the 2014 Spirited Awards — you can find out more about how to get your world-class bar nominated by clicking right here.
Tales of the Cocktail® 2014 SeminarsExclusive Tasting Seminars:
The Art of Eau de Vie presented by Helmut Adam
Baijiu Tasting presented by Madeleine Andrews
Champagne 101 & Champagne Cocktails Too! Presented by Blaine Ashley
The Ultimate Deconstruction of Scotch presented by Mitch Bechard
Limited Edition and Vintage Rums presented by Robert A. Burr
Four on the Flor – Breaking down Sherry presented by Mollie B. Casey
Japanese Whisky: Your Next Obsession presented by Nick Korn
Vintage Chartreuse Liqueur Offering presented by Tim Master
Technique Seminars:
Behind the Stick, In Front of the Camera presented by Steve Dolinsky
High Speed Craft Cocktail Bartending presented by Meaghan Dorman
Building Rounds for high speed craft cocktail service presented by Meaghan Dorman
The Philosophy of Drinks Presentation presented by Jamie Evans
Absinthe Lab presented by Stephen Gould and Ted Breaux
Flick of the wrist -The art of the throw presented by Stuart Hudson
The Old-Fashioned: The First Classic presented by Robert Simonson
It's Time to Talk about Temperature presented by Tristan Stephenson
Physiology of Shake presented by Marcos Tello
Traditional Seminars (Beverage Management, History, Cocktail & Spirits & Fun):
The Art of the Cocktail Competition presented by Michael Anstendig
Letters to a Young Bartender presented by Colin Asare Appiah
The Floridita: A Cradle of the Daiquiri presented by Jeff Berry
The blend is the brand presented by Andrew Bohrer
3 Part Seminar Series: Raising the Bar-Better Bar Management presented by Jacob Briars
The 7 Habits of the World's Best Bars Presented by Jacob Briars
The Land of Milk and Honey Presented by Jacob Briars
Worm Tub Tales: deep diving into malt Presented by Dave Broom
White Lyan's Usquebaugh Tales resented by Dave Broom
Westwards Goes the Jug of Empire Presented by Derek Brown
Garden, Field & Forest to Bottle & Glass Presented by Jared Brown
Aspiring to be Heroes: Cognac & Pisco Presented by Paul Clarke
A London Tale of Gin and Sin Presented by Wayne Collins
Hurricanes, Hand Grenades, Shark Attacks Presented by Wayne Curtis
In God We Trust: Bartender's Choice Presented by Meaghan Dorman
Thinking Outside of the Glass Presented by Elayne Duff
WED-Whisk(e)y, Entertainment, Development Presented by Philip Duff
WED-Whisk(e)y, Entertainment, Development Presented by Philip Duff
WED-Whisk(e)y, Entertainment, Development Presented by Philip Duff
Which Rum What Cocktail And Why? Presented by Philip Duff
A Better Understanding of Bitter Flavors Presented by Camper English
Launching Your Own Spirit Brand Presented by Simon Ford
Innovation: Pathbreaker or Abomination?  Presented by Audrey Fort
Cognac & American Whiskey-Legendary Duet Presented by Doug Frost
Bottled in Bond- Ian Fleming & 007 Presented by Philip Greene
Training Craft Bartenders Beyond Recipes Presented by Bobby Heugel
Thirsty Masses: More Drinks & Happiness Presented by Bobby Heugel
Pop-up the Ladder and Own a Bar Presented by Jamie Jones
Time vs Technology:Agave's Past & Future Presented by Misty Kalkofen
Talk With a Pro: Creative Partnerships Presented by Ms. franky marshall
The Savoy 125 years of service history Presented by Declan McGurk
Heads and Tails…A Toss Up!! Presented by James Menite
A Barrel Love Affair Presented by Fred Minnick
The art of the drinks trolley Presented by Chris Moore
The Blind Truth About Aging Whisky Presented by Ewan Morgan
Rare & Exotic Botanicals presented by Raj Nagra
Chemical Compositions Presented by Darcy O'Neil
Hidden Flavors of Distilling Presented by Adam Rogers
How to Go Broke: Opening a Distillery Presented by Noah Rothbaum
Futurism + Deco: 1930?s Art + Cocktails Presented by Eric Seed
Sugar: The Good, The Bad and The Ugly' Presented by Claire Smith
Drunks I have Served… 86 Tips! Presented by Brian Van Flandern
How to win cocktail competitions! Presented by Nick van Tiel
Adventures of a Spirit Sommelier Presented by Charlotte Voisey
Behold The Trojan Horse! Presented by Charlotte Voisey
Introducing Craft Bars to Small Markets Presented by Andrew Volk
How 'Bout Them Apples? Calvados Unpeeled Presented by Jason Wilson
Healthy, wealthy and wise presented by Angus Winchester
The Godfathers Presented by Angus Winchester
Class to Glass: Education Beyond the Bar Presented by Pamela Wiznitzer
Women Behind Bars: Barmaid to Bartender Presented by David Wondrich
The Psychology of Cocktail Menus presented by Naren Young