Donny's
7 Market Lane, Manly
donnys.com.au
Manly has come a long way from the days when a night out meant drinks in a big beer barn and a fight. These days the only fight you'll be having is for a spot at the bar in one of the beachside suburb's crop of small bars.
All the Sydney hospo big boys have got a presence in Manly — Keystone has its Manly Wine, Hugos Manly has been open a while and Merivale have just moved in with their restaurant and bar, Papi Chulo.
And at the end of 2013 Donny's opened up its doors. Owners and operators Tol Broinowski and Matt Clifton (ex-The Beresford) have put together a small bar with a big emphasis on food, combining a New York loft feel with Asian-inspired dishes — and drinks to match. We asked Clifton a few questions about the journey from the idea to execution.
ADVERTISEMENT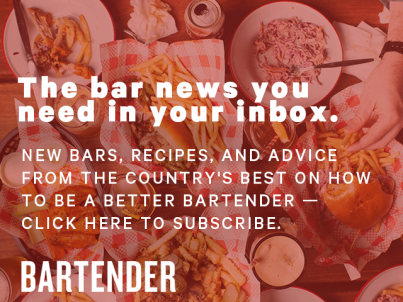 &nbsp
How did the bar come about? How long has it been in the works for?
Myself and Tol have both travelled, seen, and worked in a lot of venues, and have always dreamt for years of opening our own venue. We always had our concept in mind, but location was always key for us. When we came across this location in Manly we couldn't resist. It was about a six to eight month process to secure the location, develop and design our concept, and complete the fitout.
Can you tell us a little about the inspiration for the bar?
A lot of the inspiration came from spending time in New York and growing up on the farm. We wanted an industrial feel, with warmth and charm. We used a lot of natural raw materials; exposed brick, vintage lighting, original hardwood sleepers for the bars, and plenty of copper. The attention to detail was a must, and we did sacrifice a few elements to do all the small things right. And if you do visit, be sure to check out the bathrooms; recommissioned brass cisterns, vintage industrial sinks and plenty of exposed gal piping.
With the help of Sydney based design team, Luchetti Krelle, we brought to life an inspiring New York loft bar in the heart of Manly.
What's behind the name?
We wanted it to have a good meaning and not just a run of the mill family name, so we did a lot of research into Asian literature, as our menu concept includes an Asian infusion, and found a word that we thought was perfect. With a little European influence on the pronunciation, Donny is a definition for 'a perfect environment for a social gathering; the donny environment'.
What were some of the challenges you encountered in getting Donny's open?
The fitout came with all its usual challenges, you knock over a wall thinking it's an easy fix, then you find yourself with five more things going wrong behind it. At times we wished we left some of the walls alone. But that's all part of the game. Timing was important too, with the push to open doors before the end of the year, we had to move quickly, and sometimes this is not as easy as it sounds, contractors don't all finish on time, delaying the next, which delays the next.
Can you tell us a little about what was on the site beforehand?
It used to be called 'The Space Bar', which was originally a hair/body salon turned piano lounge.
How did you go about finding your key people? 
I knew Tol from when he was licensee at the Flinders Hotel in Surry Hills, and then worked with him within Merivale for quite some time. Since then always been mates, with like-minded ideas to start something of our own. He is the opposite to me, so the working relationship fits well. We have worked with Stacy and Gemma for many years across different venues; both of which bring a wealth of knowledge and experience to the team. We met Richie prior to opening, and couldn't have been luckier with our find. A knack for presentation and Asian flair; his dishes are not something you wouldn't expect from a small bar.
What do you think about the drinking scene in Manly right now? What would you like to see more of?
What don't we like! We love the diversity that Manly brings to the small bar and restaurant scene in Sydney. Manly's offering of small bars, pubs, and some of Sydney's most beautiful restaurants are what makes this local community remarkable. The drinking scene these days is always evolving, and it's exciting to see new concepts popping up, showcasing a different style of offering and social environment. I'd love to see the continued growth of this scene as small bars have always been our passion; cozy, intimate and fun environments, of which some of the locals have already nailed: Hemingways, Belgrave Cartel, El Beau Room, Insitu, 4 Pines, and Harlem on Central are just to name a few that have already shaped Manly's scene.
What kind of drinks do you do — what is the idea behind your offering?
To keep in line with our concept our offering is somewhat simple, but seasonal and innovative, with a good selection of  fresh and delicious cocktails, select boutique local beers from Murrays, 4 Pines, Dad & Dave, Monteith's and wines from the NSW country and WA regions. It's hard to pass up on some of the local brewers' outstanding beers.
Could you give us the specs on one of Donny's signature drinks that is proving popular? Why do you think people like it?
The Blueberry 'n' Rose Bramble (see previous page). Fresh, delicious, and looks gorgeous.
Another top favourite is our Chilli & Coriander Margarita. A lot of people love a little spice.