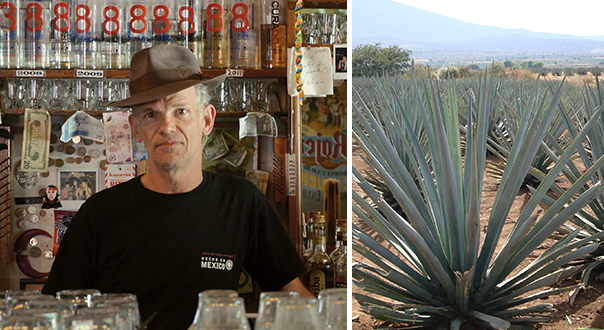 Sydney-based tequila-preacher Phil Bayly owned the seminal tequila bar, Cafe Pacifico, Sydney, and has drunk more tequila than you have.
These are my five best tequilas but I would like to point out that from all these experiences, I strongly believe that it's not just the "juice", but where you are and who you are with that make those tequilas so amazing and so memorable.
I believe every good tequila has its moment of recognition, it is merely a matter of drinking enough of them often enough to find those moments.
Now the question is, why?
1800 Coleccion Extra Añejo
ADVERTISEMENT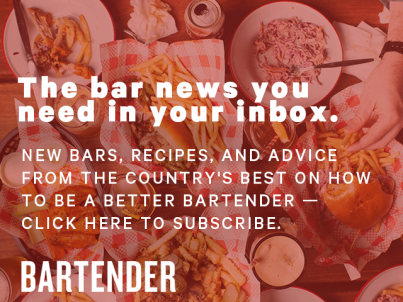 &nbsp
I was tending bar at Cafe Pacifico Sydney one night around 2008, when Dale DeGroff and Tony Abou-Ganim walked in carrying a large box.
A delivery from Julio Bermejo.
The box was about 350 x 350 x 150 and it contained one bottle of 1800 Coleccion from the millennium — wow!
I promptly excused myself from the bar, and we all proceeded upstairs to Pacifico's Private Tasting Room… AKA Space Lab.
It felt like we were doing something we weren't meant to do, it was that exciting.
Within the box was another box, which opened to reveal a series of boxes; these contained a basic bottle with a simple paper label, a putter and glass hand crafted limited edition bottle, which was for decanting, certificates and documents and maps etc. You get my drift.
The angel's share took its toll during the decanting of the bottle for which we, and my glass, were much obliged. It felt like time stood still as my senses were overwhelmed with the character, the depth. It only ended when the guys on the bar started screaming for backup.
El Tesoro Paradiso Extra Añejo
I was sitting in the offices of Tapatio in Arandas with Carlos Camarena and Tom Estes, and we'd just returned from lunch at Jaime's Carnitas on the edge of town.
Carlos suggested a digestive and pulled out a bottle of Paradiso. The aromas from the French oak mixed with the viscosity of the liquid to produce something that looked almost like virgin olive oil, and sent my taste buds into overdrive. Simply amazing!
Herencia Historico 1997 Extra Añejo
It was 2004, Manuel Garcia from Herencia was showing Tom and I his distillery in suburban Guadalajara. He had been explaining how it used to be in the countryside and had been engulfed by the urban sprawl of Guadalajara, a city of some 10 million people.
We had finished the tour and had tasted some tequila in his office that I had thought quite ordinary, when he ordered us to his cellar. We were off to taste his pride and joy.
Underground and lined up against one wall were a number of 500 liter sherry barrels from Jerez de la Frontera, Spain. These had been filled on the 27th of May, 1997 and using a Solera system, he created 'Herencia Historico – 27 de Mayo – Solera, 1997', commemorating the recognition in Brussels of  'The Denomination of Origin, Tequila' on that day. Truly remarkable and unique tequila with exquisite notes and dry earthy flavours.
Arette Gran Classe Extra Añejo
I was invited to join one of Julio's tours in the town of Tequila. We had just visited the tiny distillery of Tequila Arette where we were introduced to Jaime and Edwardo Orendain. The distillery was down the back end of town not far from La Capilla Bar. Arette is a small producer of a Valley tequila and a relatively new kid on the block compared to their neighbours, and they use an autoclave for cooking the agaves. I had always understood this was a negative for making great tequila; I was soon to be proved wrong.  We were directed across a narrow cobblestone street to their little corner shop tasting room. It was here that I tasted the Arette Gran Classe, presented in a beautiful and unpretentious hand-blown bottle and tasting deep and meaningful, in a funky old room with some of the most respected people in the industry and in a town that has been like a magnet to me for some 32 years. Wow. Try it some day and you will understand.
Tequila Ocho Blanco 'Los Mangoes' 2010
Ok maybe I'm biased, but the memory is still there.
Early 2010 at La Alteña, particles of dust floated in the golden beams of late afternoon sun, high up in the atrium of the distillery.
We were witnessing the finishing of the first batch of 'Los Mangoes' coming of the finishing still. Using a measure glass, Carlos [Camarena] took some tequila coming directly of the still. He tested the ABV with his alcometer and it read 38%, he threw it in to the holding tank, mixed the tequila in the holding tank ,and took a fresh sample… 40% exactly. He used this sample to fill our cuernos (tasting horns). He then filled his and we all saluted the batch and tried it. There was silence, and then the comments began to flow. After a minute or so, Carlos spoke up:
"Interesting… I don't know if your perceiving what I'm perceiving… Vanilla — usually I'm getting vanilla from aged tequila, but not on a blanco!
"And the smell: very, very fruity… vanilla, banana, some kind of apple, piña, its more fruity than herbaceous, it's just fruits. It goes all the way from very sweet to very dry!"
Love this Town!