Phil Bayly on the trail of the weird and wonderful in Golden Gai
Story & photography by Phil Bayly
Phil Bayly is Australia's preeminent tequila expert and is the former owner of legendary bar, Cafe Pacifico.
Tokyo is ballistic by day, volcanic by night
The Japanese like to drink and it seems to me that Tokyo is the home of the original, small bar scene. Small bar because the majority are all small, from the 6th floor to the basement, you will find bars spread right across the city and they don't fit much more than 10 to 15 people in each bar.
I was recently in Tokyo and I was on a mission. Firstly to check out the new Bar High 5 by Hidetsugo Ueno; I headed to the district of Ginza, home to Gucci, Cartier, Armani and all the upmarket, big brand stores. It is the high end of town for dining, entertainment, galleries and night clubs. To give you an idea of how upmarket this place is, a square metre of land is worth about AU$300,000.
High 5 is located in a basement just off Harumi Dori Street. A short walk from Ginza Subway station, you can only access it by a tiny lift and on arriving downstairs you are embraced by a vibe of cool and exclusive. The place is big by Tokyo standards seating about 12 at the bar and about another 12 at tables across from the bar.
ADVERTISEMENT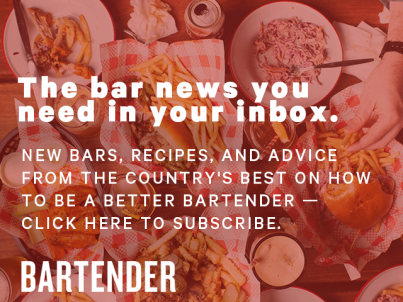 &nbsp
His last location was upstairs on the 4th floor of an office building on the edge of the Ginza district and had capacity for about 12 people in total. This place was dark wood, sophisticated, and the bar displayed an amazing array of spirits, especially whiskies and a great extended range of every other category of spirit — this cat knows his booze.
Ueno San was working the bar with his flamboyant style; it was full of expats and tourists, the result of being in the World's 50 Best Bars. His offsider was churning out high-end cocktails like a nuclear physicist and he was doing the same with chat in between, He was working the whole length of the bar and it looked like he had been doing it like that all night. It was no surprise he remains in the top 50.
From what I could see there were two bartenders and two runners and a hostess with the mostess. His drinks were sublime and the service was to match. Nothing was rushed, but he never stood still.
The place was full when I had arrived earlier and we had been redirected to Bar Mimi, something like a waiting room about 100 meters down the street on a second floor and run by Mimitsuka Fumiyasu. We had a drink there until Ueno San made the call that he had a free couple of seats. Bar Mimi was also very cool with slick service and excellent drinks.
I had dropped in to Orchard Bar, also in Ginza the day before, which had come in at number 37 in the Asia 50 Best Bars list; Takuo and Sumire Miyanohara are great hosts and own and run the bar with a similar professional feel in an intimate space creating great drinks with style and panache.
Tokyo never ceases to amaze me
Success, I had achieved my first goal. It was now time to get my hands dirty.
I wanted to get deep into the heart of this town, I wanted to get low down and dirty, to taste the real Tokyo, the low down and dirty part of town. There are a couple of areas I know and I am sure there must be more in this huge sprawling city. I had picked Shinjuku to get both my feet — and my tongue — wet.
Well I definitely did that. The last time I had been in Tokyo I had wandered the back streets of Shibuya. I had noticed a small laneway down by the railway line that had a couple of blocks of old low set buildings that looked like hole in the wall bars, one next to the other, tiny places with funky décor and a limited selection of drinks. Someone had told me about an area in Shinjuku that was similar so I put my nose to the ground to try to sniff it out.
After walking some five blocks west of the station through tall buildings full of trendy clubs and bright lights I discovered a dark narrow alleyway that led into a labyrinth of tiny narrow laneways full of old, rundown two-storey buildings with narrow doorways and steep staircases disappearing into obscurity. Some were open for one to see in, other were closed doors with nondescript signs; others had half curtains that you had to push your way through to see inside.
The area was heaving with locals and a few tourists looking for a bar with some space to sit. Beer and spirits, sochu and sake were the order of the day. There was no food, just booze and funky vibes oozing out everywhere.
They were eclectic intimate little bars with six or eight seats and almost all of them full. It was like walking onto the movie set of the cult film Blade Runner. The place was called Golden Gai and it was local and on the verge of bizarre. Its history dates back to the days of prostitution till it was made illegal in 1958; it then became a drinking hub for musicians, artists, writers, actors and the like.
Many of these bars are for locals and those introduced by existing patrons. Many are themed bars based around music genres but some are open and encourage tourists.
This hidden little enclave in the middle of the city seemed for some reason out of place, but then again, in Tokyo nothing is out of place. In the 1980's, organised crime gangs set many of the buildings around Tokyo on fire, so developers could buy up the land but this area remained untouched. Most places that I had access to had a cover charge of between 500 and 1000 yen (about $5 to $10) and beers were about 500 yen and upwards, a number of bartenders were young cats and could speak some English.
This was definitely the alternate side to the Tokyo bar scene and very cool, with over 150 bars to choose from there is something for everyone. If you are going to Tokyo and your feeling thirsty, get in amongst it; this is one place you won't want to miss. But keep in mind: the place doesn't start to jump until after 10pm when many of the bars open.