Sazerac

Splash of absinthe
60ml St Agnes XO Brandy
10ml simple syrup
2 dashes Peychaud's Bitters
2 dashes Angostura Bitters

Coat the inside of a glass with absinthe, discard any excess. Combine the rest of the ingredients in an ice-filled glass and stirred until chilled. The mixture is then strained into the absinthe covered chilled old fashioned glass, which is then garnished with lemon peel.

Recipe from Dale DeGroff's, The Craft of the Cocktail.
Story by Sam Bygrave
Photography by Rob Palmer
In association with St Agnes
ADVERTISEMENT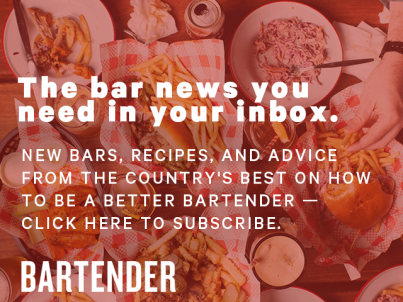 &nbsp
The best things are often simple. The best drinks are often just a few ingredients. Simple. But the simple formula affords the bartender a chance to show you their skill — or lack thereof.
The Sazerac is one of those cocktails. Made well, it's a revelation. Made poorly, and, well, you've got some sugary booze, and a hangover aimed squarely at ruining your day after.
The Sazerac hails from New Orleans, and it began its life similar to the way we have it here: cognac, Peychaud's Bitters, an absinthe-rinsed glass, and sugar. Look closely and it's a Brandy Old Fashioned served up — but it's the addition of an absinthe rinse that is the hallmark of this drink, and what makes it so New Orleans. And more than a little bit French.
New Orleans, if you didn't know, was a French possession up until it was bought as part of the Louisiana Purchase in 1803. That's around the time the Cocktail was doing the rounds — the same Cocktail you'd now call an Old Fashioned — and, according to cocktail historian David Wondrich, the Sazerac came on the scene some time in the mid-century, winding up in print in Cocktail Bill Boothby's book The World's Drinks and How To Drink Them in 1908. Over time, and thanks to the Phylloxera bug wiping out most of France's vineyrds — and its brandy production — in the second half of the 1800's, the drink came to be made with rye whiskey. Today you'll see recipes for the Sazerac with rye, recipes that call for brandy, and recipes combining the two (as in the New York Sazerac style). But to get that original taste? Only brandy will do.

St Agnes XO Brandy
St Agnes XO is a pot still brandy that is deeply coloured and complex on the palate. It is an aromatic brandy with subtle rancio aromas, with smooth, dry, and long flavours leading to a nutty oak finish.
Vintage House Wine & Spirits
St Agnes is the only Australian brandy that undergoes double distillation in pot stills, the same method as used in cognac production.
Every bottle of St Agnes is aged for a minimum of three years in small oak barrels, rather than large vats, adding to the quality of the spirit.
St Agnes is 100 per cent family-owned and operated for more than 90 years.