The Woodford Reserve team have had a busy couple of months travelling around Australia to find a winner for the Woodford Reserve Cocktail Derby. This innovative new cocktail competition is part of new horse racing program for the top-shelf bourbon brand in Australia and their goal was to find the nation's top tipple to compliment the program.
Huge stakes were on the line with both state and national winners being chosen for this competition. State winners won a cool $500 in cash plus a bottle of the 2010 Woodford Reserve Master's Collection: Seasoned Oak. Furthermore, the national winner – in addition to their state winner's prize – has earn himself earn a five percent share of the winnings of Woodford Reserve's Bart Cummings trained race horse for one year!
The brief for this comp was simple – create a drink with Woodford Reserve that can be replicable in any bar and one that Woodford would be proud to highlight as their signature drink both in the on-premise and trackside. Bartenders were given marks for creative names, originality, presentation, taste and the drink's ability to be easily reproduced in any bar.
The barkeep whose drink best met the judges criteria is one Brett Lubicz from Universal Bar in Perth – the national winner of the inaugural 2010 Woodford Reserve Cocktail Derby. Brett's drink, called the Woodford Slipper is a quaffable mix of Woodford Reserve Kentucky Straight bourbon whisky, triple sec, vanilla syrup, fresh orange, mint and cranberry juice.
ADVERTISEMENT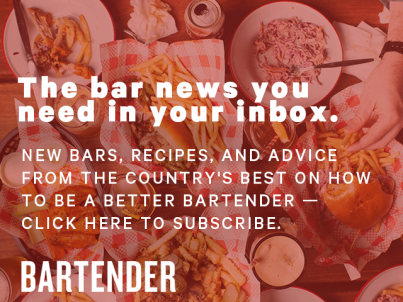 &nbsp
"As we are creating a drink that is going to be enjoyed during the spring racing carnival," begins Lubicz, "I wanted to craft a drink that was fresh, fruity, approachable for all and at the end of the day looked awesome – because let's be honest if you're in a marquee at the races you want to be seen holding a really cool drink!"
"After being told that I had won the national competition I am now walking around proudly introducing myself as the owner of a race horse!" – national winner, Bret Lubicz
We had to know who Lubicz – who's been bartending now for more than 11 years -had in mind when he created this cocktail. He tells us that the whiskey holds true in this drink so that bourbon drinkers won't be disappointed but also notes that it won't "rock your socks off".
"It's the kind of drink people will go back for," adds Lubicz. "It's no Mint Julep, but it's the kind of drink any southern beau or Kentucky belle would be happy to enjoy at the races."
For Lubicz, Woodford Reserve conjures up a vast array of aromas and perfumes in which he detected hints of vanilla, spicy characteristics and a burnt orange note.
"I found that orange worked perfectly as a base fruit and then simply complimented it with a few mint leaves which are synonymous with a classic bourbon drink the – Mint Julep," Lubicz explains. "By adding a generous serve of Woodford Reserve and a dash of triple sec my drink was nearly complete. A light shake followed by a sprinkling of crushed ice and then my stroke of genius – a splash of cranberry juice."
Lubicz is understandably pretty chuffed with his win.
"After being told that I had won the national competition" concludes Lubicz, "I am now walking around proudly introducing myself as the owner of a race horse which is awesome and pretty funny!"
The Winning Race Day Tipple:
Woodford Slipper
45ml Woodford Reserve
15ml Triple Sec
5ml Monin Vanilla
4 Chunks of orange (or 30ml freshly squeezed OJ)
4 Mint leaves
Cranberry juice to top
Muddle orange pieces and syrup. Add triple sec, Woodford Reserve and mint. Shake with ice and pour into a highball. Garnish with a mint sprig.

The State Winners
Western Australia: James Connolly, Defectors Bar and Bret Lubicz, Universal Bar
South Australia: Owen Collin, Chandelier Bar
Victoria: Sean Baxter, The Galley Room
New South Wales: Sébastien Derbomez, Hemmesphere
Queensland: Angus Burton, Sling Lounge