By Gary Regan
The Cocktailian is reprinted with the kind permission of The San Francisco Chronicle. Gary is the author of The Joy of Mixology (Clarkson Potter, 2003) among other cocktail and spirit related books. Visit his website ardentspirits.com and sign up for the free Ardent Spirits newsletter. You can contact Gary at: gary@ardentspirits.com
Not long ago, I wrote about inexperienced bartenders who have been creating nonsense cocktails and taking themselves far too seriously for my liking. I'll stand by my words on that subject, but at the same time I've got to say that I'm so darned impressed at the innovations in the craft that I've seen coming from bartenders who understand how to put ingredients together in harmonious, ingenious ways.
Balsamic vinegar, for instance, is being used by more than a couple of cocktail masters. Brad Farran at the Clover Club in Brooklyn makes his Strawberry Blonde cocktail with a strawberry muddled with freshly ground black pepper, white rum, lemon juice, simple syrup, egg white, grenadine, and a bar spoon of white balsamic vinegar. It's a brilliantly balanced drink.
Anthony DeSerio uses balsamic in the Bloody Marys at Aspen, a bar and restaurant in Old Saybrook, Connecticut, and Bradford Scott Knutson at the Swing Wine Bar in Olympia, Washington, adds it to Cognac.
ADVERTISEMENT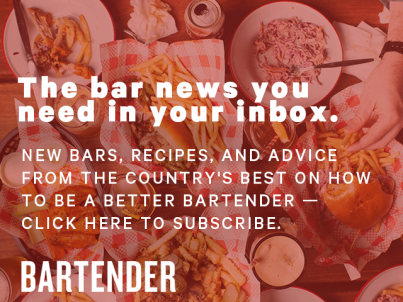 &nbsp
In London, at Mark's Bar in Hix Restaurant, bartender Francesco Turrini is being innovative in a different direction. He soaks porous pebbles in Pedro Ximenez sherry for a week, stores them in a freezer, then places two or three of the pebbles in the bottom of an old-fashioned glass, and covers them with 23-year-old Ron Zacapa rum. The name of the drink? On The Rocks, of course.
The use of porous pebbles in cocktails and mixed drinks, I discovered, is not a new trick at all. Turrini told me that he got the idea when he heard that people in the 1950s in search of the driest gin Martini possible, soaked stones in dry vermouth, placed them in the bottom of glasses and filled the glasses with chilled gin.
Turrini is also using very peaty Scotch in tiny quantities to add a fabulous accent to a Tequila cocktail that he calls Love in Jalisco. The drink also calls for orange curaçao, dry vermouth and orange bitters. Turrino describes it as a cross between a Margarita and a Tequila Martini, and he says that it works well as both an aperitif and as a digestive.
Love in Jalisco

45ml Reposado Tequila
30ml orange curaçao
30ml dry vermouth
1 dash orange bitters
1 dash Angostura bitters
3 drops peaty Scotch whisky (such as Laphroaig)
1 orange twist, as garnish

*Combine the Tequila, curaçao, vermouth and bitters in a mixing glass. Add ice, stir and strain into a chilled cocktail glass. Top with the drops of whisky, and garnish with the orange twist.

**Adapted from a recipe by Francesco Turrini, Mark's Bar, Hix Restaurant, London.