By Edward Washington
Photography by Steve Brown
Consumers are now well versed in the power of a full strength spirit and Scotch, with its voluminous spectrum of flavours and styles, is perhaps one of the most exciting potables for a bartender to have on hand.
As more new brands hit the market (especially ones that are not directly aligned with a known commercial company) consumers can start to rediscover whisky in a similar manner to how boutique wine shook up the commercial wine industry – it's a chance for them to re-engage with the category without feeling like it's something generic that they've already tried and rejected.
ADVERTISEMENT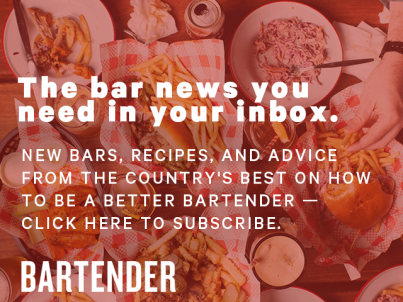 &nbsp
A noticeable move away from focusing on age statements is also giving Scotch (predominately single-malts) a new lease on life. It's been spruiked many times, but sometimes a whisky is at its best when it's younger: fresh and full of life. Year upon year in a barrel is not necessarily going to enliven the spirit. It will do wonderful things to it absolutely, that's not being questioned. However, some of the most exciting drams you can enjoy these days show that sparkle you get from few less years in oak.The whisky business is traditionally a slow business, but with some distilleries needing to push out a bit more volume for financial return we're seeing some terrific expressions on the market.
"Scotch drinkers aren't all sitting around in tweed coats anymore."
Youthful malts from Islay are a world away from the 10, 12 and 25 year old releases that you'll often find. When a whisky sits in bond for a long time its flavour and character becomes more complex, more wrapped up in itself and a lot denser. If that's done with a heavy, peaty and salty spirit for example the final whisky will usually be mouthful. Yet if you grab the same spirit a few years earlier you still get the salt, the sea and the medicine – but the spirit itself is alive fresh, it's natural sweetness more obvious and it is far more approachable.
Perhaps this youthful mentality is gaining momentum because Scotch is no longer relegated as the 'after dinner' tipple where you want something serious; richer and more stoic. Scotch is now something that you might find yourself drinking throughout the evening (and I'm talking neat) so you'll want the same range you'd expect with beers or wine: from light to heavy. There's even a few delicious Scotches that I'd advocate as 'breakfast whiskies**' if you're really enthusiastic – whisky writer Dave Broom suggested an Auchentoshan or a Linkwood when I asked him if you don't take my word for it.
Don't be afraid to move away from stocking just the regulation names and typical age statements behind your bar. Have some youthful Speyside malt and a young Islay expression on hand to offer people – it'll be a revelation for all involved. Build it (or rather stock it) and they will come. Spruik the wonders of the spirit's character. Tell customers that the whisky is as fresh and sweet as sitting at Port Askaig on a hot May afternoon and there's just a hint of sea salt from the ocean spray. Tell the something. Get them excited.
Scotch drinkers aren't all sitting around in tweed coats anymore, taking pot-shots at foxes on the estate and drinking a 36 year old Sherry cask expression that someone picked up from their family castle. They're sitting in underground basement bars drinking boutique IPAs and organic, unfiltered wine; as if an eight year old single malt is going to rock the boat. Hell it might even get a few more people into it.
**Note: A 'breakfast whisky' must be taken before 12pm.
Sloe & Rusty




30ml Auchentoshan 12 year old single malt whisky
20ml Plymouth Sloe Gin
10ml Drambuie
5ml Metaxa Ouzo
1 sugar cube
2 dashes Dandelion & Burdock Bitters
1 dash of Peach Bitters

*Crush sugar cube soaked in bitters in mixing glass; add your liquor and stir to dissolve sugar. Add ice and stir until chilled. Strain into rocks over star anise ice sphere and garnish with a lemon twist.

Andy Freeman, Luxe Bar, Perth

Hebridean Sling




45ml Jura Superstition single malt whiskey
15ml Green Chartreuse
20ml lemon
20ml passionfruit sugar syrup
A handful of mint

*Combine all ingredients in a shaker. Shake and strain over ice in a highball glass. Top with a splash of soda and garnish with a lemon wedge and a mint sprig.

Gardel's Bar, Sydney

Scottish Pride




37.5ml The Dalmore 12 year old single malt whisky
12.5ml crème de figue
10ml Dubonnet
20ml lime juice
10ml sugar syrup
1 dash of Angostura bitters

*Add all ingredients inot a shaker. Shake and double strain into an Old Fashioned glass over fresh ice. Garnish with an orange twists and a sprig of thyme.

Thomas Lacovone, ivy den, Sydney

Tame Impala




20ml Bowmore Legend single malt whisky
40ml pineapple and ginger infused white rum
20ml lemon juice
10ml honey water
5ml ginger juice
4 chunks of fresh pineapple

*Muddle pineapple in the base of a shaker. Add all ingredients except Bowmore. Shake hard and fine strain over a lump of chipped ice. Float Bowmore on top.

Keegan Hartslief, Button, Sydney

Ask an Expert – Richard Paterson, Dalmore single-malt




If Richard Paterson (master distiller for Dalmore) calls you on a cold Monday night for a phone interview, you answer! So when the iPhone started to buzz I poured myself a dram to settle the nerves and threw together a few questions for this month's 'Ask an Expert'.

Name: Richard Paterson

Job: Master Distiller, Dalmore single-malt Scotch whisky

What's the most important step in putting together a whisky?

"It doesn't matter if it's a single malt or a blend – there's the same objective, to achieve consistency. This means you need to have stocks in place and not just of 3 years worth, but up to 60 years."

When you look at some 'new-make' spirit can you already tell that it will make a good whisky?

"Absolutely it's like looking at a new born child. A new mother will smell the child and connect with the DNA. You look at this spirit in the same way. The body, the character whether it is light, medium or heavy. Like a new child needs the right clothes, the spirit has to be looked after in the proper manner. You need to provide it with the perfect wood, and the benefit of working with the Dalmore for such a long period is that I have a good understanding of the direction the spirit will go in."

What types of barrels give the most colour when ageing whisky?

"It's imperative that this issue is understood, I can't stress this enough -the colour of a whisky is only an indication of the whisky and not everything. All barrels, butts, hogsheads etc., give different variations. American white oak can give light straw colour through to amber gold, and Sherry will vary depending whether it was storing Oloroso or Pedro Ximénez. If you use red wine barrels or Madeira wine barrels you need to be careful that the ruby red colour does not come through."

Finally Richard, how should someone enjoy a whisky?

"You need to chew it – like you chew your dinner. You don't simply put it in the mouth and swallow it. Let it stay in the mouth for 20, 30, 60 seconds. Let it reach every part of your mouth, taste it properly and then swallow it."
Thinly Veiled Disguise




30ml Balblair 2000 single-malt whisky
30ml Antica Formula
25ml Green Chartreuse
2 Dashes Regans Orange Bitters

William (Bill) Bewsher, 399 Bar, Perth