Where Old NY meets the Irish-American tradition
Amy Spanton takes a look at the bar that has garnered more nominations than any other at this year's Tales of the Cocktail Spirited Awards.
We'd all love to travel back in time. How 'bout a little trip to New York City circa mid-1800s? While the bartending industry has been in a lather recreating 'ye olde' cocktails over the past decade, two Irish lads, Sean Muldoon and Jack McGarry (of The Merchant Hotel, Belfast fame), have tried to accurately capture the past with their bar, The Dead Rabbit Grocery & Grog. The detail is remarkable, even down to the small grocery store at the back of the first floor, a ploy used to appease temperance activists in the 1840s. The New York Times has described the bar as a "time portal of a tavern" with a "Dickensian" vision of New York history. How cool is New York?
Located in the Financial District, right next door to the iconic Fraunces Tavern, the bar is housed in a Federal style, five-story landmark structure from the 1820s. The ground-floor Taproom is a sawdust-strewn pub setting for the enjoyment of craft beer, bottled punch, and whiskeys of the world, with lunch served daily. It's the kind of place that conjures up images of New York's infamous street gangs, the namesake of the venue (but more on that later). Move upstairs for the more dandy drinking hole. The sumptuous Parlor focuses on small plates, communal punch, and 72 historically-accurate cocktails dreamed up by the nineteenth century's most celebrated bartenders.
Having opened in February to rave reviews, the bar has already been named in Forbes Magazine's Top 15 American Nightspots and New York Magazine's Best Everyman's Bar 2013. And it's that 'Everyman' philosophy that underpins The Dead Rabbit's hospitality. "We wanted to be a bar for everyone," says McGarry, "and both bars are starting to have distinct crowds who come for what they like, be it a Whiskey Smash a la Terrington or an Amstel light."
ADVERTISEMENT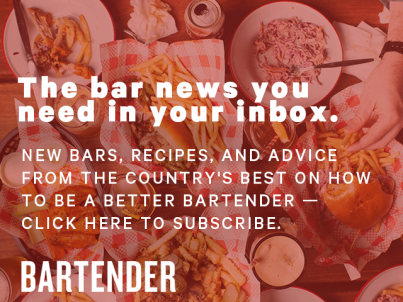 &nbsp
THE HISTORY
Known for his attention to detail and dedication to perfection with The Merchant Hotel, Sean Muldoon didn't miss a beat when dreaming up his perfect mid 19th-century bar, with no stone left unturned. "During my research about the era I read about the gangs of New York," he said, "the Dead Rabbits and their one-time leader John Morrissey."
As Muldoon tells it, Morrissey came from Ireland at the age of two with his parents in 1832 and was raised in Troy, upstate New York. At 18, he headed for NYC and became embroiled in gangland activity. He went west to pan for gold in 1849, but instead got involved in gambling and opened a string of Faro houses. He was a prize fighter and became World Heavyweight Boxing Champion in 1853, after defeating Yankee Sullivan in a bout that lasted 37 rounds. He came back to New York in 1854 and challenged all his old gangster friends. In February 1855 he got into a fight with William "Bill the Butcher" Poole, which resulted in Poole's death. In 1857 he led his gang, the Dead Rabbits, to victory in what became known as 'The Battle of Paradise Square', and in doing so became King of the Five Points – (think Scorcese's Gangs of New York). After this, he got involved in politics, opened bars and gambling houses. He was really good friends with Jerry Thomas and even bought one of Thomas's bars from him. He became a US Congressman and Member of the State Senate and founded the Saratoga Racecourse, which was the Las Vegas of its day.
"To me, John Morrissey was the link that brought together the Irish Immigrant and the Sporting Fraternity of New York in the mid 1800s," says Muldoon. "I called the bar the Dead Rabbit after him. We opened on February 12th, the date of his birthday."
THE DRINK
The 72-strong drink menu features cocktails, flips, cobblers, nogs, slings, juleps and other historically significant mixed drink categories, all sourced from original bar guides. It is an historical journey through what is now the Financial District of Lower Manhattan from 1848-1884, beginning with an illustrated 'map' filled with original sketches of events and characters from the period. According to Muldoon, the menu is based loosely on Herbert Asbury's 1928 reprint of Jerry Thomas's Bartenders Guide, but uses literature from the 17th, 18th and 19th centuries.
Jack McGarry, Muldoon's apprentice from The Merchant Hotel days, and partner in the business, worked tirelessly to recreate drinks from the middle of the 19th century. According to one urban legend he bought fifty books and read for a year and a half before making one drink. "I wanted to complement Sean's vision," says McGarry. "I also wanted to truly explore the world of punch having been inspired by both Dave Wondrich's books on the topic and era."
McGarry says the big list is in keeping with the era, and it's not just for show. "In order for me to truly illustrate the kingdom of mixed drinks prior to prohibition I had to have a big menu," he says. "I wanted to show how the communal punch bowl ruled the roost for more than 200 years and how it instigated all these singular serving drinks we all know today." So McGarry started with the punch bowl and has illustrated in a chronological order from communal punches right through to absinthe styles and cocktails. "I then wanted each individual category (of which there is 12) to illustrate the arrival of that category and how it indeed developed," he added.
When it comes to pinning McGarry on a favourite, he squirms a bit. "I worked hard on all the drinks to ensure they were appropriate to the 21st century palate," he says, "but if I was pushed right now it would be the Automobile (pernod absinthe, celery cordial, parfait armour, celery shrub and brut champagne) and the Montana Club (Louis Royer Force 53 Cognac, Bonal Gentiane, Amaro Sibilia, anisette, Dead Rabbit Orinoco Bitters and Boker's Bitters.)
Q&A with Sean Muldoon
Could you tell us about the vision behind this project?
The idea was to bring Irish pub culture together with high end cocktail culture in a way that made sense. When I managed the Merchant Hotel in Belfast, I ran a training school called the Connoisseurs Club.
The Connoisseurs Club was conducted over a three year period and through it we brought the world's most prominent cocktail and liquor authorities to Belfast. The idea was to get them over to tell our staff, our customers, and other bar staff about their specialist subjects. Once they were with us, we intended to wow them with our hospitality, drinks and 5 star service. Despite all our best efforts however, these luminaries had spent most of their time in a working man's Irish pub up the street from us called The Duke
of York.
It's true they loved what we did, but they spent most of the short time they spent with us drinking pints in a rough and tumble boozer.
When I was asked to come up with a concept that would have longevity, a 'cocktail bar of the 21st century,' I thought about bringing together the Irish pub that the bar guys loved to hang out in and the cocktail bar that we loved to work in. But to do that it needed to make sense, and be believable.
I had to bring together an Irish idea with a cocktail idea, so I thought about New York in the 1840s and 50s. I knew a million Irish immigrants had arrived to New York from famine torn Ireland in the [years] between 1845 and 1851 and I knew that Jerry Thomas wrote the first ever published cocktail guide in New York in 1862. So I knew from the outset that something was happening here in that time period that brought both traditions together.
Q&A with Jack McGarry
You're a partner in one of the world's most talked about bars, you've worked at a couple of the world's best bars, and you're a young guy: how did you get to here?
I've been incredibly lucky but I also have determination and dedication to succeed. I started working in bars when I was 14 to make some pocket money but it wasn't long until I fell in love with it. By the age of 16 I was beginning to fall in love with cocktails when I met a guy called Kieran Breen, a former pupil of Sean Muldoon. I fell head over heels in love with the cocktail world and my immediate ambition was to also get to work with Sean at The Merchant Hotel. I started in The Merchant I never looked back – Sean is a marvelous mentor for anyone to have – he showed me the path and allowed me not only to find myself but also to make mistakes and learn from them. I started influencing and developing the program at the bar within a year with Sean always keen to naturally let me to develop. When he thought I was ready he added some more responsibility. I'm a quick learner and with Sean's guidance and my passion to be the best that I can be it wasn't long until me and Sean struck up both an amazing working and personal relationship and we both wholeheartedly understand and appreciate what one another does. So if you ask me how did I get to where I am it's very simple, it's because of that relationship and Sean's guidance.