The Drink: Magners Irish Cider, Gaymers Cider
The Expert: Bob Cork
The Job: Master Cider Maker and Head of Cider Development
Tenure: 35 years in the industry
ADVERTISEMENT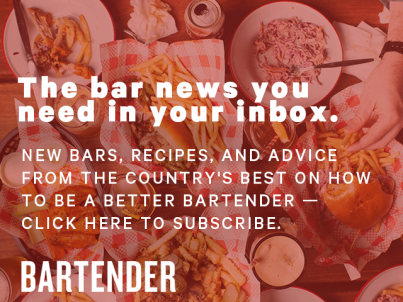 &nbsp
Could you briefly describe your production process?
We make many different ciders and we employ a combination of traditional processes to achieve the individual taste and flavour profiles that shape the unique character of each product.
All our ciders start life in our contracted orchards and we oversee the processes of growing and harvesting the fruit throughout the seasons. When the fruit is ready and ripe it is delivered to our Cider Mills in Ireland and the South of England, the selected apples are rapidly washed, crushed and pressed, extracting over 85% of the weight of the fruit as prime juice ready for cidermaking.
The juices from different apple varieties are carefully blended to individual recipes and specially selected yeasts are added to ferment the juice mix. Tightly controlled temperature profiles are adhered to in the fermentation vessels to ensure a vigorous and healthy fermentation, transforming  all the sugars into alcohol.
The cider then may be clarified using a process of racking, centrifugation and /or  cold filtration. This removes the unwanted spent yeast.
The cider will then, depending on the type of finished product it is destined for, undergo a period of maturation to allow the liquid to relax and mature the flavour.
When ready the cider is either used as a specific batch into a specific brand or a blend of differing characters of cider may be made to increase the complexity of the flavour profile.
For some speciality products a secondary fermentation process may be started and the resulting cider packaged whilst still fermenting to give a naturally cloudy cider with light natural effervescence .
As part of the finishing process bright ciders are cold filtered to remove any residual yeast and chilled. They are then quickly packaged  using equipment that has been fully sanitised to ensure the packaged product remains in prime condition throughout its shelf life.
What kind of apples go into your cider, and what do they do for the final taste?
The secret of good cider is to use the best quality raw materials available. The secret of great cider is understanding how to use the best ingredients, how they complement each other, how to maximise the synergies of their individual attributes.
This is why blend of apples used in our ciders is so important to us and how we maintain traditional character and premium quality. We have spent much time developing relationships with the agricultural community to ensure the correct varieties of apples are planted and grown for us. This includes entering into long term partnering agreements with our apple growers based on contracts that are forward looking up to thirty years. We constantly review our need; fruit supply requires long-term commitment and an orchard takes over seven years before it becomes productive. We look to the future and support our growers to meet our demands for the right varieties to meet our future production plans.
Can you give us some facts about your cidery?
All our cider mills can trace back their cider making heritage into the last century and beyond. Obviously the facilities have had to be expanded and modernised to supply the ever increasing demand for our ciders. Both our sites in Ireland and in the UK are amongst the most up-to-date facilities in the world. This said, our manufacturing and investment philosophy is simple. Our Master Cidermakers dictate our traditional methods and agree an ideal process. We then simply build and improve our cider mills to be able to deliver these traditional processes using state of the art materials and technology. This ensures we continue to make all our ciders consistent in character and and following the heritage that our founder businesses instilled into the products.
How do you ensure a consistent product?
Product consistency is greatly driven by having access to the correct raw materials and having processes that are repeatable with precision. Our whole apple procurement and manufacturing strategies are based on achieving this.
People are key to us. Having experienced cider makers and quality teams who design implement and operate our extensive quality control systems during manufacturing, packaging and distribution. Our policy is to care for our products from the orchard to the glass.
The Drink: Custard & Co Cider
The Expert: Ian Rayner
The Job: Owner/Cider Maker
Tenure: 4 years
Could you briefly describe your production process?
We are whole fruit cider makers and naturalist fermenters. We start by hand sorting local apples from our orchard and our neighbour's orchards. We crush them whole in two old school methods then open ferment with our own strain of wild yeast.
What kind of apples go into your cider, and what do they do for the final taste?
We use the best seasonal apples available. Apple structures vary in thickness, sweetness and acidity so we always blend complementing varieties to make sure the end result is a well-balanced cider. Our unfiltered ciders such as our Scrumpy show some awesome seasonality in flavour, which we absolutely love!
Can you give us some facts about your cidery?
Our cidery is based in 35 acres of organic and biodynamic orchard in the heart of the apple-growing region of WA. The cidery is completely caustic free and we use recycled dam water, which gets re-drained through sand and charcoal back into the fishing dam. We do most of the work by hand including the labelling and boxing of all our products. We only use whole local apples and our own wild yeast strain to produce our ciders and nothing else! We are one of only two wild yeast open fermenters in Australia.
How do you ensure a consistent product?
By understanding seasonality, taste, texture and being completely bonkers we can continually produce beautifully balanced ciders. However we believe that truly natural cider should reflect the seasons. Therefore our consistency is a little bit of inconsistency.