Monin today announced the launch of an all-new national cocktail cocktail competition, with the winner advancing through to the Asia Pacific semi finals in Kuala Lumpur. Success in KL will mean a trip to Paris to fight it out for the global title.
Tomas Vikario, Stuart Alexander's Beverage Innovation Manager, said that the competition is open to people working a bar aged between 18 and 27 — and he hoped it would nurture the talents of the next generation of bartenders.
"We are very excited to be launching the Monin Cup in Australia this year and we know that this market has an incredible store of talent in its young bartenders," said Vikario.
"The Monin Cup was created as a platform for young, up and coming bartenders to compete in an environment that was less intimidating than traditional competitions and provided an even playing field for those bartenders who want to break into competition bartending, without the need to go up against industry legends immediately.
ADVERTISEMENT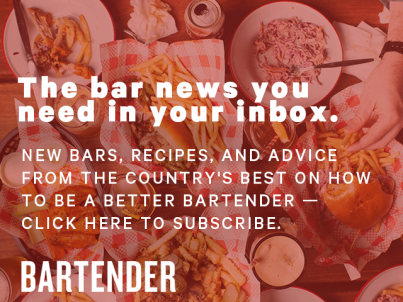 &nbsp
"We are looking forward to unearthing some serious talent throughout the country via the Monin Cup and bringing a fantastic finale event to Sydney in August," he said.
Monin will select 12 finalists who will come to Sydney August 25 to compete in the national final. They'll face a series of challenges throughout that day, with the top three battling it out in front of a crowd of industry types and an industry panel.
Entries are open now, and close on August 5. To find out what you need to do to enter and go all the way to Paris, visit  www.facebook.com/monincupau.
There'll you find the entry form and all the specs you need to create your winning recipe.