You can't write about Attaboy, the New York bar owned by Sam Ross and Michael McIllroy, without writing about Milk & Honey. Milk & Honey's small, submarine-like space on the Lower East Side was the epicentre of the resurgence of classic cocktails: a reservations only, table service and no menu place — the kind of bar that would fail if it weren't for the highest service standards and attention to detail. It was the little bar that made big waves, felt across the world.
After 13 years in the space on Eldridge Street, Milk & Honey's owner Sasha Petraske was looking for new digs: a bigger space for a new chapter in Milk & Honey's life. And one that sparked a new life for the old space: life as Attaboy. We asked Ross and McIllroy how it came to be via email.
How did Attaboy came to take over the old Milk & Honey space?
After having run the old Milk & Honey for eight years, the opportunity to take over the space came about through the then owner, Sasha Petraske's desire to move the brand Milk & Honey to a larger location uptown and to start fresh. It had been 13 years since he had opened it and although the bar was a pleasure to work and run, he felt like the time was right to reopen in a new location. When we heard about this, myself and Michael approached Sasha with the idea of taking over the space, lease and liquor license, invest our own capital, and keep the space alive under the name of Attaboy. He said yes, truth be told, we wouldn't have taken no for an answer.
ADVERTISEMENT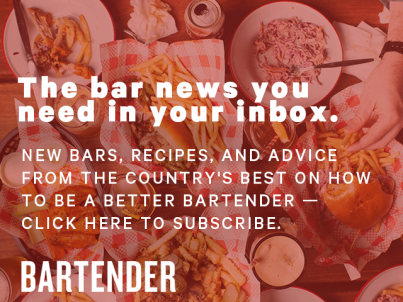 &nbsp
How long did it take to get Attaboy up and running? 
The actual construction period was only six to sevent weeks. We had a great team of contractors and two fabulous designers working with us on it. All in all though, the whole process took close to two and a half years as we were dependant on Sasha finding the right space to move the bar. We never wanted there to be a day where our staff didn't have a bar to work in. So once the new Milk & Honey was officially ready to go, we were able to start the construction on Attaboy.
What were some of the major challenges you faced trying to bring this project to completion?
Honestly, it was a pretty seamless transition. As this bar was funded by me and McIlroy, there were definitely money concerns cropping up on a daily basis. I don't think we are the first bar to go over budget, pretty sure we won't be the last either, but being out of work for a couple of months and handing over cheque after cheque can make one feel quite uneasy. There were a few moments towards the end where we thought we might not make it to the finish line, but those moments of doubt were heartily doused in whiskey and we scraped our way to the opening.

Who was responsible for venue design and have they designed any venues previously? 
The design team of Melissa Brasier and James Desantis were responsible for the design of Attaboy. They did a pretty good job of it too.
What is the idea behind Attaboy?
We just really wanted to keep the room alive at 134 Eldridge. It has played such an important role in the classic cocktail landscape of the world and it would have killed us if we had seen it fall into different hands or be turned into a Starbucks. As for the working dynamics, we ditched the rules (although common etiquette still applies), ditched the reservations and just loosened the whole thing up a little. We still strive to be putting forth the best drinks in town, but you can also drink a can of beer and throw back a shot of Fernet. The music is a little louder and more contemporary (after listening to Art Tatum for eight years, this was a nice change of pace). It's a livelier, more democratic bar approach.
How has owning a bar changed you as a bartender (if at all)? 
It raises your responsibility levels tremendously. When you have a team of employees willing to go into battle for you on a nightly basis, you have to make sure that they have everything that they need to do this successfully. Being an irresponsible bartender and putting things off until tomorrow can't happen any more because these guys rely on you, and we, in turn, rely on them.
You don't have a menu. Is that ever problematic for customers, and if a new bar was thinking of going the same route, what advice would you give them?
It is a great way to serve drinks if it is in a manageable environment. For the staff, we never get sick of making the same drinks over and over, and the same applies for our regulars too. The bar is small enough that we can engage each customer and inquire as to what their preferences are for a cocktail. We never want to make a customer feel over-whelmed with this process so if we sense that we are dealing with more of a cocktail novice, we certainly hold their hands and lead them through the process. But in all honesty, the knowledge of the cocktail drinking crowd in NYC is very impressive, far greater than it was when we started doing this 10 years ago. Now it seems everyone has a small batch bourbon preference and would like to know the exact mash bill. This is a good thing, it makes our job easier.
What do you like about the New York drinking scene?
The community. We all lean on each other, borrow from each other, acquire hard to obtain reservations from each other. It's fantastic. The Boomerang is another thing that has cropped up in the last couple of years. When a customer is heading from one bar to another the bartender will make a drink in a glass and cover it with a latex glove (most often with only the middle finger protruding), this is to be given to the bartender at the next bar. It's reaching epidemic proportions…
What don't you like about it?
Yankee fans…?
Do you find that you get a lot of bartenders from overseas stopping in?
We definitely get a lot of overseas bartenders stopping by. We are still on the playlist of the bars you need to visit, which is great. With the longer bar and more exposure to the bartender, it makes for a lot more congenial and interactive time for any industry professional wanting to experience what we do.