There's a bar in Brisbane that is into whisky in a big way, and they've been as active in supporting the local hospo crowd as a bar can be. That bar is Cobbler, and the man behind the stick most nights — the same guy who owns the joint — is Mr Martin Lange. We caught up Lange to find out how he became a bar owner, what he's learned, and more importantly, what he's drinking.
What's the attraction of the bar business for you?
Everyday is different. The dynamics of owning a bar keeps you on your toes everyday, literally.
Can you tell us a little about how you got into being a bar owner?
ADVERTISEMENT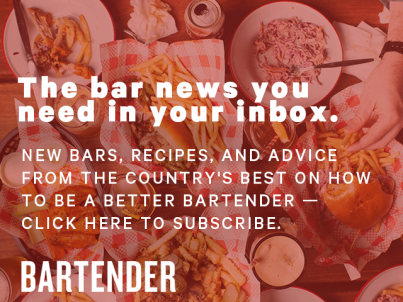 &nbsp
Blake Ward called me while I was competing in the 42 Below World Cup back in 2006 and pretty much asked me if I wanted to open a bar with him. I had been bartending for five years then, so I obviously loved it, so owning a bar was pretty much the next step. Brisbane was very different then, so finding a cheap location was the easy part, running a business was a completely different ball game.
Tell me a little about your business.
Cobbler is a whisky and cocktail bar. I wanted to give a good product, at a reasonable price, delivered by friendly and genuine bartenders in a comfortable and inviting setting. When Cobbler was about to open, the industry in Brisbane was at a tipping point; most customers were getting tired of the "All Knowing Arrogant" bartender. Sydney and Melbourne went through that phase years ago. So I really wanted to focus on bartenders giving genuine service. If the customer wants to talk about booze, we would love to, but if they just want to talk about the rugby/cricket/politics, we would love to as well.
How have you evolved as a business operator since the beginning?
Long story short, owning and operating a bar changes your life in every aspect. It's the cliché: "If I only knew then, what I know now" situation. Basically I learnt how to cut through a lot of bullshit, and there can be a lot of it in this industry. Dealing with staff is probably the one I appreciate the most, it takes a lot of practice and patience to get a good balance between being a boss, a mate, and a psychologist. Especially since as a small bar, you spend A LOT of time together.
How do you continually develop your creative ideas?
Reading a lot, researching a lot, admiring and looking at other people's work, going out a lot, (the perks, hey).
Where do you draw your inspiration from for food and drink?
I really try to cater to my surroundings. The cocktails that I create I do by having the Brisbane population in mind. I do try to push the limits a bit, but always being conscious of what's happening around me. I obviously take ideas from all the books I've read in the past and present, and the research I do on bars from New York, London, Sydney and Melbourne.
What excites you about the Brisbane bar industry? 
Brisbane is a blank canvas. There is a lot to be done and a lot of potential. In the last year the new bar openings included an American dive bar, a New Orleans style bar, three whisky bars, a Tiki bar and countless beer bars. And still, there is a lot of room to play. That's really exciting to me.
What does it need more of?
Less of?
More concept small bar/restaurants, less mega-soulless pubs/nightclubs with no defined character.
Where do you see yourself in five years? Anything exciting on the cards?
I would like to open a few more little concept bars in Brisbane first and then I really want to expand overseas. I think there is a lot that could be done in places like Spain, Germany and Italy. I have a European passport, so it could be an interesting possibility. To be honest though, I play it year-by-year, things change to quickly to predict where you could be in five years, in my opinion anyway.
What mistakes have taught you the most important lessons?
Friendship should always be kept outside of business. It's a really hard lesson to learn, but they really don't mix. Staff are your most important asset. Never be afraid of letting go.
Are there any local or international bar operators that you admire? Why?
The guys from Experimental Cocktail Club in Paris have been an amazing inspiration. They started cocktail making in Paris 10 years ago against a population that didn't care nor want cocktails. Now they have like six bars around the world including London and New York. That's incredible.
Jamie, owner of Peasant and Cabiria in Brisbane, for bringing a lot of culture to Brisbane with both his restaurants/bars.
Anton Forte, owner of a little empire (Baxter Inn, Shady Pines, etc) in Sydney, who started as a bartender as well, and now owns probably some of the coolest bars in Australia.
Also, Chris Denman from Fourth Wall. His work ethic is impeccable.
How important are staff in operating a successful business?
As I said before, arguably THE most important part. You could literally open a shoe box and sell booze over a cardboard box, and with the right staff (service, knowledge, friendliness, etc) that business would succeed.
What advice would you give young bartenders who want to open their own bar?
Get a job in a small bar and suck all the information possible from out of the owner. Working in big bars gives you a completely wrong idea of how to run a small bar. Cost is everything. Everything!
What are you drinking right now?
Balvenie Triple Wood 16 years.