Here it is folks, the 2015 Bartender Magazine Top 100 Most Influential List sponsored by Angostura Aromatic Bitters.
This is a list of the industry's movers and shakers, the big names who have lead the charge to make this industry the innovative and entertaining game it is.
Past winners have been influential Melbourne operator Vernon Chalker in 2009, Merivale's Justin Hemmes in 2011, and Swillhouse's Jason Scott and Anton Forte shared the honour in 2013.
On the list this year are bartenders (of course), bar owners and managers, brand ambassadors, writers and party-starters.
ADVERTISEMENT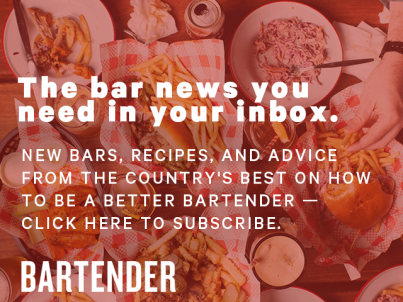 &nbsp
"It's great to see so many new faces make the list this year," said David Spanton, publisher of Australian Bartender. "With these new players joining some more familiar faces, it shows how dynamic the Australian bar industry is," he said.
Over the month of June we asked you, the industry, to visit australianbartender.com.au and put forward your votes for the five people who you think are influencing the industry.
The five names were weighted according to whether they were your first, second, or third (and so on) choice, and we put all the points together and came up with this list.
Is your name on the list? If it is, you're invited to the Most Influential List party put on by Bartender Magazine and Angostura Aromatic Bitters and being held at Gazebo in Sydney during Bar Week. That's where, from the Top 100, we'll announce those who made it into the Top 10 — and have a great party while we're at it.
It's just one of the great events in store for Bar Week this year. You can find out more and book tickets for other events like the Indie Tasting, the Business of Bars Conference, and the Bartender Magazine Australian Bar Awards by heading to barweek.com.au.
WHAT: The Most Influential List Party sponsored by Angostura Aromatic Bitters
VENUE: Gazebo, 2 Elizabeth Bay Road, Potts Point
TIME:5:30pm – 8pm
DATE:21.09.15
RSVP: amy@spantonmedia.com
Without further ado, here is this year's Top 100, presented in first name alphabetical order.
Adi Ruiz, Bulletin Place
Alex McDowell, de Vino Mezcal
Alex Ross
Alissa Gabriel, The Manhattan Line
Amy Cooper, Sun Herald
Andres Walters, The Lobo Plantation
Andy Freeman, Two Bit Group
Andy Penney, The Anchor
Anton Forte, Swillhouse
Barry Chalmers, Swillhouse
Ben Carroll, Applejack Hospitality
Ben Davidson, Pernod Ricard
Ben Shipley, Everyday Drinking
Ben Wong, The Jugernauts
Bobby Carey, Earl's Juke Joint
Bonnie Shearston, Coppa, Red Hook, Public
Cameron Mackenzie, Four Pillars Gin
Caroline Childerly, The Gin Queen
Charlie Ainsbury, This Must Be The Place
Chris Hysted, Ketel One
Corinne Mossati, Gourmantic
Cristiano Beretta, The Rook
Dan Woolley, The Exchange
Daniel Noble, Mojo Record Bar
Dave Kerr, The Beaufort
Dim Rtshiladze, Mechanics Institute
Dylan Howarth, The Drink Cabinet
Fraser Short, Sydney Collective
Fred Siggins, Black Pearl/Time Out Melbourne
Gee David, South Trade
Greg Sanderson, Eau de Vie/Boilermaker House
Hamish Watts, Applejack Hospitality
Hayden Lambert
Hayley Morison, Club Suntory
Jack Sotti, Boilermaker House
Jaime Wirth, Drink N Dine
James Connolly, Angel's Cut
James France, Vanguard Luxury Brands
James Irvine, Swillhouse
Jamie Chesher, Campari Australia
Jamie Terrell, Pernod Ricard
Jared Plummer, Sweet & Chilli
Jason Crawley, The Drink Cabinet
Jason Hanna, The Milestone Group
Jason Scott, Swillhouse
Jason Williams, Proof & Company
Jeremy Shipley, Solotel
Jeremy Spencer, The West Winds Gin
Joe Sinagra, Bobeche
John Duncan, The Keystone Group
John Gakuru, Think Spirits
Julian Train, CCA
Justin Hemmes, Merivale
Justine Millsom, Club Suntory
Lee Potter Cavanagh, Cocktail Cowboys
Lewis Jaffrey, Swillhouse
Loy Catada, Bacardi Lion
Luke Ashton, This Must Be The Place
Luke Redington, Hello Sailor
Manuel Terron, The Keystone Group
Marco Faraone, Hello Sailor
Marcus Motteram, Hains & Co
Mark Patterson, The Brisbane Hotel
Martin Lange, Cobbler
Martin O'Sullivan, Grasshopper, Magazin
Matt Bax, Bar Americano, Bar Economico, Bar Exuberante
Max Greco, Vasco
Max Veenhuyzen, Writer
Michael Delany, Drink N Dine
Michael Madrusan, The Everleigh
Michael Nouri, The Exchange
Mike Enright, The Barber Shop
Mike Tomasic, Rhondas, Angostura
Mitch Bushell, Monkey Shoulder
Myffy Rigby, Fairfax Good Food Guides
Nathan Beasley, Black Pearl
Ollie Stuart, Campari Australia
Paddy Coughlan, Bourke St
Paige Aubort, The Lobo Plantation
Pasan Wijesena, Earl's Juke Joint
Pat Nourse, Gourmet Traveller
Paul Mant, Merivale
Pez Collier, Lychee Lounge
Phil Bayly, Tequilaworld, Agave Love
Phil Gannon, Frankie's Pizza By The Slice
Ryan Lane, The Gresham
Scott Taylor, The Trustee, Enrique's
Sean Forsyth, Bacardi Lion
Sebastian Costello, Bad Frankie
Sebastien Derbomez, Hendrick's Gin
Sebastian Reaburn, Bacardi Lion
Shaun Byrne, Maidenii
Simon Hough, The Flour Factory
Simon McGoram, IDLE Group
Sven Almenning, Speakeasy Group
Tash Conte, Black Pearl
Tim Philips, Bulletin Place
Toby Hilton, Swillhouse
Vernon Chalker, Gin Palace